3 Money Matters Americans Wish They Had Known More About During the Pandemic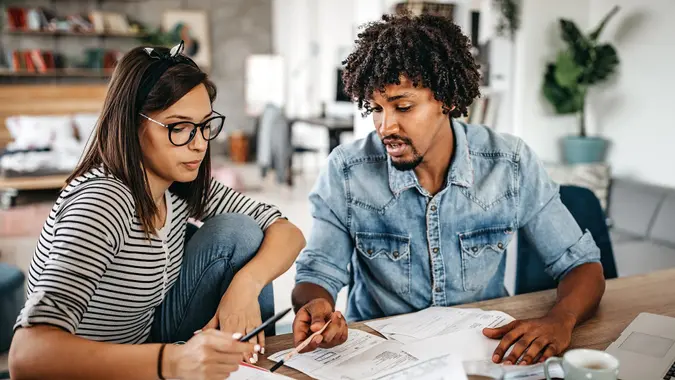 Pekic / Getty Images
COVID-19 forced many Americans into situations that brought their financial deficiencies to the forefront. Being laid off without savings, draining savings accounts just to get by, and encountering astronomically high medical bills are just a few of the money problems people had during the pandemic.
Be Aware: 6 Household Staples That Are a Waste of Money
Read: 6 Bad Habits That Hike Up Your Grocery Bill
GOBankingRates conducted a survey of 1,012 Americans to determine which areas respondents wish they knew more about before the pandemic started that might have helped ease some of the monetary pressures they experienced.
Knowing How and When To Save
According to the GOBankingRates survey, 38% of respondents felt they needed to learn more about saving once the pandemic hit. Most likely, we know what saving is, but don't have the means to do it, or don't know a structured, effective way to sustain a savings plan. 
One way to make saving money integrated into your financial routine is to automate it. Your bank probably offers automated transfers, so you could send a set amount into your savings account every time your paycheck hits. Some banks take this to the next level. For example, Bank of America has a program called Keep the Change, where it rounds your purchases up to the nearest dollar and deposits the difference into your savings account.
Whatever you decide on for a savings plan, it's important to keep it consistent, so that when you do need to dip into it, you know more money will come in to replenish it. No amount is too small to get started. 
POLL: How Much Do You Expect Your Tax Refund To Be This Year? 
Picking Investments and Saving for Retirement 
Investing is a hot topic, but most people feel like they don't know enough about it to get started. According to the survey, 37% of people wish they knew more about investing during the pandemic. 
The survey also showed that 25% of respondents wished they knew more about retirement planning before the pandemic. Both investing and planning for retirement can actually be started quite easily with a 401(k) plan. If you work full-time, you might have access to retirement plan benefits. Enrolling in a 401(k) plan is a great way to dip your toes into investing while saving for your future. These plans automatically take a portion of your paycheck that you decide and put them into a retirement account. Experts working at the financial institution that holds the account can help you figure out which funds you want to put your money toward, based on your risk tolerance. 
Another way to get into investing is via apps. Apps like Acorns can make it easy for first time investors to get a handle on the stock market and grow their wealth. Like the Bank of America Keep the Change program, Acorns rounds up your purchases to the nearest dollar and deposits the difference into your investment fund. The app asks questions to get to know you and your goals, then invests based on your portfolio and risk tolerance. There is a small fee to get started, but hopefully you'll make that back in your growing net worth.
Solidifying a Budget
You probably know you need to make a budget, but don't know where to start. Maybe you already have one but you don't update it. These were common problems many people were experiencing before 2020, and the issues only became more apparent when COVID-19 hit. The survey showed that 33% of Americans felt they needed to learn more about budgeting because of the pandemic. 
The best way to start budgeting is to track your expenses for a month. You can use a spreadsheet where you manually track how much you spend on categories like rent, groceries, eating out, shopping etc.
You also can use an app such as Truebill, which connects to your bank account and tracks your expenses for you. Truebill then provides insights and tips to keep your spending in check.
Whether you use an app or manually track what you spend, make savings goals and adjust your spending based on those goals. Make sure you check your budget at least monthly and update it whenever your income changes. 
More From GOBankingRates
Methodology: ​​GOBankingRates surveyed 1,012 Americans ages 18 and older from across the country between March 8 and March 9, 2022, asking 16 questions: (1) Do you consider yourself financially literate?; (2) Where did you learn most of your financial literacy?; (3) Which financial topic do you think you should have learned more about in high school? (Select all that apply); (4) Which financial topic do you still feel you need more education on in 2022? (Select all that apply); (5) When you were growing up, did your parents talk to you about how to manage your money?; (6) Do you think high schools are lacking in financial education?; (7) How has a lack of financial education cost you the most?; (8) At what age did you become comfortable with basic money skills (i.e., writing a check, balancing your accounts, budgeting)?; (9) At what age did you start saving and planning for retirement?; (10) How do you feel about how you used your 2021 American Rescue Plan stimulus check?; (11) Which financial topic did you feel the need to learn more about due to the COVID-19 pandemic? (Select all that apply); (12) What do you not understand about the Child Tax Credit? (Select all that apply); (13) Which part of the homebuying process is most confusing to you?; (14) Which part of the car buying process is most confusing to you?; (15) Are you prepared for the student loan debt moratorium to end in May?; and (16) How are you changing your driving habits with the rising gas prices? GOBankingRates used PureSpectrum's survey platform to conduct the poll.