7 Money Mistakes for Women To Avoid During Big Life Changes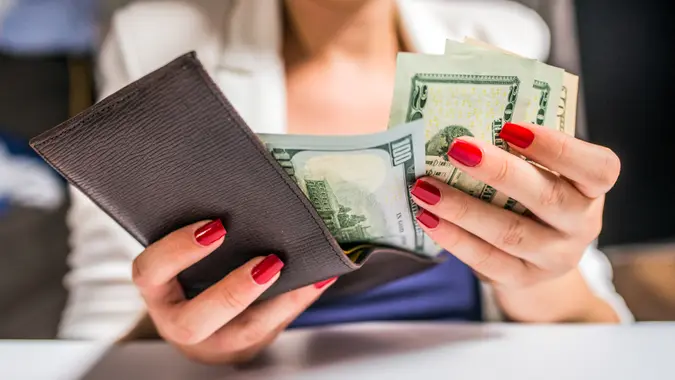 ljubaphoto / Getty Images/iStockphoto
For women of any age, it's easy to make mistakes regarding big life changes. Whether it's buying a house, getting an education, starting a family or any other major decision, there always are multiple factors to consider.
But there are ways you can prevent yourself from making mistakes to ensure your finances stay on the right track. Here are seven money mistakes you want to avoid during life-changing events — and ways to overcome common financial challenges women face.
Mistake No. 1: Housing Decisions Based on Emotions
You're not alone if you consistently check Zillow to look at shiny new houses for sale. According to the National Association of Realtors, single women made up 19% of homebuyers in 2021.
Live Richer Podcast: Overcome Your Fear of Asking For the Raise You Deserve
Deciding to live independently is a big step, so naturally many emotions are stirred. It's easy to get excited about a place you found without checking the amount of attached money.
Nia Adams, a financial empowerment educator, sees this quite frequently. Not only do women take on mortgages of more than 50% of their gross income, she said, they also rush to furnish their new places all at once. Both can lead you to borrow money from one bill to pay for another and rack up credit card debt. 
Mistake No. 2: Not Looking at Income Potential Before Pursuing Education  
While both women and men make this mistake, it can affect women more due to the ongoing women's pay gap. Careers that are dominated by women — such as teachers, child-care providers and medical technicians — are some of the lowest-paying jobs in their field.
For example, dental hygienists and dental assistants are jobs that are dominated by women, but there is a huge pay gap between these professions. A hygienist makes $74,820 on average while a dental assistant earns $38,660. This is an income gap of $36,160 that could be used toward building wealth.
Mistake No. 3: Opening the Wrong Accounts  
It's assumed in American society that women have a lower risk tolerance than men. Statistically, women make less than men, which can affect their budgets and how much they have to invest after expenses.
With less money left at the end of the month, women are more likely to place their funds in savings accounts instead of investing. They typically prefer to place their funds in savings accounts for immediate access.
Mistake No. 4: Letting Your Spouse Take Over Finances  
One of the biggest mistakes people make is letting their spouses have complete control over their finances. While one person may be savvier when it comes to investing and managing the household finances, letting that person have complete control can be a recipe for disaster. This can also lead to both financial abuse and financial infidelity over time.
"You may not want to handle the daily decisions of personal finance, but you should have a baseline of understanding to help avoid the common financial mistakes listed above," said Kimberly Enders, CFP, CWS, CFPA.
Mistake No. 5: Not Properly Planning for Child Care
Adding to your family is always an exciting time. But it also can be a financially stressful one. 
The latest Cost of Care Survey published by Care.com states that 51% of parents spend more than 20% of their income on child-care costs.
Not only is child care expensive, it's also hard to find. About 36% of families reported struggling to find quality daycare. Besides child care, expenses such as diapers, formula, clothes and other household items for a baby can add up quickly.
Creating a baby budget can help, along with learning how to take advantage of a dependent care account through an employer. But too often women aren't aware of the costs.
"Spending all your money on monthly household expenses with no cushion is also a mistake for families," Adams said. 
Mistake No. 6: Forgetting To Plan for the Worst  
After marriage, it's common to merge checking accounts with your partner to run your household. Why not? You love and trust this person, not to mention you just promised to spend your entire life with your spouse.
While divorce rates have dropped over the past few decades, it's still a situation that many deal with all too often. People can get nasty during breakups and do things they usually would not do to their ex-partners. This includes changing access to accounts, canceling cards or draining accounts altogether.
Having an account that only you have access to can prevent you from becoming a victim of abuse or simply give you the ability to start over. 
Mistake No. 7: Saying You're Bad With Money  
Your thoughts and beliefs about yourself are more powerful than you can imagine. If you think you're bad with money, you've already decided a negative belief about yourself without giving your financial future a chance.
Since you think you're already bad with money, you'll continue to do things that harm your finances, like overdraw your checking account or not make an effort to stay. When these things happen, it's easy to shrug it off since what else do you expect from yourself.
Make Positive Changes for Lasting Impact  
It's not all doom and gloom regarding money management and your future. You can take steps to prevent yourself from making the same mistakes that people around you did.
If you haven't started already, determine a budgeting method that works for you and practice it until you've got it done. Avoid shopping when you're bored or looking for a pick-me-up. Instead, to help manage your emotions, think of things you can do that are fun and help you feel better. Last but not least, educate yourself about financial concepts that you can apply to your everyday life.
More From GOBankingRates