9 Money Moves To Make If You Get Laid Off Right Before the Holidays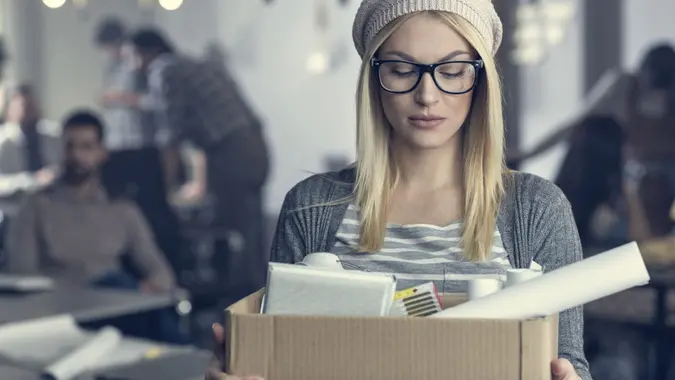 hoozone / Getty Images
Losing a job during the holiday season can feel overwhelming and like the rug is being pulled out from under you; but, according to experts, taking a thoughtful approach can help you navigate this challenging time with resilience.
"If you lose your job right before the holidays, it's important to make the right decisions with your money to avoid worsening your financial situation," said Jake Hill, finance expert and CEO of Debt Hammer. 
While it's certainly a challenging time, here are some necessary steps to consider that can help you sail through financially during this difficult period.
Create a Budget
Having financial stability is crucial, said Linda Chavez, founder and CEO of Seniors Life Insurance Finder.
"If you have recently lost your job," she said, "the first step you should take is to create a budget for yourself. This will help you understand your current financial situation and make responsible decisions with your money."
When creating a budget, Chavez said, it's essential to prioritize necessary expenses like rent/mortgage, utilities and groceries.
"You may also want to consider cutting back on non-essential expenses such as dining out or entertainment until you have a stable source of income again," she said. "Once you have established your budget, make sure to stick to it."
She recommends avoiding any unnecessary purchases and tracking your spending closely: "This will help you stay within your means and avoid going into debt." 
Review Your Savings 
Evaluate your current savings to determine how long you can maintain basic levels of expenditure. By analyzing your savings, you can create a financial timeline that will guide you in your choices and actions in the coming weeks or months. 
"Leveraging any existing savings to offset expenses can provide a valuable safety net," said Paige Robinson, real estate investor and owner of House Buyers. "Think of it as a bridge to carry you through this uncertain phase while you navigate towards new opportunities."
Consider Applying for Unemployment Benefits
Experts recommend applying for unemployment benefits as soon as possible, as it can take a while to start receiving benefits — the sooner you apply, the better. 
"These are designed to help individuals who have lost their jobs through no fault of their own," Chavez explained, noting that to apply for unemployment benefits you'll need to contact your state's unemployment office or visit its website. "Be sure to have all the necessary documents and information ready, such as your employment history and reason for job loss."
Check Your Healthcare Coverage 
"If your health insurance was through your employer, explore your options," said Michelle Delker, founder of The William Stanley CFO Group. "This could be extending your employer's coverage through COBRA, applying for coverage under the Affordable Care Act, or exploring Medicaid if you're eligible." 
Look Into Alternative Sources of Income
While searching for a new job, it's wise to explore alternative sources of income. This can include freelance work, part-time jobs or even selling items you no longer need.
Chavez suggested utilizing your skills and talents to offer services like graphic design, writing or tutoring. She added, "You can also look for part-time jobs in industries that are still thriving, such as delivery services or grocery stores."
Jeff Mains, career expert and CEO of Champion Leadership Group LLC, said today's gig economy features numerous platforms that connect freelancers with potential clients.
Mains said, "Leveraging one's expertise in a flexible capacity can provide interim financial stability and potentially open doors to new opportunities."
He added that networking within professional circles and reaching out to former colleagues for potential job leads can be instrumental during these challenging times.
"By combining financial prudence with proactive career strategies," Mains said, "individuals can navigate the uncertainty of job loss more resiliently, setting the foundation for a successful rebound in their professional journey." 
Other experts recommend hopping on the seasonal work trend.
"Amazon needs workers. UPS needs workers. I'd imagine that FedEx needs workers as well," said David Bakke, finance expert at Dollar Sanity. "There are also other retailers that need holiday help. If you just got laid off right before the holidays, leverage that to find a job almost immediately."
Communicate With Your Creditors
"If you are struggling to make payments on loans or credit card bills, it is important to communicate with your creditors," Chavez said. "Let them know about your situation and see if they offer any options for deferment or reduced payments."
She said this will help you avoid late fees and damage to your credit score.
Skip the Travel
If you got laid off right before the holidays, the last thing you want to do is to travel, Bakke said.
"Flight prices aren't anything spectacular and the price of gas is still high," he said. "Politely explain to your family members that you can't make it. That's actually what I did this holiday season even though I didn't suffer a job loss."
Be Mindful of Holiday Spending
During the holiday season, it can be tempting to overspend on gifts and festivities, Chavez said. However, if you are facing financial uncertainty, she said, it's important to be mindful of your spending.
"Consider setting a budget for holiday expenses and stick to it," she said. "You can also consider alternative ways to celebrate, such as homemade gifts or virtual gatherings with loved ones."
Similarly, Bakke recommended getting creative with festivities.
"Instead of attending a light show, which costs about $100 here in Atlanta, have a brownie or other Christmas cookie-cooking event in your home," he suggested. "Invite the guests, assign the tasks and have some fun with it."
Seek Support From Your Community
Robinson said it's worth reaching out to your network during this time.
"Sometimes, the support of loved ones can be a vital resource," she said, "whether it's through financial assistance or emotional support as you chart your path forward.
"Remember, this period demands both practicality and resilience. Taking these steps not only addresses immediate financial needs but also sets the stage for a confident and strategic approach to re-establishing stability and pursuing new opportunities in the future."
More From GOBankingRates