6 Money Tips Suze Orman Wants Millennials To Know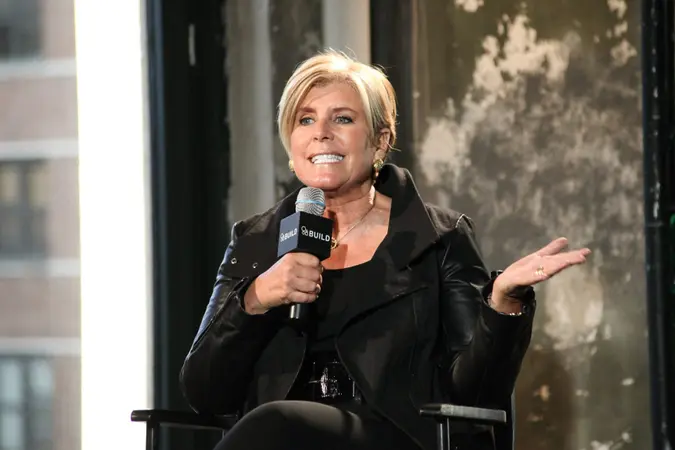 Mediapunch/Shutterstock / Mediapunch/Shutterstock
Personal finance expert and New York Times bestselling author Suze Orman is known for giving great money advice. She has tips and tricks for everything from home ownership to Social Security. As noted on her website, suzeorman.com, she encourages followers to "be the master of your own financial destiny."
For millennials, she offers key points on how to meet financial goals. Her interviews often focus on easy-to-follow dos and don'ts that can help you establish a secure financial future. We've searched the internet for the best money tips Orman has made for millennials. Here is what we found.
Start Saving for Retirement Now
On her website, Orman discusses one of the most important money management tips she can offer to millennials. In her blog titled "The Huge Money Mistake Too Many Millennials Make," she urges young people to start saving for retirement now.
She discusses how compounding works, writing, "One of the most overlooked 'tricks' of investing is that time is on your side. The earlier you start saving, the more time your money has to grow." 
She also encourages millennials to take advantage of any matching contribution plans offered through employers. She explained, "Make sure you are contributing enough to the plan to qualify for the maximum matching contribution. There is no better deal than receiving a bonus that can then compound for decades."
Don't Feel Like You Have To Buy a House
According to a 2018 interview with CNBC Make It, Orman thinks homeownership might not be right for every millennial. She told CNBC, "Sometimes it makes sense to own a home. And sometimes, depending on where you live, it makes sense to simply rent."
Orman said millennials should not feel the pressure to buy houses if they cannot afford them. Instead, if they live in expensive areas, they could use any extra money to invest.
Do Not Co-Sign for Someone Else
In the same interview with CNBC, Orman warned against lending money to other people.
"Never, ever, ever co-sign a loan for anybody, do you hear me?" she said.
Co-signing a loan may make you responsible for their money mishaps. She also advised against lending money to family and friends, suggesting, "Don't be afraid to say 'no' to others and say 'yes' to yourself."
Pay Off Credit Card Debt
Writing for Oprah.com, Orman offered "10 Tips for a Fresh Financial Start." One big takeaway for young adults is in relation to credit card debt. She recommended that people "make this the year you tackle that credit card debt once and for all." 
She explained her strategy: "See if you can qualify for a balance transfer card that offers a low or 0 percent introductory interest rate for the first six to 12 months. If you can get a good deal, move your high-rate debt to that new card. Do not use the card for any new charges, and push yourself hard to pay off the balance as soon as possible." 
The goal is to get the "costliest balance paid off first." Then you can continue to work down the list in order of the cards with the highest interest rates.
Don't Buy Things To Prove Your Worth to Others
In a poignant 2017 interview, again with CNBC Make It, Orman said people should "stop buying things and spending money you don't have to impress people you don't know or like."
She shared her own experience with trying to impress someone by spending money, calling it "the most stupid thing I've ever done with money."
Re-Evaluate Spending Habits
In the same interview, Orman listed her don'ts. To save money, she said, you need to "stop leasing cars, stop eating out, stop doing the things that [are] wasting your money and [making] your life easier, because in the long run it's going to make it harder."
In her "10 Tips" essay on Oprah.com, she further advocated for finding hidden money by focusing on saving.
When people argue that they don't have enough money, she said, "There's no money left because you haven't evaluated your spending habits. You need to dig deep and be willing to change those habits, to set goals and use those goals as the motivation for lifestyle changes that will allow you to save and invest."
More From GOBankingRates