What Not To Do When Spring Cleaning Your Finances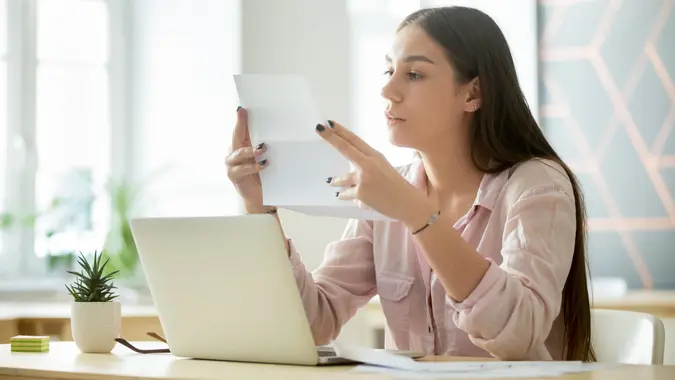 fizkes / Getty Images/iStockphoto
When it comes to your budget, you know when your paycheck arrives and when your bills are due. But do you know how much money you may be wasting on things you don't need or use? That's one area where a financial spring cleaning can help. It's a mindset that can help you address areas of your finances you've overlooked throughout the year.
Find Out: 9 Bills You Should Never Put on Autopay
Discover: 50 Ways You're Throwing Money Away
But a word of caution: You don't want to go to extremes when taking on the task of spring cleaning your finances, or you may set yourself up for failure.
Brian Carney, certified financial planner, accredited investment fiduciary and the co-founder of RiversEdge Advisors, cautions that spring cleaning your finances can be much like making New Year's resolutions — people tend to go overboard.
"Oftentimes, they will create an incredibly restrictive strategy that makes long-term success nearly impossible," Carney said. "It is much more sensible to commit to smaller improvements that can be easily increased over time. For example, if your goal is to save $750 every month, start the savings plan at a lower amount – $400/mo for example and create a strategy to reach $750/mo over a pre-planned period of time."
Now that you know it's important to proceed with caution, here are six other things not to do when it comes to spring cleaning your finances.
Skip Defining the Priorities in Your Budget
Do not skip defining your needs and wants in your budget because they have likely changed over the past year, said Angela Holliday, president of Frost Brokerage Services, Inc. and Frost Investment Services, LLC.
"The pandemic helped consumers reevaluate spending in terms of needs and wants and helped them realize they need a financial plan in place where they didn't before," Holliday said. "Look at your spending patterns in 2020 to help establish your 2021 budget for need and discretionary spending."
Forget To Track Your Spending
Reprioritizing your budget is a fantastic first step, but don't stop there. Forgetting to track your spending can be detrimental to your finances.
"It can be easy to get carried away and stray from your plan, but by tracking your spending, you set guardrails for yourself," Holliday said. "And, as the economy continues to change rapidly, quarterly check-ins on your priorities are important to track your finances and keep them organized."
POLL: Where Have You Cut Back Most Because of Inflation?
Skip Contributing To an Emergency Fund
According to Holliday, if you don't already have an emergency fund, the time to act is now.
"Part of the financial wakening in 2020 was that people began to realize it's not an 'if' scenario, it's a 'when' scenario," Holliday said. "This underscored the importance of making sure you have an emergency fund. The usual rule of thumb is to have three to six months in your emergency fund, but if possible, I recommend extending to six to nine months of living expenses."
Avoid Talking About Finances
Not having regular conversations about your finances is a mistake, according to Holliday.
"Frost's research found people who talk about their finances (optimists!) are 2x more likely to have better financial health," Holliday said. "When planning your budget for the year, have a conversation with someone you trust to level set and outline a plan."
Keep Spending on Things That No Longer Fit Your Lifestyle
Do not keep items in your budget that no longer fit your life, said Steffa Mantilla, certified financial education instructor and founder of Money Tamer.
"For instance, if you have a gym membership but can no longer use it, cancel it instead," Mantilla said. "Another big way to save is to get rid of unused subscription services. Often, you'll sign up for a free trial of a streaming service and not cancel after the trial period. This can quickly add up to a lot of money even if each service is only $10."
Get Excited About a Tax Refund
While many people may get excited at the prospect of receiving thousands of dollars back come tax time, Zachary A. Bachner, CFP believes you should change your mindset.
"Do not be excited about a tax refund," Bachner said. "A refund means you are receiving money that you are entitled to. Essentially, a refund means you gave an interest-free loan to the government. The best-case scenario is that you break even with taxes due and do not owe anything and do not receive a refund."
More From GOBankingRates