11 Other Things Your Family Can Do for the Price of a Disneyland Trip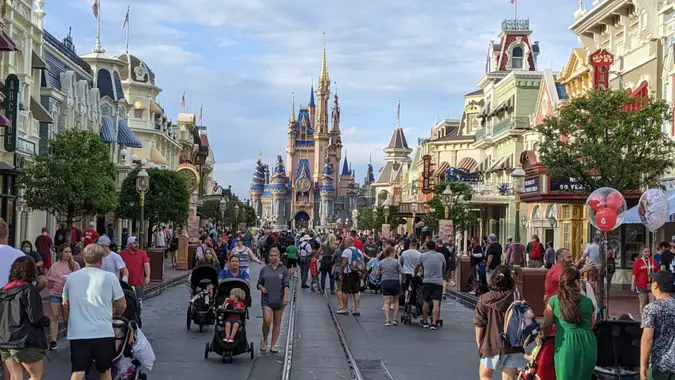 Tim Brown / Getty Images
Costs at Disneyland have reached record highs. Not only did the park recently raise the prices of admission (its most popular one-day, one-park ticket is now $169, up from $159) but it also increased the price of parking and tons of prices on its merchandise and menu items. 
Retirement at Any Age: Get Retirement Tips That Fit Every Stage of Life
The Future of Finances: Gen Z & How They Relate to Money
A day at The Happiest Place on Earth can easily cost you a fortune — especially when you factor in the cost of a hotel (easily north of $100 a night at the nearby hotels — and actually $623 per night at the Disneyland Hotel), parking ($30 per car or motorcycle a day), food at the park, and merch.
Figure $169 for park entry plus $100 for a hotel per night plus $30 for parking plus $100 for food and merch (a very modest estimate), and you're looking at $400 for a mere day at the Magic Kingdom. 
Mind you, this figure doesn't include the cost of fuel or a rental car or flights. If you consider those factors, you could easily spend more than $1,000 just to get to The Happiest Place on Earth. Of course, the more days you spend at the resort, the higher that price soars. In fact, according to ChampionTraveler, the average price of a seven-day trip to Disneyland for a family of four is $5,731.
It's true that you can't put a price tag on making wonderful memories. But it's also true that there are smarter things you can do with $5,731 than spend a week with Mickey and Minnie. 
Here's a look at some other, potentially smarter ways to use that money for your family.  
Take an Epic Vacation
"Whether you want to take the family to [New York City], Hawaii, a ski trip or overseas, you can get a lot more out of $5,000 than just a bunch of rides and overpriced souvenirs," said Julie Ramhold, consumer analyst with DealNews.com. "These other trips will also have overpriced souvenirs if you aren't careful; but, if you are, then you can make legitimately great memories and have an experience everyone in the family will enjoy — not just the one who's excited about Disney."
Take Our Poll: How Do You Typically Split the Restaurant Bill?
Create a College Fund
"With the rising costs of tuition, especially for out-of-state students, and the student loan debt crisis, it's more important than ever that people have as much help as they can get," Ramhold said. "Putting that $5,000 towards your kid's college fund will go a lot further in the long run than a trip to Disney — and it'll be much more appreciated in the future than one trip to an amusement park."
Open a DAF 
"The family could open a Donor-Advised Fund (DAF) and gift the money to the DAF," said Brendan Sheehan, MSFP, CFP, managing director at Waymark Wealth Management. "The family would receive a charitable deduction for the current tax year. But the biggest benefit is the family would have their own charitable pool from which they could make several donations to nonprofits of their choice. 
"Depending on the ages of the children, the parents could earmark $500 to $1,000 of the $5,000 to each child and allow them to choose where these funds are donated. It is a good learning experience and reduces the client's tax bill for that year. Using the tax savings, they still may be able to take a quick trip to Disney with their tax refund."
Create a Home Theater
"Prepare for epic family movie nights by overhauling a space and creating your own home theater," Ramhold said. "Set up comfy furniture, get a bigger TV or projector setup, invest in some quality sound, maybe even spring for an old-fashioned carnival-style popcorn maker, and then prepare for movie nights everyone can appreciate. It may not seem like much, but you'll be surprised at the memories you can make with a relatively small investment."
Go Glamping 
"I think one of the best ways to spend $5,000 on your family is to go glamping," said Juliet Dreamhunter, a certified happiness coach and founder of Utterly Positive. "Camping might not be for everyone; but, when you go glamping, you might have a comfy bed and even a shower while still being in the middle of nowhere, alone with your family in nature, away from the Disney crowds.
"Whether it happens to be a luxury tent or a cozy tree house in the woods, it will surely be an incredible and memorable experience for your family." 
Start a Kitchen Garden 
"This idea might not sound nearly as appealing to your kids as a Disneyland visit, but they'll end up enjoying it even more," said Adam Garcia, founder of The Stock Dork. "Plus, all the family bonding and other benefits that will be sprouting (pun intended) for months and years ahead.
"I'm talking, of course, about setting up a kitchen garden. Best of all, this family project will cost significantly less than $5,000, and it will take less than a week to set up. All you need is a backyard, some basic tools, nice soil and a sound plan of what to grow, how much of it and when.
"At first, the kids might not be very excited about getting their hands dirty," Garcia said. "But they'll come to feel really useful and they'll learn a ton. Not to mention the fact that gardening and DIY videos look really cool among the hipstery TikTokers."
Convert the Garage Into a Family Room 
"You should take that budget and invest it in a fun garage makeover project with your kids," said Tim Wells, founder of Garage Transformed. "If you're nifty — or just really good at following YouTube tutorial videos — you can even try and make some of the furniture with your kids, if they're old enough to help you. A table is an easy and cheap option if it's your first time handling a hammer." 
Wells recommends creating a family room where you can spend quality time and create memories with your kids, and to try to involve them in the creation process as much as possible to help build their confidence and skills. 
"If they're not old enough to help you with the repairs, ask them what colors they would like to see and what items they would add," he said, "Even if they don't fit in with the rest of the room, don't worry. This is supposed to be a fun family project, so let your kids choose whatever they want.
"Add family photos all around and you can create an amazing memory for your kids that they will surely remember longer than any Disney trip. By refurbishing, [adding] a coat of paint and some second-hand furniture, you can even use less than $5,000 and create something long lasting."
Buy Everyone an iPhone 14 Pro Max 
"Get your entire family a phone upgrade," Garcia suggested. "And with $5,000, you can even afford to purchase four pieces of brand-new iPhone 14 Pro Max in full cash.
"Nowadays, a smartphone is widely considered a necessity. You can use it at work, and your children can easily do their school tasks with a quality phone. You can never go wrong with buying mobile devices because they can last for a couple of years, allowing you to keep memories with your family in various formats like photos and videos."
Hold a Family Photoshoot 
Chloe Bovia, the owner of Bovia & Co. Photography, said, "One of the best ways to spend $5,000 on your family is a photoshoot. It may seem outrageous, but making this investment in preserving your family's legacy is worth it. From hiring a photographer, to planning and purchasing outfits, to actually printing an album, the process can be expensive. The biggest investment is in prints: Albums, framed photos and other keepsake gifts are expensive when they're done well. Those gilded pages and museum-quality photo papers don't come cheap, but they ensure your family's memories are enjoyed decades from now."
Divvy It Up on Debt, College, Retirement and Fun 
"If you're in a situation where you have high-interest debt, you may want to look at paying down some of that high-interest debt first so that your monthly expenses are eased and you feel some relief there," said Andrew Rosen, CFP and president of Diversified LLC. "If you're in a good financial situation, you may want to split that money three ways: One third into your children's college funds, one third into your own retirement and one third into something fun for the family: either a small trip or another treat that you may have been putting off, but something that you can do together."
Fly In the Rest of the Family
"My husband and I just spent around $5,000 on our family — three adult children/their spouses and our five grandchildren — to stay with us for a week at Thanksgiving," retirement author and consultant Jan Cullinane said. "We paid for their flights from their respective homes — two live in Ohio, one in Maryland — to fly to our home, which is on the ocean in Palm Coast, Florida. And, of course, paid for the meals in and out of the home and some fun. Having an opportunity to be together and create lasting memories was priceless."
More From GOBankingRates