How the Pandemic Is Leading To Homebuyer's Remorse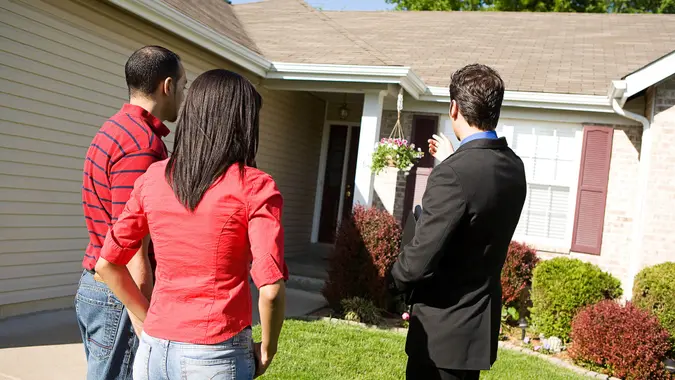 Sean Locke Photography / Shutterstock.com
Although the coronavirus pandemic has caused millions of Americans to lose their jobs and has sunk the economy into a recession, the housing market has remained unexpectedly hot. The real estate market has been trending upwards in recent months, and in August, existing U.S. home sales reached a 14-year high, according to a report by the National Association of Realtors.
With mortgage rates reaching record lows and many Americans looking to upgrade their living spaces as they spend more time at home, it's a tempting time to buy a new home — despite the high real estate prices. But some new homebuyers who purchased a home during the pandemic are now regretting that decision, a survey by LendEDU found. The survey asked 1,000 adult American homeowners who currently have an outstanding mortgage through a private lender if they regret their decision to take out a new mortgage during the pandemic — and 55% said they did.
Financial Reasons Are the Biggest Cause of Homebuyer Regret
Thirty percent of homebuyers who purchased during the pandemic said they regret the decision due to financial reasons, the survey found.
"When it comes to financial issues new homeowners are facing, many have gotten laid off or their homebuying partner has been laid off, which has reduced cash flow," said Michael Brown, director of communications at LendEDU. "Others are just facing the general financial struggles that come with a recession, like having reduced hours or dealing with a stock portfolio that hasn't performed great over the last six or seven months."
Of those who regret taking out a new mortgage, 10% said they should have waited due to social/life reasons. An additional 7% said they were not prepared for homeownership — a life milestone that comes with a lot of responsibility and added expenses.
"New homeowners might not be aware of the constant upkeep and maintenance work that comes with being a homeowner," Brown said. "Who's going to do the landscaping? Who's going to fix the leaky faucet or the loose door handle? And worse, if things like this need to be fully replaced, that can be a hefty bill that a new homeowner wasn't fully prepared for."
How To Avoid Homebuyer's Remorse
The best way to avoid regretting the decision to buy a home is to make sure that you are actually able to afford it.
"Generally, a new homeowner should be able to make a 20% down payment on their house, and moving forward, their monthly mortgage payment shouldn't be more than 28% of their monthly household income," Brown said. "If a prospective homebuyer can meet those two requirements, they might be ready for homeownership."
Even though mortgage rates are low, now is only a good time to buy if you are financially secure and can make your monthly mortgage payments without blowing your budget. In addition, "make sure you have plenty of savings to cover unforeseen expenses," Brown said.
"In order to prevent homebuyers' remorse, homebuyers should do plenty of research and compare all of their homebuying options before making a final decision," he said. "This way, you know you are getting the best possible deal you can find. Additionally, go through some hypothetical worst-case scenarios to see if you could still financially handle your house and mortgage payments. For example, if you got laid off, how long would you still be able to comfortably make monthly mortgage payments before things got really tight?"
Homebuying is a major life decision — regardless of whether or not we're in a pandemic — so make sure you think it through to avoid any surprises or regrets.
More From GOBankingRates