The Pandemic Is Still Wreaking Havoc on Our Finances — and Our Love Lives, Survey Finds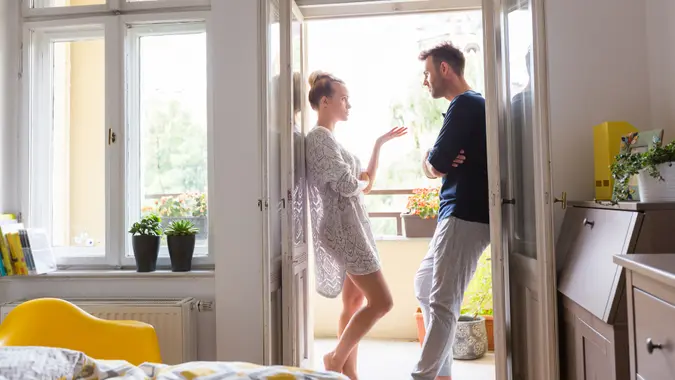 izusek / Getty Images
Over a year into the coronavirus pandemic, we're now seeing a light at the end of the tunnel as the vaccine rollout accelerates. But for some couples, the financial effects and relationship strains that came as a result of the pandemic will be hard to recover from.
TD Bank surveyed over 1,700 Americans in December 2020 who are married, in a committed relationship or divorced to get a sense of how the COVID-19 pandemic has affected their lives, and unsurprisingly, it has had some profound effects.
Find Out: The Standard Emergency Savings Advice Was Wrong — How Much Do You Really Need?
People Are Racking Up Credit Card Debt — And Hiding It From Their Partners
TD Bank's sixth annual Love and Money Survey found that 1 in 10 Americans keeps a financial secret from their partner, and among those who do have a financial secret from their partner, credit card debt is the most common (42%). Although you might expect this percentage to have gone up from previous years as individuals may be relying on credit cards more to make ends meet in the wake of job losses or reduced work hours, this actually wasn't the case.
Read: What Living Through a Pandemic Has Taught Us About Money
"Interestingly enough, it didn't really change that much year-over-year," said Mike Kinane, head of consumer deposits, products and payments at TD Bank. "It was 42% in 2019 and 43% in 2018 — pretty much the same, which is surprising."
One possible explanation for this? "It's probably a little harder to keep secrets if you're stuck with your significant other for a year or so," Kinane said.
Those individuals who do have significant credit card debt should take action to reduce it, or it may cause relationship issues down the line.
"Credit card debt, if not managed well, can be a pretty big burden on an individual and on a couple," Kinane said.
See: How Each Generation Has Been Affected Financially By the Pandemic
75% of Couples Are Arguing About Money, at Least Occasionally
Most couples argue about money at least occasionally, though most say they don't argue about it frequently: 45% report arguing about money less often than once a month. On the other hand, 30% said they argue at least monthly, with 13% reporting that they argue about money once a week.
Most arguments stem from disagreements about how money is being spent.
"If you boil it down, it's disagreements about expenses and what's a 'need' versus a 'want,'" Kinane said. "It's couples needing to be open and honest with each other about what they're spending on and classify them in agreement. You may both say you 'need' a vacation, and that can be very real, but if you both don't agree with that, that tends to lead to disagreements."
Arguments can often arise from overspending.
"If one spouse or both spouses are spending more than they can afford, that's going to be a big point of contention for couples," Kinane said.
Take a Closer Look: What Americans' Savings Look Like 1 Year Into the Pandemic
Nearly One-Third of Couples Are Holding Off on Financial Milestones Due To 'Unplanned Financial Crises'
The survey found that for 32% of couples, unplanned financial crises — like the COVID-19 pandemic — are preventing them from reaching their financial goals such as retiring or buying a house.
"We know from our survey that 1 out of 10 couples have been furloughed, lost their jobs or had their hours decreased because of COVID-19," Kinane said. "Because of that, those couples are forced to make decisions around future financial decisions. So putting off buying a house is something we've seen, and these couples are pivoting to meeting everyday needs like groceries, rent, utilities, prescriptions, etc. Depending on how long these couples are enduring these job losses, they're having to dip into their emergency savings to stay afloat."
One Year of COVID-19 Weddings: How the Pandemic Upended How We Celebrate
However, Kinane is optimistic that many of these couples will be able to get back on financial track soon.
"Right now with the acceleration of vaccines and a return to normal and hiring happening, couples are starting to put their long-term financial goals back in play," he said.
Keep Reading: The Financial Impacts of COVID-19 That We Weren't Expecting
Most People Whose Jobs Were Impacted in 2020 Don't Expect To Bounce Back Financially in 2021
Among the individuals who lost jobs or had their work hours reduced during the pandemic, only 39% expect to bounce back from the financial disruption by the end of this year, the survey found. Although this bounce back may take time, there are steps these individuals can take to ensure they're on the right path.
"The first thing is to make sure you understand what your current budget and spending is," Kinane said. "Then identify areas where you took an unexpected turn. Maybe you spent more or less on groceries — maybe it's more because you've got kids at home that you didn't have in prior years. If you've saved less than you expected, it's about getting your short-term and long-term savings in place as quickly as possible. The good news is the bounce-back is really happening faster than most people probably expected. So moving quickly to make those saving decisions and budget decisions and spending decisions are important."
And while an economic bounce-back will be good for jobs, Kinane warns against letting spending get out of hand as more and more opens up.
"Most of us were stuck at home — we couldn't travel, we couldn't go on vacations, we couldn't even go to restaurants; but I'd be very cautious with making sure they show responsibility and restraint as we open back up," he said. "This doesn't mean you can go to eat out every single night for the next year or so and blow your personal budget. You have to be very careful and not go crazy as we open back up."
More From GOBankingRates
Last updated: April 8, 2021