Paying Off Debt vs. Building an Emergency Fund: The Experts Weigh In on Prioritizing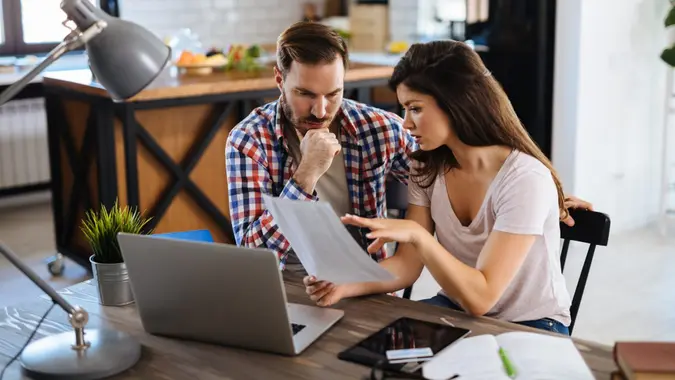 EmirMemedovski / Getty Images
One of the age-old debates in the financial world is whether you should prioritize paying off debt or building an emergency fund. The truth is that both are important steps in any financial plan. Without an emergency fund, you're liable to dig yourself deeper into debt, but if you don't pay off your debt, it can rapidly spiral out of control. However, there are certain instances in which experts tend to suggest choosing one over the other. Here's a look at how some financial experts recommend you rank paying off debt or building an emergency fund in your overall financial strategy.
Read: Should You Put Money Into Retirement or Your Savings? Here's How To Know
Day 1 of Living Richer: The Top 3 Budgeting Tips From Experts

When To Prioritize Paying Off Debt
Debt comes in many forms. Some financial experts even suggest that certain types of debt are good, such as investment debt or a home mortgage. Consumer debt, such as credit card debt, is typically the nemesis of wealth-building, as it usually carries high interest rates and is used to buy depreciating assets, such as clothing or gadgets. However, there are also some specific instances when experts suggest that you should prioritize paying off debt even over contributing to an emergency fund.
You're in Over Your Head
If you find yourself buried in credit card debt with interest rates of 15% to 18% or even more, your first steps should be toward knocking that debt down. At those types of interest rates, debt can rapidly spiral out of control. In fact, credit card debt at 18% will double in roughly four years, a rate that can swamp even the most diligent saver. This type of debt ranks as a financial emergency and should be your first priority, according to billionaire "Shark Tank" investor Mark Cuban. When referring to how Americans should use their stimulus checks, Cuban told CNBC that they should "pay off debt," only putting any excess into the bank.
Ellevest CEO Sallie Krawcheck concurs, telling CNBC that money should first go to debt with interest rates of 10% or more.
See: How Much Debt Americans Have at Every Age
You're Planning on Buying a House
When buying a new house, it's imperative to get the lowest interest rate you can find. Not only does a lower rate translate to a lower monthly payment, but most homebuyers sign on for a 30-year mortgage, meaning you'll be attached to that interest rate for a large portion of your life. Yes, some homeowners end up refinancing into a lower rate later, but with rates hitting their lowest point of all time in 2021, that may not be an option going forward. 
If you've got outstanding debt on the books, clean that up first so that both your credit score and your cash flow can jump. Not only will you be able to snag a lower interest rate, you'll have excess cash every month to make your mortgage payments. Eliminating all of your debt overnight may not be a realistic possibility, so just make sure your debt-to-income ratio falls under the standards most lenders require. 
Find Out: Tips To Get Your Mortgage Payments as Low as Possible
As Joseph Mayhew, chief credit officer of Evolve Mortgage Services, told the Washington Post, "For consumers with a good credit history, stable income and a down payment of 5% or more, most lenders will easily lend up to 45% DTI. Those with smaller down payments or problems in their credit history may find themselves limited to a DTI around 38%." 
When To Prioritize Building an Emergency Fund
Building an emergency fund should always be a priority. However, if you have limited funds, you may have to choose whether you're going to pay off debt first or build an emergency fund. Experts point out a few situations in which an emergency fund should get the nod over paying off any debt you may have.
More: How To Calculate Your Debt-to-Income Ratio
You Don't Even Have $1,000 Saved for Emergencies
It's hard to get on solid financial footing if you don't even have $1,000 saved for emergencies. Unfortunately, that's the state many Americans are in.
According to a study by GOBankingRates, 40% of Americans don't even have $300 in savings. That's precarious footing because it means you're likely to go into debt for even the smallest of unexpected expenses, like a car repair. Many experts agree that you should have three to six months' worth of expenses in an emergency fund, so that means you'll likely need more than that starter $1,000. And financial expert Suze Orman recommends an eight-month fund, so you might want to prioritize saving if you don't have that much on hand.
Read: The Standard Emergency Savings Advice Was Wrong — How Much Do You Really Need?
You're Worried About a Recession or Job Loss
If you're worried that you may lose your job, you'll want to hoard as much cash as possible. Some expenses, such as your mortgage or rent, usually can't be paid with a credit card even in an emergency — you'll need cash reserves to weather the storm.
Barbara Ginty, a CFP® and host of the "Future Rich" podcast, tells CNBC Make It that you should prioritize increasing your emergency fund under this scenario. And on an Instagram Live posted to YouTube during the early days of the pandemic, financial expert and bestselling author Ramit Sethi stressed the importance of emergency funds in uncertain times. As Sethi put it, "It's time to think about your emergency fund because we have an emergency situation."
More From GoBankingRates
Last updated: July 15, 2021