I'm a Property Manager: Ask These Six Questions Before You Rent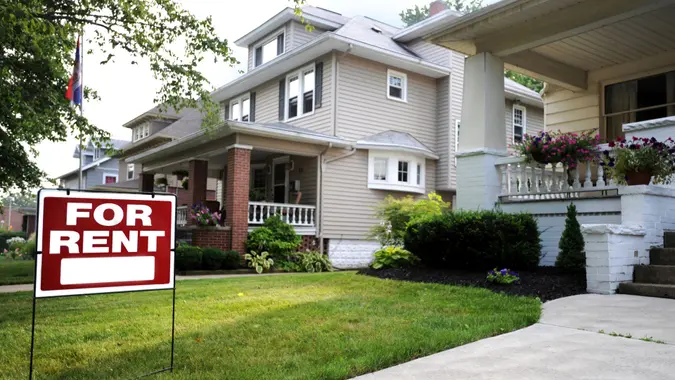 xeni4ka / Getty Images/iStockphoto
The monthly check to the landlord might be the most obvious expense involved with renting an apartment, but it's hardly the only one — and you need to learn about the rest by asking the right questions before you sign the lease.
Housing Market: Should Older Americans Rent in Retirement Instead of Paying a Mortgage?
Learn: How To Build Your Savings From Scratch
"The most important question to ask is whether you can afford the lease," said Ryan Barone, CEO, CTO and co-founder of RentRedi, a property management software firm. "Consider your current income-to-expense ratio. Experts say a good rule of thumb for renters is to set aside about 30% of their income for rent."
Once you're confident you can spring for the lease, ask these questions before you sign.
How Can I Make My Security Deposit Come Back in One Piece?
Security deposit disputes are incredibly common; and, with a month or even more of rent on the line, the stakes are high — especially at the end of a lease when you need every available dollar for your next move.
"Find out what you need to do in order to get your security deposit back," said Melanie Hartmann, owner of Creo Home Buyers in Maryland.
According to RentPrep, most security deposit disputes involve the often blurry line between damage, which the tenant is responsible for, and wear and tear, which is the landlord's problem. Cover your bases by gathering proof of any imperfections before you empty the U-Haul on move-in day.
"You may want to document in writing and with pictures any property issues with the landlord before moving in so that you are not held responsible for those repairs when moving out," Hartmann said.
Take Our Poll: Are You Planning To Buy or Sell a House This Year?
What Will It Cost If I Have To Break the Lease?
Another common dispute involves tenants having to move out before the agreed-upon term expires. Those scenarios can cost even more than withheld security deposits, which are typically the equivalent of one month's rent. According to Move.org, early termination fees can cost up to three months' rent.
That leaves one crucial question that you must ask before you sign the lease.
"If I have a significant life change that requires me to break the lease, how much will that cost me?" said Bruce Ailion, attorney, Realtor and president of the RE/MAX Ailion Team. "Can we negotiate that amount?"
What's the Subletting Policy?
If you can't break your lease without coughing up a quarter-year rent penalty, then there's one question you must ask about the only viable alternative.
"Is there subletting allowed?" said Travis Wells, owner of Exclusive Housing, which owns and manages more than 50 rental properties.
If you're called away for business, a loved one gets sick or anything else keeps you away from the property for an extended time, subletting allows you to recoup the expense from a third-party short-term renter. If not, you could be stuck paying rent while your place sits empty, perhaps while also paying short-term rent somewhere else.
I'm a Pet Owner: What's the Cost of Companionship?
One question must be answered before you sign if you have a cat, dog or even a fish.
"What is your policy on pets?" said Dave Sayce, CEO of Compare My Move. "If you're a pet owner, it's important to know the answer to this before signing a lease. Some landlords are quite strict about accepting pets. If they are allowed, you may have to pay an additional pet deposit to cover any potential damages they may cause."
Who Pays To Keep the Lights On?
According to PropertyClub, your rent payment won't cover all utilities in most lease agreements, but it typically covers some. In order to accurately budget and plan, you'll have to ask the next crucial question.
"Are utilities provided?" Wells said.
Many leases include hot water and heat, and others also provide for electricity and gas. But don't stop with only those common items when quizzing the building manager.
"Renters should also ask about high-speed internet access at the property and how trash is handled," said Stacy Brown, director of training at Real Property Management.
What's the Late Fee and How Much Wiggle Room Do I Have?
Finally, there's the question you'll have to ask in anticipation of those hopefully rare but ultimately inevitable months when you're late with the rent for one reason or another.
"What is my grace period before my rent is late, and what are the late fees associated?" Wells said.
According to Avail, part of the Realtor.com network, the standard grace period is five days, but some landlords give you just three days. Others offer no grace period at all — if rent is due on the first, they assess a late fee on the second. Landlords typically set their late fees at 5% of the rent — e.g., $60 if you pay $1,200 per month — but others use a flat-rate late fee system.
More From GOBankingRates