The Pros and Cons of Buying a Boat

8 min Read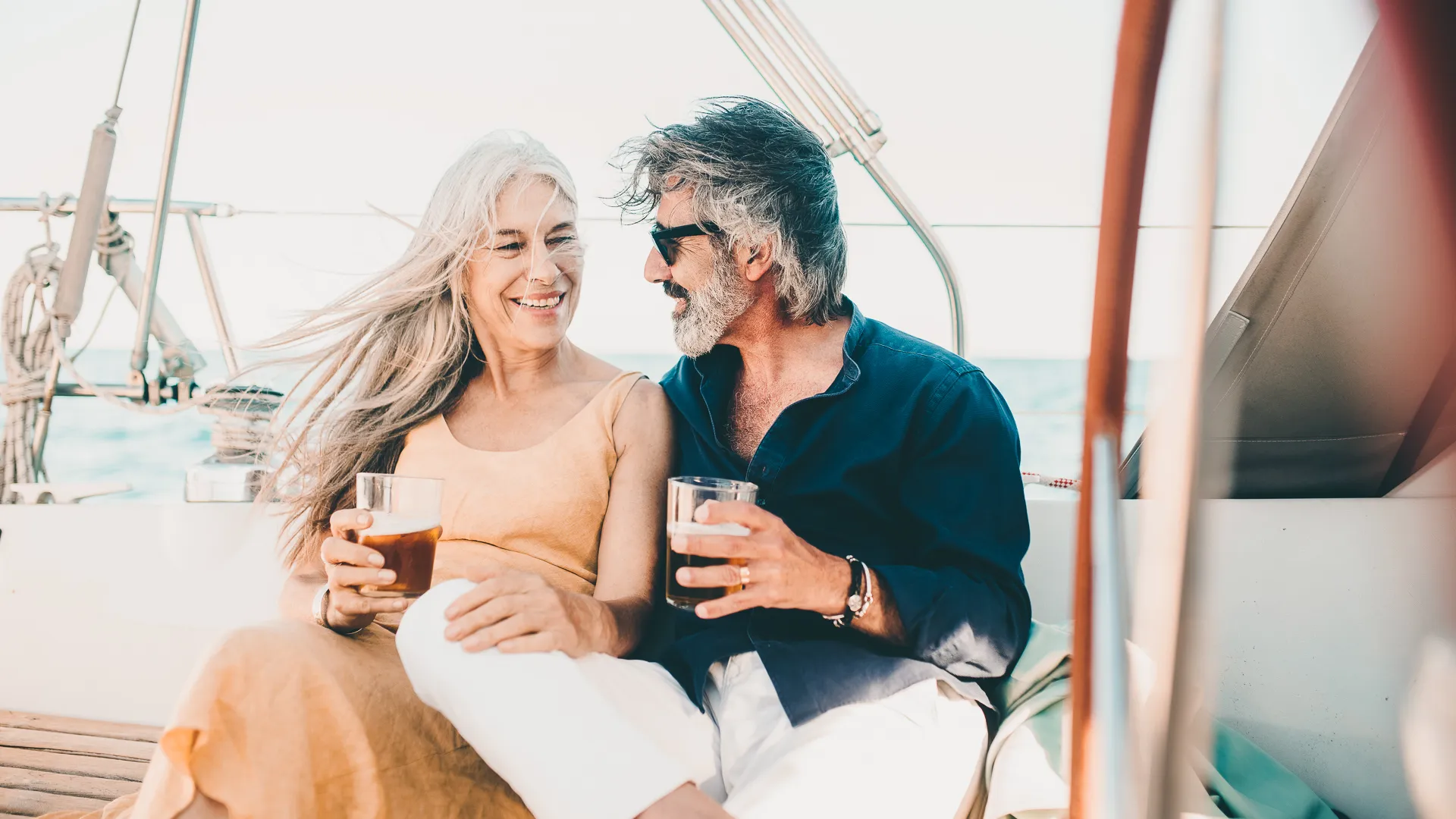 Imagine floating on the water with the waves gently lapping, a gentle sea breeze in your hair and a vast blue distance between you and anyone whose air you're not sure about breathing. Life on a boat has sounded pretty good to many people during the COVID-19 pandemic. 
Don't Miss: It's Not Too Late To Nominate Your Favorite Small Business To Be Featured on GOBankingRates — Extended to June 5
So good, in fact, that boat manufacturers can't keep up with demand. Following a year of record-high sales in 2020, new powerboat sales are still going strong, up 34% year over year since last February, according to the National Marine Manufacturers Association. "Inventory levels of new boats are the leanest they've ever been, and boats are being sold as soon as they hit the marketplace as manufacturers work to fulfill the backlog of orders," said Vicky Yu, senior director of business intelligence for the NMMA. 
While the image of being out on a boat conjures freedom and independence, the financial obligations and maintenance can also make boat owners feel like they're shackled in a money pit. That's why it's often said it's better to get a friend with a boat instead. 
Still, most of the recreational boats sold are small, inexpensive pleasure craft, with 77% of boat owners making a household income of less than $100,000 annually, according to NMMA. 
"Boating isn't just for the wealthy," said Scott Croft, vice president of public affairs for the Boat Owners Association of the United States (BoatUS), which provides advice, safety resources and services to boat owners. "It's all about what you want. Comfort? Liveability? It's a lifestyle choice."  
Buying used rather than new is by far the more popular choice, making up 76% of all leisure boat revenue in 2020, according to Grand View Research, which reports on the automotive and transportation industry. Not only that, used boats might be easier to come by, given current supply chain shortages and high demand. 
Most importantly, Croft said, no matter what kind of boat you buy, new boat owners should make sure they embark on their new adventure safely. "There's a huge influx of people on the water right now, and a lot of new boaters. Even for experienced boaters, taking an online safety course or a course in person is the best thing you can do," Croft said. 
So what kind of boat should — or shouldn't — you buy? Read on for a breakdown of three of the most popular choices and the pros and cons of taking the plunge.
Last updated: June 3, 2021
1. Cabin Cruisers
Boats in this category are the RVs of the sea. They're not luxury yachts, but cabin cruisers are equipped with kitchens, bathrooms, sleeping space, electricity and water to easily accommodate a comfortable few days at sea or longer. Prices for cabin cruisers typically range between $100,000 and $500,000.
Scaled-down versions, called cuddy cabin boats, are more modestly designed for shorter day or weekend trips. They often have small v-shaped sleeping cabins under the bow, and have a portable toilet, but no galleys. Cuddy cabin boats can be bought for just a few thousand dollars to more than $800,000, according to Boat Trader.
Buyer's Remorse: 50 Purchases People Almost Always Regret
Cabin Cruiser Pros
Ease: More manageable and less expensive than a yacht, cabin cruisers don't require any staff or crew and can be captained by an individual.

Comfort: Amenity choices are plentiful and the boats can navigate smoothly in rougher water.

Range: Good for longer overnight trips and can sleep a family.
See: 15 Times You Should Splurge, Settle or Skip When Shopping
Cabin Cruiser Cons
Storage: You'll most likely want to keep your boat parked at a marina, where moorage fees in the U.S.  can range anywhere from $12 to $240 per square foot per year, depending on the location

. Mooring often requires proof of insurance, for which you should budget $300-$500 per year or higher, particularly if you live in a hurricane-prone area.

 Cabin cruisers may be theoretically small enough to tow and store at home, depending on your model and the size of your home property, but transporting larger models can be prohibitively difficult. That means you can expect to pay year-round docking fees. 

Fuel: Typical cabin cruisers are among the least efficient recreational boats, getting about 1-2 miles per gallon.

Activities: Not ideal for water sports, speed or maneuverability.
Sticker Shock: The Most Expensive Version of Everything
2. Bowrider Boats
Bowriders are extremely popular because of their versatility and affordability. While this includes a broad category of boats, it generally covers boats 16 to 35 feet in length with open bow seating, powered by outboard engines or sterndrives with capacity for around 10 passengers.
Different bowrider models cater to different types of activities. Some are designed with more seating space for entertaining. Faster, zippier versions are built for water sports, while others are geared toward fishing with features like removable seats, trawling motors and rod holders.
Costs for a bowrider can also fit a wide range of budgets. Purchased new, prices start around $25,000 and can stretch all the way up to more than $120,000 for luxury models accessorized to the hilt and augmented with fancy trims.  
Test Yourself: How Well Do You Know How Much These Common Items Cost in the US?
Bowrider Pros
Versatility: If you know you're going to be doing a lot of fishing, water skiing or wakeboarding, you can get a bowrider specific to your favorite activity. You can also opt for a hybrid model that can please sunbathers, fishing and water sports fans all in the same trip. 

Size: Smaller-sized models are easy to tow and store, without having to pay for moorage. They are also more fuel-efficient than larger boats like cabin cruisers. 

Maneuverability: Bowriders are known for being fast, easy to drive and make good entry-level boats for first-time owners.
Ready To Splurge? 11 Insanely Expensive Things You Can Buy on Amazon Right Now
Bowrider Cons
Range: These aren't boats for longer journeys or overnight trips. Made for day trips only, traditional bowriders typically don't have the safety features like lights needed for traveling after dark, nor do they have the fuel capacity to reach a far-away destination.  

Transportation: Larger bowriders (more than 8 feet wide) may require special permitting to tow. Permit requirements vary from state to state, and depend on a variety of factors like the dimensions of the boat as well as the trailer you're using, and the type of tow vehicle. Before purchasing a bowrider, make sure you have a vehicle capable of towing the size boat you're considering.

Stability: A bowrider under 26 feet isn't ideal for choppy or rough conditions. Larger models offer more stability and safety on the open sea, but if you opt for the convenience of a smaller model, it's best to keep it on calmer lakes and smaller bodies of water. 

Fuel: With a roughly 3-5 mile-per-gallon range, bowriders can be costly to power.

 At $3 per gallon, a day out on the water can easily cost upwards of $100 in fuel.
Luxe Rides: 28 Most Expensive Celebrity Cars in the World
3. Canoes and Kayaks
Though they may seem similar at first glance, canoes and kayaks are very different boats. A canoe offers more seating options and room to move around inside, plus space versatility for gear, pets or kids. They're heavier than kayaks and take more energy to paddle, but generally make for a ride that's more comfortable, stable and dry. They can also be outfitted with small motors for fishing and coasting. 
Kayaks are very popular for their agility and light weight. There are sea kayaks for open water and river kayaks for whitewater adventuring. Different cockpit types also accommodate different preferences: "Sit inside" versions have small cockpits and spray skirts to help keep you dry, while "sit on top" models allow comfort of movement inside the boat.
Trip Planning: Cities You Can Stay in for Less Than $140/Night
Canoe and Kayak Pros
Cost: One of the most inexpensive boat options, kayaks and canoes can be bought new for a few hundred to a few thousand dollars. 

Storage and maintenance: Paddlecraft like canoes and kayaks have the predominant benefit of being among the easiest boats to own, maintain, transport and store. They can easily be kept in a garage and with the right kind of roof rack, transported on top of nearly any kind of vehicle.

Health: Human-powered boats are the most environmentally-friendly, require no gas and are great exercise.
Don't Go Anywhere: The Best Budget-Friendly Staycation Ideas We've Seen During the Pandemic
Canoe and Kayak Cons
Comfort: Both somewhat confined with limited or no space to move about, these might not be the best boats for people who need or want a comfortable seat. 

Stability: While capable of navigating waves, the risk of capsizing is greater than with powerboats. Taking an in-person safety course to learn skills such as rolling, weather tracking and signaling is essential. 

Limited activity: It's possible to do other activities like fishing from a canoe or kayak, but beyond that, the focus is on paddling and exploring.
More From GOBankingRates
About the Author