5 Reasons Always Using a Debit Card Is a Major Mistake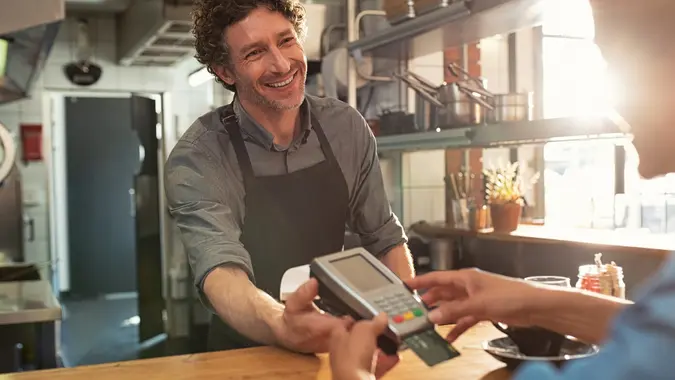 Ridofranz / iStock.com
At first glance, you might think there aren't any differences between a credit card and a debit card, but looks can be deceiving. While both can be used to make purchases, only one will help you build credit. Furthermore, debit cards rarely offer the same perks as credit cards. They also offer significantly less consumer protection.
While credit cards get a bad reputation for getting people into debt, they can actually work in your favor if you are disciplined about paying them off. They can also allow you some wriggle room if finances are tight for one month. So instead of reaching for your debit card, consider taking advantage of the rewards (and protections) your credit card offers.
While there are some limited circumstances where it might come in handy, here are the five main reasons to not use a debit card.
You Won't Improve Your Credit Score
Since debit cards aren't based on credit, they won't help you build it with each use. With a debit card, you aren't borrowing credit for purchasing. Each time you use it, you are withdrawing directly from your checking account. While this may sound good for people trying to stay on a strict budget, it won't help you improve your credit score.
Credit reporting agencies are interested in how much you borrow and if you make the payments on time, not in your checking account balance. So debit card purchases are not sent to credit bureaus or tracked. However, if you overdraft your account because of debit card spending you'll likely face significant fees.
If you only use your debit card, it can be difficult to establish credit. Failing to establish credit can hurt you in the long run if you want to make significant purchases since they often rely on your score to determine whether you will repay the loan.
You Won't Get Much Protection
Another problem with debit cards is that they don't provide much protection in the event of fraud. Credit card users are protected by the Fair Credit Billing Act (15 U.S.C. 1666 – 1666j). If you report the fraudulent activity you are only liable for a maximum of $50. The majority of credit card companies cover all of the costs associated with the fraud.
With a debit card, you may not be so lucky. Debit cards are not covered under the Fair Credit Billing Act. Instead, consumer protections are provided by the Electronic Fund Transfer Act. Unfortunately, these protections are not nearly as broad as the federal law protecting credit card users.
For instance, if you report the fraud or loss of your debit card within two business days, you will only be responsible for the "lesser of $50 or the total amount of unauthorized transfers." If you report the theft or loss within 60 days you could be liable for up to $500. If you do not report the fraud within 60 days you could face unlimited liability.
The Rewards Aren't Nearly as Good
Credit card companies are in steep competition to win your business. One way they succeed is with unparalleled reward offers. Perks can be geared toward what you love most, whether it is traveling, cash back or points. While some debit cards offer things like cashback benefits, they simply aren't as good as their credit card counterparts.
If you decide to stick with debit, it is worth doing some research to determine which cards offer the best deals. However, while you are at it you might want to skim through credit card benefits to see what you might be missing out on.
You Could End Up With High Fees
While credit cards can carry high-interest rates, debit card purchases can cause you to pay exorbitant fees if you aren't paying attention.
Debit card transactions are deducted straight from your checking account. If your purchases end up overdrawing your account, you'll face substantial overdraft fees. Worse yet, if you have payments like rent or your mortgage tied to your checking and it is overdrawn, it could cause you to default.
It Won't Help You in a Financial Emergency
Emergencies happen, especially financial ones. Unfortunately, a debit card won't offer you much help if you don't have the money in the bank to cover the unexpected cost. Debit cards are limited to what is in your checking account. Exceeding the limit will cause your balance to go negative. 
Credit cards, on the other hand, can buy you some time if you get into a pinch. The credit card company is lending you money with the expectation that you will pay it back. The good news is that if and when a financial crisis happens, you have some cushion. The downside is that you will have to work hard to avoid paying interest on what you borrowed.
More From GOBankingRates