These People Retired in Their 40s — Here's How They Did It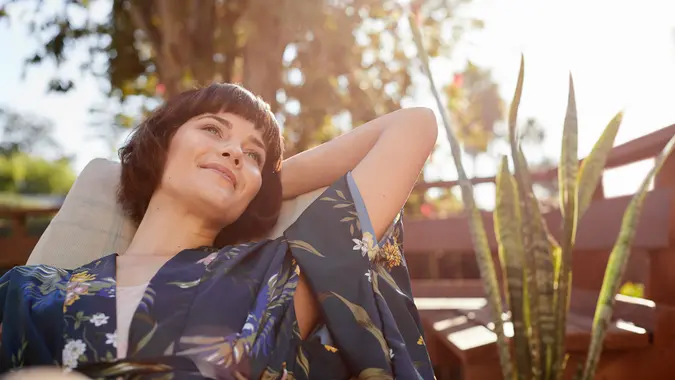 Goodboy Picture Company / Getty Images
Do you dream of retiring while you're still young enough to enjoy it in middle age or even earlier? Join the club. 
The Future of Finances: Gen Z & How They Relate to Money
Read: 5 Things You Must Do When Your Savings Reach $50,000
For most, that dream will always remain a dream, but GOBankingRates interviewed three people who are living proof that it doesn't have to stay that way — they're living that dream every day. Meet Marco Sison, Greg Wilson and G. Brian Davis, three regular people who achieved retirement — or something close to it — at an age that was anything but regular. 
Here's how they did it, in their own words.
One Dreamer Achieved Early Retirement Through a Nomadic Lifestyle
Marco Sison is a financial coach and the founder of Nomadic FIRE, where he advises his followers on retiring early while traveling abroad. His philosophy is based on the concept of geoarbitrage, a strategy that involves taking advantage of the cost-of-living differences between different geographic locations. Sison calls it "the most powerful, but underutilized strategy to retire early." 
Sison said: 
"My average salary before retirement was less than $70,000 per year. I didn't strike it rich on a tech IPO or get lucky on crypto. Yet, I still retired at 41 years old. My strategy to retire early was simple: reduce my living expenses, consistently invest in an ETF, and leverage geographic arbitrage. Saving and investing are fundamental personal finance tips. However, the biggest impact on my early retirement strategy was geographic arbitrage. 
Financial planners recommend reducing your monthly living expenses as the first step in dealing with any financial situation. The simplest but most effective way to lower your costs is to move to a less expensive country. Geoarbitrage allows me to reduce my expenses by up to 60%.
As a real-life example, my estimated monthly expenses in Portland, Ore., my former home in the U.S., were roughly $3,600 per month. Since I retired seven years ago, my monthly spending rarely tops $1,500 per month. Yet last year, I split my time between a gorgeous penthouse loft in the historic European city center of Lviv, Ukraine, in a large two-bedroom apartment overlooking the Adriatic Sea in Split, Croatia, or in a beachside villa in Dahab, Egypt. 
For 2021, my total spending was less than $18,000 to cover all my expenses." 
Take Our Poll: Do You Think Student Loan Debt Should Be Forgiven?
In Another Case, Early Retirement Began With Early Saving
Greg Wilson recently retired at age 42 and, along with his wife, lives mostly off of passive income. Together, the couple bought one blog and started another. 
Wilson said: 
"I am a son of a small business owner whose favorite child was his business. I wanted to be a more engaged and present father than I had, so I decided in my teens that I would get money out of the way so I could focus on family instead of money.  
The plan was simple. Acquire enough money in a taxable account to get me from age 40 something to 60. Concurrently, save enough in tax-advantaged accounts to get me from age 60 to death.
The trick to the plan is knowing what 'enough' money is. That comes down to a mindset I have of spending whatever it takes to make me happy and not a penny more. This is important. I'm not frugal. I just know that more stuff doesn't always make me happier. I've also tracked my spending closely for 22 years. By knowing what we spend, I know how much we need to cover spending.
At age 20, I bought my first rental house with $800 out of pocket. Over the next few years, I bought seven more houses, with nothing out of pocket. My parents didn't lend me money. I was only making $25,000 at the time. I wasn't someone that was given anything. The plan was to let other people — tenants — pay off the houses over the next 20 years. That would give me enough money to last me from age 40-something to 60.  
Concurrently I focused on maxing out my 401k. I looked at a 401k as future Greg's money. I refused to steal from future me.
The above sounds tough, but it wasn't. From age 20 to 30 my income got up to $60,000. I was just smart about my spending. As I reached my 40s I was making much more than that, but the hard work was already done. It was just a matter of deciding when to walk away.  
I now have three kids aged four and under. While working remotely during the pandemic, I became jealous of my stay-at-home wife hanging out with the kids every day while I was sitting in meetings where nothing was getting done. So my wife and I bought ChaChingQueen.com, a lifestyle blog about being happy on a budget, for mostly passive income. We also started ClothDiaperBasics.com for something to do when the kids are in school in a few years. We still own a few rental houses, but we sold most of them in 2021 because there was a shortage of housing inventory.
Retiring early is easy. Just know where your spending goes and control it. Is buying a Tesla, or another 1,000 square feet worth of house really worth working another five years of your life?  For me, we have enough. A tesla would make me $10,000 happier, not $100,000 happier. If I had to do one thing differently, though, it would simply be to be nicer to people. It's also hard to step away from a high income at work, but freedom is worth it. I also wish more people knew what is possible if they make money, spend less, and invest the rest." 
For One Man, Retirement Meant Switching to Work he Loved
G. Brian Davis is a real estate investor and founder of SparkRental.com, which helps middle-class people replace their salaries with passive rental income and reach financial independence to retire early with real estate. He, too, employed a version of geoarbitrage to reach his dreams. 
Davis said: 
"Before starting a business, I managed a SaaS company that specialized in selling legal forms for landlords. The owner was… eccentric. He'd disappear for six months at a time, then show up and demand meetings every day for weeks on end, inundating me with his manic ideas.
I don't miss working for someone else.  
My wife and daughter and I currently live in Brasilia, the capital of Brazil. The cost of living here is lower than comparably sized cities in the U.S., although it's an expensive city by Brazilian standards. My wife's employer provides us with free furnished housing, full health insurance coverage, and paid flights home to the U.S. each year. We also opted for an apartment where we can get around by foot, bike, and Uber, so we save a lot of money by not owning a car and avoiding all the attendant costs such as insurance, gas, etc.
As a less tangible perk, my daughter was born here in Brazil and has dual citizenship, and is learning Portuguese from her local nanny. Before Brasilia, we lived in Abu Dhabi for four years.
As an entrepreneur, I'm clearly not retired. But my family and I maintain a 65%-70% savings rate, largely by living overseas, and we've quadrupled our net worth from $150,000 to around $600,000 in just over three years.
Our low living expenses and frugality have enabled me to pursue my dream work. I get to write and talk about financial independence, investing, real estate, and personal finance all day, while living abroad and traveling frequently. I just turned 41, and don't plan on ever working for someone else again. I'll keep doing work that interests me, which will mean fluctuating income, but that doesn't matter because by funneling so much into investments I now earn significant passive income from them.
Having interviewed many people in the FIRE space, I've found that even those who have reached financial independence usually keep working. They just do work that they love, rather than being chained by the golden handcuff of a boring or high-stress job.
All of which is a long way of saying that we should challenge the conventional concept of retirement. Instead of working a day job until 65 then quitting cold turkey, consider funneling more money into passive investments and then using that income to supplement you as you switch to work you love. In other words, live the financially independent lifestyle without actually being financially independent or retiring."
More From GOBankingRates