I'm a Self-Made Millionaire: 3 Money Steps I Take at the End of Every Year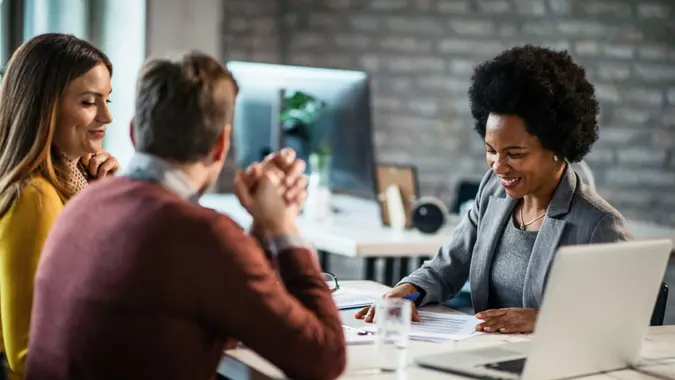 Drazen Zigic / Getty Images/iStockphoto
Though many of us have dreamed about having millions of dollars, we probably don't fantasize about how to manage that money for taxes. Self-made millionaires have to think about their earnings, losses and everything in between months before taxes are due. What does preparing for taxes look like at the end of the year for self-made millionaires? There is a lot to think about when it comes to money management for those who are making millions a year.
GOBankingRates spoke to two millionaires who made their fortune all on their own and asked what the end of the year looks like for them. Here's the advice they offered, much of which is applicable to those in other tax brackets. Read on to see what self-made millionaires are thinking about right now to get their finances ready for next year.
Evaluate Assets
Bryan Clayton is the CEO of GreenPal and became a self-made millionaire at the age of 32. One thing he's learned is to "not spend the first derivative of your income." That might sound technical, but in simpler terms, it means that, rather than simply depend on one source of income, it's important to invest in assets to have multiple streams of income to fund your life.
"Essentially, if I had my eyes set on, say, a new car, I wouldn't just dip into my savings or use my income to purchase it," Clayton explained. "Instead, I'd first invest in an asset that would generate the income to cover that car's expenses. So, the car gets paid for by the returns from the asset, rather than directly from my primary income."
Speaking about end of year financial steps, Clayton said he takes a look at all his assets and assesses their performance. "The goal is to ascertain how these investments are poised to support my aspirations for the upcoming year."
Clayton thinks about goals he has for the upcoming year, whether it be a vacation or a big purchase, then asks what investments will get him there. His investments typically involve real estate or bonds, though he'll look into other streams, as well. As long as they provide a strong monthly return, he considers them a good investment. "It's a system of ensuring my money works for me rather than the other way around," Clayton said.
To summarize, he sets goals for the upcoming year, then takes a look at his current investments to see if they'll perform well enough that he can achieve his goals. "In essence, by the year's end, I have a roadmap: a plan outlining how I'll deploy capital to acquire more assets that, in turn, fund my lifestyle and bigger ambitions," Clayton said.
Sell Your Losers
After doing a proper analysis of assets, it's likely there will be some that are not pulling their weight. It might be tempting to hold on to a losing investment hoping the market changes, but if it's been declining for awhile, Robert R. Johnson recommends selling it. Johnson is a professor of finance at the Heider College of Business at Creighton University and also co-wrote "The Tools and Techniques Of Investment Planning," "Strategic Value Investing" and "Investment Banking for Dummies."
He says that some investors live by the adage "a loss isn't a loss until you realize it," but that can be very damaging for your portfolio. "Many hold on to losing positions, often telling themselves they will sell the holding once they break even. The phenomenon of loss aversion leads to what many described as the disposition effect, which is the tendency of investors to sell winners and hold on to losers. The disposition effect tends to encourage poor tax management strategy, as well."
Instead, Johnson recommends selling losers and holding winners to accelerate tax credits and defer tax bills. "Investors need to admit their mistakes and move on. If you sell winners and hold on to losers waiting to break even, you end up with a portfolio of losers." Johnson said that rather than "getting even with your investments," it's best to pick the winners that will benefit you, so you can meet your financial goals.
Enlist Professional Help
Of course, not every millionaire knows exactly what they're doing, and that's okay. Asking for help from a professional is something many wealthy people do, which can help save money in the long run. When you're earning thousands of dollars per month, you want to make sure that you're not missing anything, whether it be tax benefits or calculations. Sometimes, hiring a professional can be your smartest move.
More From GOBankingRates