'Shark Tank' Star Kevin O'Leary's 3 Basic Money Rules To Follow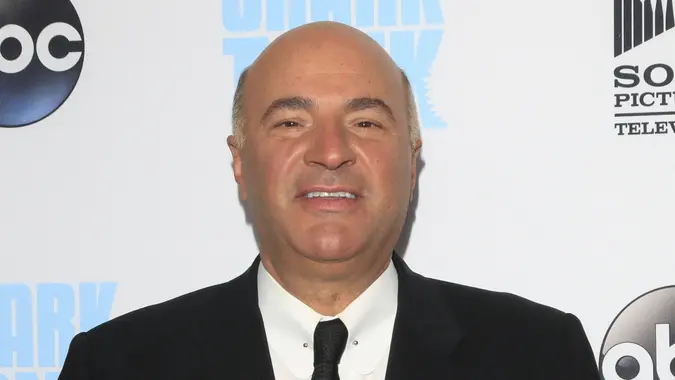 Kathy Hutchins / Shutterstock.com
If you've never watched the hit TV show "Shark Tank," you might not be familiar with Kevin O'Leary, a businessman and investor who goes by the moniker "Mr. Wonderful." O'Leary made his first big success when he co-founded SoftKey Software Products in 1983, which would go on to be sold to Mattel after the company changed names, the first of many successful business ventures that would contribute to earning him a net worth of $400 million.
See: 7 Frugal Habits That Aren't Actually Good for Your FinancesFind Out: What To Do If You Owe Back Taxes to the IRS
He rose to celebrity status when he first joined the Canadian TV show "Dragons' Den," and eventually, ABC's "Shark Tank," where he's invested in many products pitched by aspiring entrepreneurs. Here, we'll run through O'Leary's three main money rules to follow if you want to have financial success like him.
Don't Get Emotional About Your Money
Money and emotions don't mix well. According to O'Leary, via his LinkedIn post, "If emotions are involved in a money decision, be very, very careful. No decision fueled by EMOTION ever led to long term value," he wrote. He claims that "seemingly rational people" can make "horrible financial decisions" when emotions get in the way.
He's not wrong. According to research done by Nobel Prize winner Daniel Kahneman, people tend to make financial decisions a whopping 90% of the time from an emotional place rather than a logical one. It may be hard to consider that the home, car, wardrobe or TV you just purchased might have been driven more by an emotional reaction than a logic-based reason, but that's likely the case. The people who can get ahead of their emotions or put them aside when considering their finances tend to go much further. Learn to focus on facts and data, and set emotions aside when it comes to your finances.
Eliminate Debt First
Another key piece of advice from O'Leary is to aggressively pay down your debts, particularly those of the high-interest variety. According to CNBC, O'Leary said, "If you have student loans, if you have debt, if you have things that you're paying interest on, you have to pay those off first." He takes this to the extreme by suggesting that you shouldn't even be buying takeout coffee if you have debt to pay off.
Unsurprisingly, there's an emotional link to debt as well. Having debt has been shown to play a role in triggering stress and negatively affecting mental health. There are further studies that show a link between poor mental health and a decrease in the self-control you need to prevent yourself from spending too much or on things you don't need or can't afford.
Of course, it just makes good financial sense that it's hard to get ahead if you're accruing interest on debt that you still haven't paid off.
Save as Much as You Can
The great thing about paying off debt is that it frees up your money to be put toward savings and investments, and that is what O'Leary stresses you do as much as you can. In a Facebook post he challenged his followers to "start your journey toward financial freedom today by taking three steps: spend less, save more, invest the rest." He claims that his mother taught him to always save a significant portion of your income.
One strategy he recommends of the funds available for savings is as follows:
Put 5% into your savings account for an emergency fund, building up three months' worth of your expenses for the unexpected.
Put 10% into a project account (such as buying a vehicle or saving for a home).
Put the rest toward the long term, such as retirement investments.
He told Forbes, "If the market keeps performing like it has for the last century — basically returning 6% to 8% a year, and you just let your investments grow, you'll build up a portfolio of around $1 million or even $1.5 million by the time you turn 65. That's the goal I'm trying to help people reach."
More From GOBankingRates