9 Reasons I Knew I Needed To Fire My Financial Advisor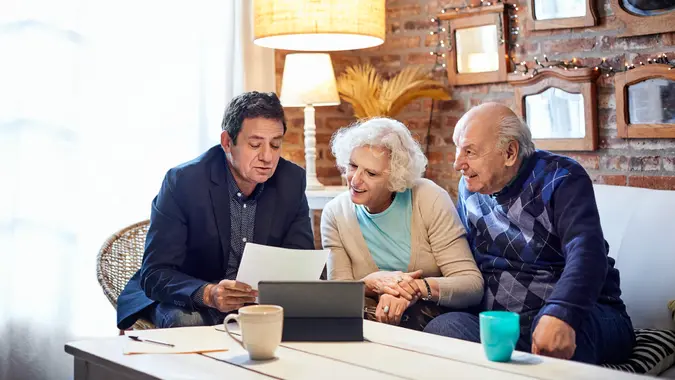 Morsa Images / Getty Images
Finding the right financial planner to help you manage your money can be tough. Even if you do your due diligence to ensure your planner is up to par and take the time to find out if you're a good fit for each other, you still can discover that you've made the wrong choice.
I've worked with a number of financial advisors, and I can definitively say that there are some red flags that, once you see them, you need to run. Here are nine signs that it's time to ditch your financial planner and find a new one.
1. Your Financial Planner Is Hard To Reach
"Clear, ongoing communication is vital to a healthy client/advisor relationship," said Courtney M. Weber, CPA, CFP with Truepoint Wealth Counsel. "If you're calling with a question or issue, your advisor should be there to listen and problem-solve. That's why you've hired an advisor — for their help! In addition to that, your advisor should be checking in with you periodically, asking about any new developments or concerns. The best working relationships are those where this communication flows freely."
Financial advisors also should offer you online access to your portfolio. And you should be getting more than just boilerplate letters, said Scott Bishop, CPA/PFS, CFP. "You need someone who will give you more personalized communications," he said.
If you're nervous about the market or see your portfolio value going down and your planner isn't calling you back, Bishop said it is time to make a change.
2. You're Only Given Cookie-Cutter Solutions
You don't want a planner who invests the same way for all clients, or who says, "Let's start with this approach and see how it works," Bishop said. A financial planner should know what your goals are and develop a plan to meet those goals. In addition to finding out your risk profile and discussing investment returns, they also should look at your tax bracket, expected or current retirement expenses, college savings needs, healthcare needs and any other savings goals, Bishop said.
"I don't invest anybody's money unless I can truly visualize what they need," he said.
Your planner should evaluate your goals regularly to make sure you're still doing what it will take to reach those goals. And they should discuss whether your goals have changed to make sure you're not going down a path you will regret, Bishop said.
3. You Don't Know How Your Financial Planner Gets Paid
"If you are working with a good advisor, they will have no problem telling you exactly how and how much they get paid," said Corey Noyes, founder and lead financial planner of Balanced Capital. "The best ones will even post it right on their websites.
"Some advisors will tell you how much they get paid but they like to ignore what I call your all-in costs. That means the total you are paying between your advisor, mutual fund fees, trade commissions, etc. Be specific and ask your advisor how much you are paying, not just how much they get paid."
If your planner does receive commissions, you need to make sure they're advising you and not just selling you products that don't suit your needs, Bishop said. "If all you hear is 'I'm giving you all the upsides and none of the risks'" with a particular product, you're not getting the whole story, he said.
A good financial planner should explain the risks and downsides of any investment, product or strategy. "Very few people have those conversations because they impede the sale," Bishop said.
4. Your Financial Planner Asks You To Write a Check Directly to Them
One sign of a bad financial planner is if they ask you to write a check directly to them.
"Such a system is against industry rules and is a sign he could be stealing from you," Bishop said. "People lose their licenses for this sort of thing."
Instead, make checks out to a planner's firm or a third party, such as an investment custodian or insurance company. You should receive account statements from those third parties, not just the advisor, Bishop said.
5. Your Financial Planner Rushes You To Make Decisions
If your financial advisor occasionally asks you to make decisions, it's not too much cause for worry. But if it happens over and over again, you should look for a new advisor. "No one should keep coming to you and having you make a forced decision," Bishop said.
A financial planner who pushes you to act quickly might just have a sale they want to make or might not know enough about an investment or product to explain it, he said. You're more likely to make a bad decision that could hurt your finances if you are rushed into a decision.
6. Your Financial Planner Makes Changes to Your Portfolio Without Telling You
It's okay if an advisor makes stock trades for you. You do, however, want to know how much you're paying for those trades.
But if your financial planner is making a lot of changes to your portfolio without consulting you or is moving money among accounts frequently, it "could be a sign that someone's manipulating your account," Bishop said.
Large changes to your account should always be discussed. And Bishop said that you should never sign any paperwork authorizing the financial planner to make any transactions without understanding what you're signing.
7. You Don't Receive Detailed Monthly Statements
Noyes said that if your account doesn't have any active trading happening, you may only receive quarterly statements.
"But if you aren't at least getting quarterly statements, something is very wrong," he said. "Good advisors use third-party custodians to hold your account. And those custodians are required to send out these statements. If you aren't getting them, one of two things is happening. Either your email and address are not entered correctly, or your advisor is not using a third-party custodian. Why is having a third-party custodian important? Bernie Madoff did not have one — get it?"
8. Your Financial Planner Doesn't Seem Interested in Your Specific Needs
Like I said before, everyone's needs for a financial planner are different. Your financial planner should strive to understand you, not the other way around. People who offer services should always be interested in the needs and goals of their customers.
"A financial advisor's number one goal should be to help the client understand and achieve their financial goals," said Jake Oyler, a financial advisor with Colwyn Investments. "There should be a definitive process to reveal these goals. If an advisor does not make sufficient effort to gather this information, or they try to push a product that doesn't make sense for the client, this advisor isn't a good fit for that client."
"Being a good advisor is more than just managing money, but it's about connecting with you to counsel you through every part of life and your decisions with your money," said Blaine Thiederman, CFP, founder and lead advisor at Progress Wealth Management. "If they don't care about you, how can they genuinely help you reach success and make decisions?"
9. Your Financial Planner Wants To Put Everything in One Investment
If you haven't heard it before, diversifying your investment portfolio is a wise move. If your advisor says to put all of your money into one fund, it's a little suspicious. 
"No one knows the future of any single investment, no matter how smart they are," said Thiederman. "If your advisor recommends you concentrate your life savings in one stock, they're rolling the dice with your financial future. The problem is, they likely have a team of attorneys and forms you have to sign to protect themselves. What do you have?
"No matter who you are, if you're not diversified not just among a basket of stocks but the appropriate amount of bonds, international stocks, small, mid and large-sized companies and cash … you're not diversified enough."
Takeaway
You hire a financial advisor to gain expert advice related to your financial needs and goals and help guide you to make the best decisions. So it makes sense that you should be comfortable with the advisor you are working with.
If you notice any of the signs mentioned here or anything else that's troubling, don't be afraid to look elsewhere for your financial planning advice.
More From GOBankingRates
Sam DiSalvo and Cameron Huddleston contributed to the reporting for this article.