Study Shows People Between 40 and 59 Are the Least Financially Prepared — Here's What To Do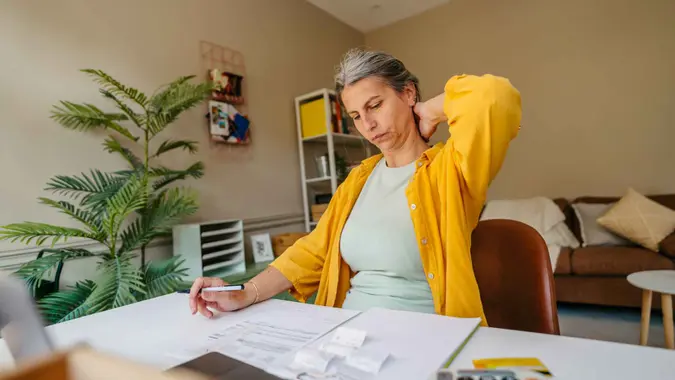 AleksandarNakic / Getty Images
Ask a member of Gen X if they are stressed, and the response will probably be a resounding "yes." The so-called "sandwich generation" is charged with taking care of children (who may now be entering high school, with college costs on the horizon) and aging parents. These responsibilities — along with others — have been taking their toll for many years.
But a new study from TransAmerica and the Massachusetts Institute of Technology AgeLab offers more than circumstantial evidence that individuals ages 40 to 59 are, indeed, carrying the most stress, particularly about money.
The study — which focused on how longevity is changing the traditional American journey of education, work, and then retirement — found that just 57% of people in their 50s said they expect to be able to retire.
Half of people ages 40 to 59 — which the study described as "mid-life," and encompasses Gen X and younger Boomers — said they are struggling to get by financially. However, 74% in that group recognized the importance of saving enough money to eventually retire.
"That cohort based on the study really had the toughest time and was carrying the most stress and burden about managing this concept of longevity in a positive way," said Phil Eckman, president of workplace solutions at Transamerica, in an interview published by CNBC.
If you fall into this age group and feel stressed — about time, money, caregiving, and your health — experts say there are steps you can take.
Focus on Your Health
Adults in mid-life had the lowest exercise rates of any demographic and also said they "ate healthy" less often than either younger or older adults, according to the study. Mid-life adults prioritized high salaries, which could mean that work, along with caregiving duties, took precedence over healthy life habits.
"One of the best ways to deal with stress is to look at that notion of health and well-being and sleep and diet and exercise and the way that can reduce stress," Eckman told CNBC.
You can start by reducing sugar and fast-burning carbohydrates in your diet and work on getting at least 30 minutes of activity each day — even if it's just a walk during your lunch break.
Speak to a Financial Advisor
As you're working on your physical health, turn to experts to help you assess your financial health. A financial advisor can help you plan for retirement and also look for ways you can ramp up your savings.
If you don't have an emergency savings fund, that's one place to start. You should also be maxing out your 401(k), especially if your employer provides matching funds.
A financial advisor can help you make the best money moves with the assets you have available at this stage of life.
Visualize the Future
With society's focus on longevity, it might help inspire you to visualize your future self in your 70s, 80s, and beyond. TikTok's new "aged" filter can help you "see" your future self (or, at least, one theoretical version of yourself).
Experts say this could help you imagine the future and take steps now to start creating your best life for that time period. "The role in simulation in helping us see that future self is incredibly powerful," Joseph Coughlin, director of the MIT AgeLab, told CNBC.
However, you have to keep taking those steps — including building good habits around health, finance, and mindset — to see the results. It can help to look at role models who are living their best lives in their 70s, 80s, and 90s, whether these are celebrities, family members, or that woman in your neighborhood who walks her dog every morning.
More From GOBankingRates