How To Tackle Paying Off Unexpected Medical Debt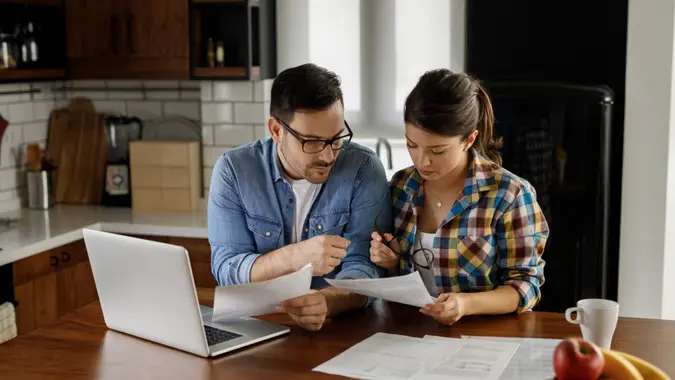 EmirMemedovski / Getty Images/iStockphoto
Unexpected medical debt is a real concern, especially while people continue to battle the pandemic. A survey from Freedom Debt Relief regarding how people are handling finances, including medical expenses, as the pandemic wears on revealed a key finding: When respondents were asked if they had accumulated more medical debt since March 2020 than before the pandemic began, 75% of respondents said yes.
Read: Americans' Savings Drop to Lowest Point in Years
Of the 75% that have incurred more medical debt since March 2020:
60% have done so because they, or someone in their household, experienced increased doctor's visits due to potential COVID-19 exposures.
More than one-third — 36% — have done so because they, or someone in their household, contracted COVID-19.
More than one-fourth — 26% — have done so because they or the head of their household lost health insurance coverage.
See: What Not To Do While Trying To Get Out of Debt
Whether your surprise medical debt is a result of the pandemic or not, the real question is: How do you deal with it? The answer is to take it step-by-step. Here's how:
Check Your Medical Bills for Errors
"Go back and review the explanation of benefits (called an EOB) from your insurance company," said Sean Fox, debt expert and president of Freedom Debt Relief. Common errors can include being billed twice for a service, paying a charge that insurance should cover by insurance and finding a charge for services you did not [receive]. Call the billing department of your provider or insurance company if you do not understand the charges or think there's a mistake."
Find Out: Almost Every State Is In Debt Thanks to COVID-19 — What Now?
Fox also recommends matching up the EOB with the eventual bill you get for the service. "If something is not in sync, contact the insurance company to start," he said.
See: Surprising Ways Gen X and Boomers Are Worlds Apart Financially
Negotiate a Payment Plan
"You may have more options than you think if you're hit with an unexpected medical bill. Many hospitals and practices offer hardship programs that can eliminate or reduce your medical debt if you can't afford it. Some also offer interest-free installment plans with payments based on what you can afford," said certified commercial loan officer Anna Serio of Finder.com.
More: 19 Ways To Tackle Your Budget and Manage Your Debt
If you are able to negotiate a payment plan for surprise medical expenses, Howard Dvorkin, CPA and chairman of Debt.com, recommends getting the payment plan in writing.
Consider a Low-Interest Credit Card
Consider applying for a low-interest credit card to help tackle unexpected medical debt, but know that getting approved could be challenging, said financial attorney Leslie H. Tayne, the founder and managing director of the Tayne Law Group, P.C. "Many traditional credit cards can offer a low-interest rate for the first year or a 0% interest period. However, to get approved for a 0% APR credit card, your credit needs to be solid with a score of 670 or higher."
Read: Paying in Full vs. Partial Payments: Which Is Best for Your Credit Score?
Consider a Low-Interest Loan
A personal loan is also an option to consider, according to Tayne. "A personal loan can help pay down an unexpected medical bill with monthly payment plans or installments. These loans are borrowed from an online lender or financial institution and have shorter terms to pay off the balance. Personal loans can also come with lower interest rates than many credit cards. Keep in mind, your credit score and financial history will be a deciding factor on qualifying, and to get the best rate, your score needs to be excellent."
See: How Much Debt Americans Have at Every Age
There are two other loan options you may want to consider if you're strapped for cash, said Greg Klingler, director of wealth management for the Government Employees' Benefit Association.
First, consider a home equity line of credit. "If you have equity in your home and an open HELOC, you may be able to access this equity," Klingler said. Second, he recommends considering 401(k) plan loans. "These loans are not dependent on hardship or the financial ability to pay back the loan. The existence of sufficient money in the account in a plan that allows for loans is the sole requirement."
Find Out: 30 Things You Do That Can Mess Up Your Credit Score
Ask For Help
If you aren't in a financial position to secure a low-interest credit card or loan, there are alternatives.
"Consider contacting local charitable foundations, churches, community groups or government agencies," Fox said. "Many can provide short- or long-term financial aid. Some states' laws require hospitals to offer 'charity care' (free or reduced-price services) to those who qualify. However, few medical providers volunteer this information — you must ask."
More From GOBankingRates
Last updated: Feb. 23, 2021