These People Make Six Figures and Still Struggle Financially — Here's Why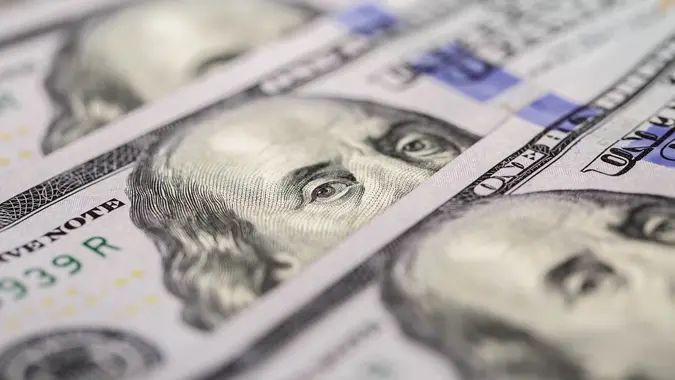 Erstudiostok / Getty Images/iStockphoto
For a long time, a $100,000 salary was considered the threshold of material success. It guaranteed a comfortable, even abundant lifestyle, where a nice house, car and luxuries like travel were well within reach. 
That's not to say $100,000 isn't still a lot of money. But many Americans who make it find themselves far from financially secure. 
According to a December 2022 survey from PYMNTS and Lending Club, 51% of people making more than $100,000 live paycheck to paycheck. This is up from 42% the previous year. While it's a much more dire situation for low- and middle-income earners, it's still surprising that more than half of those commanding six-figure salaries are unable to save money. 
So what's eating away at these high salaries? In order to find out, GOBankingRates asked four six-figure earners why they struggle financially despite their sizable income. Here's what they said.
Student Debt 
Many six-figure jobs require advanced degrees — and advanced degrees are expensive. Americans with occupations such as doctor and lawyer often carry hundreds of thousands of dollars in student debt. 
"I went to school to be a pharmacist, and when I came out, I realized that going to school was the biggest financial mistake of my life," said Samantha Brandon, founder of SamanthaBrandon.com. 
After getting her bachelor's in biochemistry and then going to pharmacy school — nearly a decade of higher learning — Brandon found herself over $400,000 in debt. As a pharmacist, she earns around $120,000 a year (before taxes).
"I wish my 23-year-old self had more common sense," Brandon said. "[I was] naive and thought that six figures could pay that type of loan off, but it can't. I would have to move in with my parents and pay my entire paycheck to student loans for six years to pay it off."
Child Care
Another huge expense for Brandon, and for many families, is child care. 
Brandon said daycare for her two children when they were toddlers was more than $2,300 per month.
"When you added up daycare plus student loans, it was over 60% of my take-home pay — and that was paying the minimum on my loans," Brandon said.
Despite modest home and car purchases, Brandon and her husband can't afford to save more than the 4% they individually contribute to their company 401(k)s. 
Inflation
"In a highly competitive society like ours, and with rising inflation, a six-figure income can't be a guarantee of financial security. Inflation alone can make your six-figure income worth five figures, leaving other factors aside," said Ronald Williams, founder of BestPeopleFinder. Williams noted that he makes about $120,000 a year.
Although six-figure earners may seem invulnerable, high inflation is hitting Americans at every income level. Looking at Zillow data, in March 2021 the average home in the U.S. was worth $265,702. Today, that figure is $327,514 — a 23% increase in just two years. That's great for sellers, not so much for buyers.
Inflation has affected more than just the real estate market. The average cost of groceries increased 11.3% from January 2022 to January 2023, according to Labor Department data. 
When basic expenses such as housing and food climb at such astronomical rates, it's hard for anyone to keep up. 
Healthcare
Living in the U.S. can be financially difficult if you experience a health crisis or chronic health issues. 
A report from independent research group The Commonwealth Fund found that, among other high-income countries like the U.K. and Canada, the U.S. spends much more in healthcare. In 2021, for example, the per-person cost totaled $11,912. Germany was the next-most expensive with $7,382 in per-person expenditure.
"I have a chronic illness that is very expensive," one high earner told GOBankingRates. "I need special housing which is pricey, daily caregivers which are not covered by the government, supplementary medical treatments and medications that are not covered by insurance." 
Working as a blogger and founder of the site My Chemical-Free House, the person earns about $100,000 per year. In a given month, they can spend $2,000 on caregivers and $1,500 on supplements alone. With high debt payments and various other living expenses, there is nothing left to save.
Lifestyle Creep
There are plenty of expenses Americans can't control, like costs related to inflation and healthcare. But for many high earners, it's the costs they can control that hurt them. 
"I became a financial adviser at age 19 and used to marvel at the apparent wealth of some of my clients — until we started filling out the forms," said Dr. Jeremy Britton, CFO and founder of Boston Trading Co. "The clients who lived in the biggest homes and drove the best new cars were often one to two paychecks away from destitution. A married couple who both earned six figures each were always broke on Wednesday until Friday when their paychecks came in."
Britton said he didn't truly understand the danger of lifestyle creep until it happened to him.
"After several years and a few businesses later, I finally cracked six figures myself," he said, "and woke up one day to realize I had a seven-bedroom house, five televisions, four cars (two drivers), cleaners, a cook and no money."
It wasn't until Britton had a stress-related heart attack at age 33 — followed by a six-figure divorce — that he downsized and learned how to be financially savvy. 
"My life is not so flashy from the outside," he said. "I drive a 30-year-old car and buy shirts at Kmart, but I am more secure than I ever was. For those who have a large income but no security, there are many ways to change your behavior and stack security rather than shiny objects."
More From GOBankingRates