8 Things You Should Never Venmo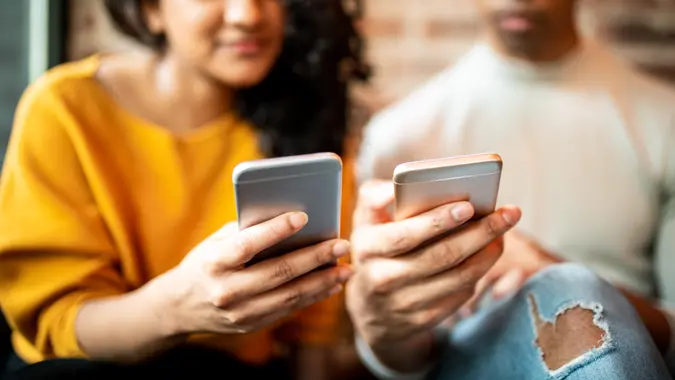 MStudioImages / Getty Images
Venmo is a popular digital wallet that lets people purchase goods and services or send money to others. In fact, the service is so popular that over 80 million people use it.
Like PayPal, Venmo is both convenient and — for the most part — secure. After all, it uses encryption technology to keep users' information and activity safe, as well as to prevent unauthorized transactions. Venmo also gives users the option to set their account to public, private, or for friends only.
But Venmo still comes with a level of risk, as well as some downsides. Because of this, there are certain things you should avoid using Venmo to purchase.
1. Concert Tickets
Buying concert tickets — or anything else that's considered time-sensitive — can be challenging on an app like Venmo. This is especially true if you don't know who you're getting the tickets from  It's possible that the tickets could be out of date or counterfeits. They could also have been purchased illegitimately.
If you're buying concert tickets from a reputable site, like Ticketmaster or StubHub, then it's typically fine to use Venmo or another digital wallet.
2. Electronics
You should also avoid using Venmo for electronics — whether they're televisions, phones, or video game consoles. Some of these items can be expensive, and it can be tempting to buy them online, especially if you find a good deal. But there are several issues with this.
For one, it can be difficult to determine if the electronic is from a legitimate brand or fully functional. For another, you could end up receiving the wrong device or a broken one. In some cases, you might never receive the goods you paid for at all.
3. Big-ticket Items
Buying expensive items from someone you hardly know or a complete stranger can be risky, especially if you don't see the item before making a transfer. While Venmo offers certain user protections, it may not cover transactions made between two individuals. In other words, you could end up losing your money.
Also, if you sell something through your personal account and accept a Venmo payment, you could end up losing both the item and the money. This could happen if the buyer doesn't classify the transaction as a payment for a good or service.
4. Designer Items
Some designer goods can appear legitimate but are actually cheap knock-offs. This is more common when purchasing these items from strangers online.
If you're going to buy designer or name-brand goods using Venmo, go through a reputable business. Otherwise, you could end up getting scammed. Also, make sure you know who the person you're paying is.
Take Our Poll: Do You Think Bankruptcy Is an Acceptable Way To Escape Student Loan Debt?
5. Gift Cards
Using Venmo to purchase gift cards is risky for many reasons. The balance on the gift card could be less than you expected, or it could be zero.
If the seller isn't reputable, they might not even send a gift card at all. Or they might send one with the wrong information so you can't use it. In some cases, the gift card could already be expired or invalid.
6. Illicit Goods
Venmo's user agreement bans people from using the app to purchase certain illicit — or illegal — services and goods. This includes drugs and medications.
Another thing you should avoid purchasing through Venmo is prescription medications. The Drug Enforcement Administration (DEA) cautions about the prevalence of online drug trafficking and the dangerous side effects of taking fake pills.
If you need any of these things, go through a reputable source.
7. Weapons
Venmo prohibits the purchase of firearms, ammunition, knives, and other weapons through the app. If you do and Venmo discovers the transaction, your account could get locked.
And if you're the seller, there are risks as well. If the buyer claims it was a fraudulent charge to their account, they could get their money back and you could lose out.
8. Cryptocurrency
Although you can buy (or sell) cryptocurrency using Venmo or PayPal, that doesn't mean you should. Once you have crypto on the platform, you can't move it — you can only sell or hold onto it. If something were to happen and your account gets hacked, you could lose your asset.
Another limitation is that you can't use cryptocurrency to earn interest. This is because Venmo doesn't have a crypto lending option. This could limit your earning potential.
If you want to buy cryptocurrency, go through a legitimate exchange or designated app with more features and security measures.
Beware of Venmo Scams
There are many Venmo scams to watch out for, but here are some common ones:
Someone creates an account that looks like a friend of yours and asks for money. You send the money, only to find out later it wasn't actually your friend.
A stranger online sends you too much money and asks for a refund. You agree, but it turns out they used a stolen card or account and you're paying a scammer.
You receive "free money" or a "prize" with the only caveat being that you must provide your banking information to finalize the transaction.
Someone claiming to be from Venmo contacts you asking for financial or banking information.
A person you're dating online claims they need money to visit you. You send the money but never hear from them again.
Although it might not happen to you, it's still important to be aware of the possible scams and risks of using Venmo — especially for major or illicit purchases. If possible, only make online transactions with people you trust and know, or to legitimate companies.
More From GOBankingRates