30% Would Take Advice From Popular Money Influencers, So Here Are the Best Tips From Cuban, Buffett, Greiner & More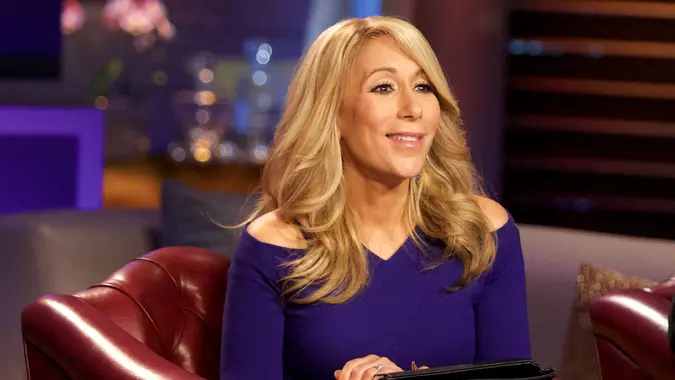 Tyler Golden / ABC
If you're working hard to get your finances in order, but you're confused by all the conflicting advice pouring out of your phone and laptop all day long, it might be time to tune out the jumble of misinformation and go with the pros. You certainly wouldn't be alone.
According to a new study from GOBankingRates, about 30% of people would follow the advice of a well-known influencer with a household name. Nearly half of the study's respondents have followed money advice from a renowned expert and half would consider it depending on the person.
The largest plurality, however, still relies on family and friends as the primary source of their financial guidance. But that might not be the best source of information — unless, of course, you're friends with people like Warren Buffett or related to people like Mark Cuban.
That's because the biggest names in the business got famous through their ability to break down complex subject matter in a way that ordinary people can understand. The following are just a few examples of what tips you can expect if you tune out your Facebook friends and put your faith in the experts instead.
Mark Cuban: Invest in Bear Market Innovators
Mark Cuban is a major crypto investor. According to CoinTelegraph, the billionaire Dallas Mavericks owner thinks the current crash will have a cleansing effect on the crypto market that resembles the early days of the internet. The hangers-on that don't add value will be washed away, leaving only the true innovators to emerge as industry leaders. The survivors will be the ones who create and innovate when things are bad.
"Disruptive applications and technology released during a bear market, whether stocks or crypto or any business, will always find a market and succeed," Cuban said.
Warren Buffett: Don't Wait for a Downturn To Reveal the Flaws in Your Game
When markets are up and everyone is making money, reckless strategies might seem bold because they can work when things are good — at least temporarily. But when bull markets turn to bear, the daredevils are often left wishing they had stuck with the fundamentals that prudent players like Warren Buffett have been touting for so long.
In reference to the recent crypto crash, none other than Cuban cited a well-known Buffett metaphor about how downturns have a way of revealing the flaws in shortcut-based investment strategies: "When the tide goes out, you get to see who is swimming naked."
Abigail Johnson: Be Leery of Borrowing in Times of Plenty
The CEO of Fidelity Investments, Abigail Johnson comes from a family of financial professionals. According to the Business Insider, her best financial advice is the same that she received growing up — tread lightly when buying things with loaned money when times are good.
"Be cautious with leverage," Johnson told the publication. "What I mean by leverage is buying assets with borrowed money. It's dangerous and can be financially toxic when people use too much credit card or home-equity debt to pay for current consumption. When the stock market and real estate prices are going up, leverage can seem like a sure way to boost returns. But when the bull market eventually stalls, as it always does, then too much debt can quickly overwhelm an individual's personal finances, just like it does with a company's balance sheet."
Tori Dunlap: Stop Stalling and Start Investing
Her First $100K founder Tori Dunlap is shocked by how many people avoid investing because they're intimidated by the task and doubtful of their own abilities. They spend so much time researching to try to get up to speed that they never wind up pulling the trigger.
What this feminist investor wants is for people to get in the game — even if you start small, just get started.
She told Acorns, "Analysis paralysis is costing you a ton of money. If you're scared of losing money, buy and hold."
Lori Greiner: Remove Your Emotions From Money and Business
Whether you're buying a home, applying for a job or starting a business, you should expect to encounter people who are unprofessional, rude or otherwise difficult. In a conversation with Business Insider, Lori Greiner — inventor, entrepreneur and "Shark Tank" star — opened up about negative encounters she had with negative people on her way to the top.
"Don't let business get personal," she told the publication. "It's just business. Shrug it off. Be as charming and as passionate as you would be if they weren't a jerk. Get the sale. Get what you need. And then laugh your way to the bank. If you let them upset you or they get under your skin, you have just stopped. You've halted progress."
Neil Cavuto: Stay Informed, but Tune Out the Noise
Nearly a decade before COVID-19, Neil Cavuto offered Martha Stewart's followers sage advice that feels even truer in the post-pandemic world than it was back then.
"Stop obsessing and constantly looking at the news," Cavuto told Stewart. That's admirable advice, considering people obsessing over the news is how the Fox News anchor gets paid.
He continued, "Pull yourself away from the TV, radio, or newspapers and stop panicking. People need to be less emotional and smarter about their money."
More From GOBankingRates