Top 5 Financial Tools That Boomers Need To Know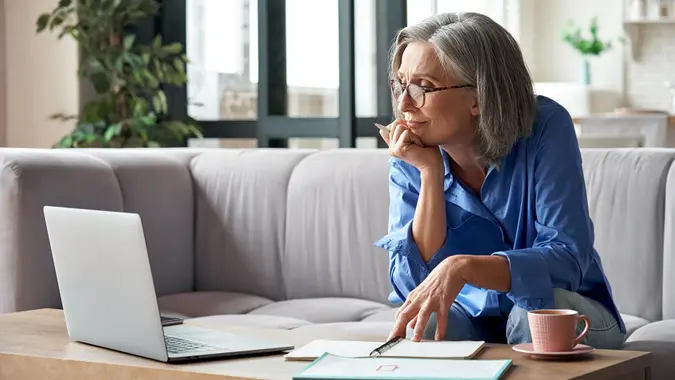 insta_photos / Getty Images/iStockphoto
Baby boomers are generally considered to have been born between 1946 and 1964. As such, they have a wealth of experience that they can tap into to help them with their investments. On the downside, however, it means that some of them might not be as up to date on financial technology as younger generations. While boomers shouldn't abandon their hard-earned wisdom over the years, they should also be aware of more modern developments that can enhance their personal finances even more. Here are some of the top financial tools that boomers need to know.
Financial Apps
If you're a baby boomer, smartphones didn't exist while you were growing up, so you can be forgiven for thinking that something in the palm of your hand can be a useful financial tool. But the reality is that there are now so many personal finance and trading apps available that you might be falling behind with your personal finances if you don't use at least one. From budgeting to investment research and strategy to actual trading platforms, you can find a financial app that will do nearly anything. In the interest of keeping your financial life simpler and opening new doors of opportunity to you, it's worth checking out at least some of the top available apps to see how you can use them to your advantage.
Take Our Poll: Are You Concerned About the Safety of Your Money in Your Bank Accounts?
Tax Software
Doing your taxes has always been a chore, but in recent decades, a lot of the hard work has gotten much easier thanks to tax software. You'll still have to assemble all of your W-2s, 1099s and other important tax documents, but now you can complete your return just by answering a series of questions asked by your tax software. You can be assured of no math errors in your return, and the software will even offer suggestions as to how you can save even more money on your taxes. Even the IRS now offers free-file tax software, as long as you have an adjusted gross income of less than $73,000.
Automation
Automation is one of the greatest innovations in the financial world because it helps remove emotion from the equation. While nearly everyone realizes they should save and invest, it's hard to do it on a consistent basis if you have to remember every month and then physically call your banker to do the transaction. With financial automation, your money is moved into your investments every month without you even having to think about it. This is an essential tool for keeping your long-term financial plan on track.
Zero-Commission Brokers
For most of the history of the stock market, investors had to pay full-commission brokers for the opportunity to trade stocks. That all changed in 2015 when Robinhood introduced the first zero-commission trading app. In October 2019, Charles Schwab became the first major brokerage firm to offer a no-commission platform, and many of its rivals quickly followed suit. Now, everyone from Fidelity and Vanguard to even Merrill Lynch offers no-commission trading platforms for stocks and exchange-traded funds, something that was unheard of even a decade ago. Although there is a place for full-service brokerage firms, if you're a boomer executing all of your stock trades through one, you owe it to yourself to at least take a look at the zero-commission options that are available.
Robo-Advisors
The idea that a computer could manage your money for you may sound a bit far-fetched to boomers, even in this age of high technology, but so-called "robo-advisors" are big business. They are a convenient, low-cost way to invest. Robo-advisors take your self-reported inputs regarding investment objectives and risk tolerance to select the best combination of an assortment of exchange-traded funds. 
For example, depending on your inputs, your money might be allocated across eight different ETFs providing exposure to large- and small-cap domestic stocks, emerging market bonds, international stocks and precious metals. Most robo-advisors are tax-efficient and low-cost, with the typical service costing just 0.25% of your assets per year. Robo-advisors may be worth a look for boomers looking to have a professionally allocated portfolio without paying sky-high fees.
More From GOBankingRates