The Living Wage a Single Person Needs To Rent an Apartment in New York City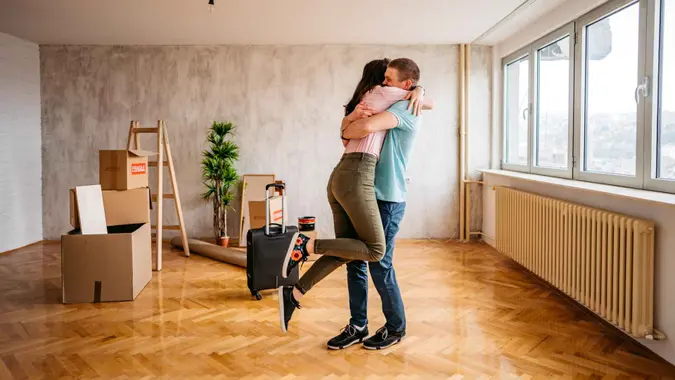 urbazon / Getty Images
The United States seems to be in the midst of a housing crisis as rent in many areas throughout the country is becoming unaffordable.
While this may be a new phenomenon in some cities that have seen a recent influx of residents, it has been the case for decades in New York City.
The Big Apple is notorious for high rents. Unsurprisingly, the amount of money that you need to make to live in one of the city's five boroughs is extremely high. 
At GOBankingRates, we analyzed multiple cost of living indexes, such as how much you would need to have for groceries, healthcare, and transportation, in addition to the average cost of rent to determine what the living wage of a single person would need to be to rent a one-bedroom apartment in NYC.
Then we asked experts to weigh in on the costs of living in the city and what it means in the long-term for your finances. Here is what we found.
Monthly Living Wage Needed To Rent a One-Bedroom in NYC
According to our research, a person would need a monthly living wage of approximately $10,051.75 to rent a one-bedroom apartment in New York City. This was determined based on a number of factors, including the average cost of renting a one-bedroom apartment in the city and expected living expenses.
Our research indicates that the average cost of a one-bedroom apartment in New York City is $2,115. Monthly expenditure costs for groceries are approximately $554.14. Individuals living in the Big Apple need around $622.05 to cover healthcare expenses each month. Additionally, utilities run around $570.52, and transportation costs often exceed $1,000 each month. 
Taking these and other normal costs of living into account, you would need to make over $10k a month to cover your necessities and to allow for 30% spending on non-essentials such as eating out, plus 20% to be set aside for savings.
Rent Can Vary Depending on the Borough
Andrew Lokenauth, a financial expert and New York City resident, cautioned, "You should expect to pay $2,500 or more for a modest one-bedroom apartment." 
He explained, "Renting a small one-bedroom apartment in an outer borough like Queens or Brooklyn will cost around $2,500 per month. In popular neighborhoods of Manhattan, expect to pay $3,500 or more for a similar apartment." 
He noted, "Getting a roommate can cut costs, but still plan on at least $1,800 per person." Lokenauth is the founder of TheFinanceNewsletter.com and has over 15 years of experience in the finance industry. 
Artem Minaev, Senior Investment Advisor and Co-founder of CryptoDose, also noted, "The cost of a one-bedroom apartment in New York City can vary significantly depending on the borough, neighborhood, and the apartment's condition." 
He continued, "As of my knowledge, you could expect to pay anywhere from $2,000 to $3,500 monthly rent for a one-bedroom apartment in Manhattan, while prices might be lower in the outer boroughs like Brooklyn, Queens and the Bronx. These prices can be higher now due to inflation and increased demand. You might also need to pay a security deposit, often one month's rent, and possibly a broker's fee, which could be as high as 15% of the annual rent."
Factor in Other Essential Living Expenses
Loukenauth also recommended that people take into consideration other living expenses. He suggested that individuals hoping to move to NYC "budget $150 per month for a MetroCard to cover transportation."
He also noted, "Groceries and eating out averages $800 per month. Shop sales and cook at home to save. Utilities like electricity, internet, and phone will cost around $200 monthly."
Hidden Expenses in NYC
"Speaking from a financial perspective, living in New York City means dealing with unexpected expenses that can impact your long-term finances," said Minaev.
"For instance, the city has a relatively high convenience tax. Everything from grabbing a quick snack to using public restrooms might incur small fees, which, over time, can add up and affect your budget more than you might expect."
He added, "Additionally, NYC's alternate side parking rules often mean paying for parking in a garage, which can be a significant monthly expense if you own a car. These less-known costs can strain your finances if not carefully considered."
Account for Lifestyle Expenses
In addition to living expenses, you will want to think about your individual lifestyle and account for those costs. For instance, if you routinely eat out or spend a lot on entertainment, you will need to factor in those expenses.
Loukenauth said, "Entertainment, drinks, concerts, etc., can run $500 or more per month. Fitness classes and gym memberships average $150 monthly." 
He also recommended people take into account whether they will need to travel, "Don't forget the cost of trips home to visit family."
Health Insurance and Taxes
Finally, Loukenauth cautioned that individuals calculate costs related to health insurance and taxes, neither of which are cheap in New York City.
He explained, "Employer health insurance averages $500 monthly for an individual. City and state taxes can cost over $1,000 per month for higher incomes." Therefore, you may need to "save all year for next April's tax bill."
Long-Term Financial Implications
If you are not prepared for the long-term costs of renting a one-bedroom apartment in New York City, you may not be able to afford it for very long.
Loukenauth suggested that hopeful residents would "ideally have 6 or more months of living expenses saved as an emergency fund."
He also recommended that they "Build long-term savings too since costs like rent continue rising. Or strongly consider getting a roommate to ease the financial burden."
Methodology: To find the living wage a single person needs to rent a one bedroom apartment in New York City, GOBankingRates analyzed the cost of living indexes across the expenditure categories; grocery, healthcare, utilities, transportation, and miscellaneous cost of living indexes for New York City as sourced from Sperling's BestPlaces. Using the cost of living indexes and the national average cost in each expenditure category as sourced from Bureau of Labor Statistics Consumer Expenditure Survey, the monthly average costs in each expenditure category for New York City. Using ApartmentList's rental data for one bedroom apartments in New York City, the average monthly rent can be found. Combining the average rental cost and the total monthly expenditure cost will give the average living cost in New York City. Using the 50/30/20 rule, GOBankingRates can calculate the average living wage a single person needs to rent a one bedroom apartment in New York City by doubling the 50% needs category. The livability index was included as supplemental information as sourced from AreaVibes. All data was collected and is up-to-date as-of October 4th, 2023.
More From GOBankingRates