What Americans' Savings Look Like 1 Year Into the Pandemic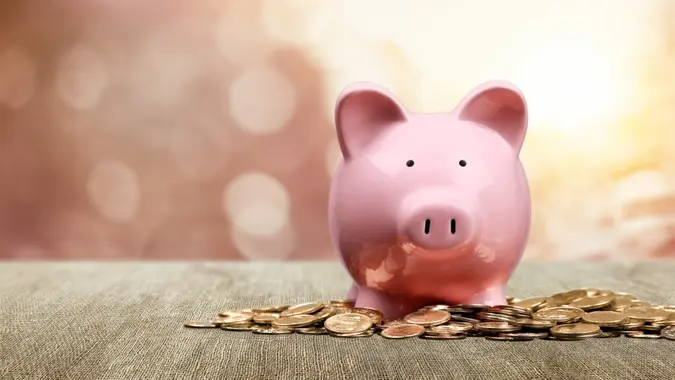 artisteer / Getty Images/iStockphoto
With unemployment reaching new highs amid the pandemic, you might assume that Americans would be low on savings, resorting to emergency funds or retirement savings to cover necessities. And while this is certainly the case for some, numerous analyses have found that Americans have actually saved more during the pandemic.
COVID's Financial Impact After 1 Year: See All Our Coverage
How Is This Possible?
According to Barron's, "the combination of government checks and the threat of the virus has been responsible for a massive increase in the household saving rate […] and the cumulative impact has been worth about $1.3 trillion." That figure — reported in November 2020 — was expected to rise.
The rise in the household personal saving rate — the percentage of disposable income that people save — did not come as a surprise to economist Robert R. Johnson, professor of Finance at the Heider College of Business, Creighton University.
Read More: Nearly Half of All Americans Missed Rent or Mortgage Payments Due to COVID-19, New Study Reveals
"Conventional wisdom might suggest that as economic activity falls and more people are unemployed, the savings rate would decline as people's finances are more stressed," he said. "But, overall, the U.S. savings rate has increased during the pandemic as higher-wage earners have cut spending dramatically."
Many Americans cut spending across a number categories, especially those that require interaction with others, while also focusing more on saving — a combination that has led to this savings surge.
Discover: 22% of Americans Who Lost Their Jobs During the Pandemic Remain Unemployed, Survey Reveals
"People spent less on dining, entertainment, sports, travel and gasoline," said Amy Braun-Bostich, founding partner and CEO of Braun-Bostich & Associates. "The savings rate accelerated as the unknown consequences of the pandemic made people fearful."
According to Johnson, the monthly savings rate in the U.S. from 1959 through 2020 has ranged from a low of 2.2% in July of 2005 to an all-time high of 33.7% in April of 2020. "The monthly personal savings rate has remained well above the long-term average of 8.9% since the pandemic began," he said.
However, Not All Americans Are Saving More
As Johnson noted, the savings rate increased for high-wage earners — for low-wage earners, it's a different story.
Find Out: 40 Cities That Could Be Poised For a Housing Crisis
"The problem in America, in particular, is that there's a very large portion of the population that was living paycheck to paycheck," Sarah Nadav, a behavioral economist in the World Economic Forum's expert network, told Time. "So, if they were barely able to pay their bills before then they don't have very much room to cut down and save now."
Did You Know: What Income Level Is Considered Middle Class in Your State?
Low-wage earners already tend to be spending the bare minimum, so the reduction in spending seen by high-income earners amid the pandemic was not replicated by low earners, an Opportunity Insights study found. According to the study, "households in the bottom 25% continued to spend at the same levels they had before the crisis."
Many Americans Have Less Than $300 in Savings
As for how much Americans actually have in savings, a survey conducted by GOBankingRates in January sheds some light. The survey found that 40% of Americans have less than $300 in savings — an alarmingly low amount considering the high rates of job loss. In addition, 10% had between $300 and $600, 8% had between $600 and $1,000, 14% had between $1,000 and $5,000, 10% had between $5,000 and $10,000,  6% had between $10,000 and $20,000, 5% had between $20,000 and $50,000, and 7% had $50,000 or more in savings. The survey also found that 55% of Americans have had to dip into their savings during the pandemic.
Do You Think the Minimum Wage Should Be $15? Take Our Poll
"We find that people's savings can serve as a kind of litmus test for their financial well-being in general," said Andrew Murray, GOBankingRates' content data researcher. "The 50-30-20 budgeting rule suggests people save 20% of their income, so when people don't have any savings, or have to withdraw from it unexpectedly, it's a good indicator that they are struggling financially."
Read: What the Pandemic Has Proven Wrong About How We Viewed Money
The survey found that the most common obstacles to saving more were living paycheck to paycheck (37%), being unemployed (26%) and a high cost of living (24%).
More from GOBankingRates