6 Things You Must Do When Your Salary Reaches $150,000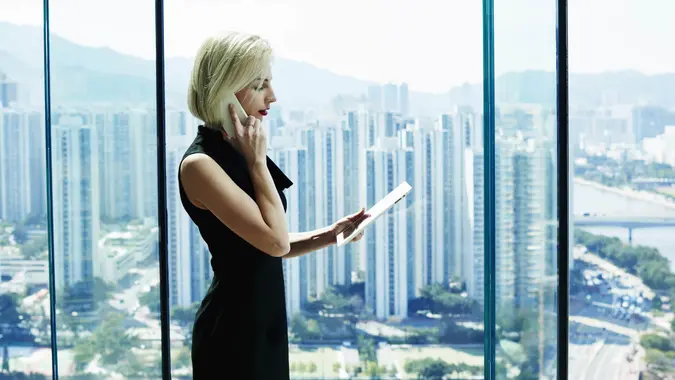 GaudiLab / Shutterstock.com
In many respects, working professionals who start to earn a salary of $150,000 a year will treat this income quite similarly to how they would behave if they made $100,000 annually. There are some money moves to make that will be familiar in any income bracket. However, other financial decisions may be new and worth considering as an investment. 
Once you start to earn a salary of $150,000, make the following moves with your finances.
Create a Budget
It is possible for a person earning a six-figure income to find themselves living paycheck to paycheck. Fortunately, you will no longer be in this situation if you create and stick to a budget. 
Gabe Krajicek, CEO of Kasasa, recommends creating a budget that outlines your income and fixed expenses along with variable expenses. Your budget will allow you to have a clear understanding of what's coming in and what's going out in order to better enable you to track your spending and identify areas where you can save money.
Maximize Retirement Savings
Do you have retirement savings options available to you? Can you max out your contributions to retirement accounts like an IRA or an employer matched 401(k)? If you answered yes to these questions, take advantage of maximizing your retirement savings once you start earning a $150,000 salary.
Paul Baessler, CCO at AI-powered investment app Q.ai, said it's better to set a savings goal and think of spending after reaching it than it is to start spending and save whatever is left. "That paradigm shift in thinking is among the best things individuals can do to assure a plentiful retirement," said Baessler.
Prepare for the Unexpected With an Emergency Fund
Once your salary reaches $150,000 annually, there's no excuse not to have an emergency fund anymore. If anything, the more you earn the more it will be incredibly important to prioritize an emergency fund in the event of unforeseen circumstances.
Krajicek recommends having three to six months' worth of living expenses in an easily accessible account, like a high-yield savings account, for unexpected situations.
Set Up an Automatic Savings Account
By setting up an automatic savings account, Krajicek said high earners may be able to save consistently and reach their financial goals more efficiently.
Not sure where to begin? Krajicek recommends comparing rates. You may also look at your local bank or credit union, which are known for their high-yield savings accounts and low rates.
Pay Off High Interest Debt
If you have any lingering high-interest debt, like student loans or credit cards, now is the time to pay it off. In addition, Krajicek recommends investing for the long term and reviewing your insurance coverage.
Seek Professional Guidance
You can certainly review your budget and financial plan on your own, but there will be moments where it's a good idea to work alongside a financial professional. "With a higher salary, you may have more complex financial needs and goals," said Krajicek.
If you don't already have a trusted financial advisor, tax professional or bank that has your best interest at heart, now is the time to find the right person, or place, uniquely situated to offer you assistance.
More From GOBankingRates