Which Financial Information Should You Avoid Sharing Publicly?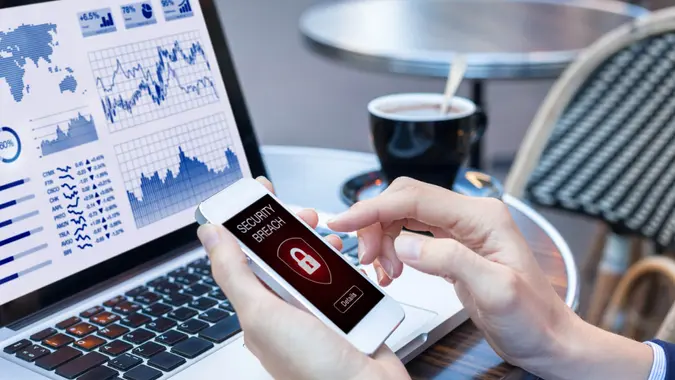 NicoElNino / Getty Images/iStockphoto
In our digital age, protecting your personal and financial information is harder than ever. The U.S. Federal Trade Commission reports that consumers lost almost $8.8 billion due to fraud in 2022 — a 30% increase from 2021. Investment and imposter scams were the top reasons people lost money.
Good Question: What Happens to Your Money If Your Bank Fails?
With a Recession Looming: Make These 3 Retirement Moves To Stay On Track
In light of this alarming trend, it's important to be vigilant about what you share, especially online. If the wrong person gets your financial information, that person could make purchases with your credit card or open a new one, open new accounts or even take your tax refund.
So how can you protect your financial information? And what exactly should you avoid sharing publicly? Here's what financial experts recommend.
Financial Identification Numbers and Codes
Any information that people can use to access your finances or personal accounts should be kept private. That includes:
Social Security numbers
Bank account numbers and passwords
Credit card numbers and security codes
Retirement account information
"It's crucial for individuals to keep sensitive information private and only share it with immediate family members," said Andrew Latham, CFP and director of content for SuperMoney.com. "Sharing this type of information can leave individuals vulnerable to identity theft, financial fraud and other malicious activities that can harm their financial well-being."
Income and Credit Information
You may feel comfortable talking about your finances with a few trusted people, such as your financial advisor or your spouse. But avoid sharing information about your salary or credit health publicly or online, Latham advised.
"[This includes] budget and spending habits, loan and credit information, and tax returns," he said. "It's important to be cautious about who has access to this information and to avoid posting it online, where it can be easily accessed by unauthorized individuals."
You also might find that talking publicly about how much money you earn elicits unwanted attention from people seeking to sell to you or asking for money.
How To Protect Your Financial Information
When it comes to sharing personal information online, UBS private wealth advisor Greg Merrill says you can never be too cautious. However, you will need to share your private financial information with someone at some point, whether it's to open a new bank or investment account, pay bills or receive financial or health benefits.
"For example, think about how much sensitive information is required to be shared to file your taxes or to apply for a mortgage," Merrill said. "All information is OK to share when it's required. The necessary steps just need to be taken to ensure it's shared in as safe and secure a manner as possible."
What counts as "safe" ways to share sensitive information? Here are three practical steps you can take.
Confirm Sharing Instructions
One of the most common ways people accidentally share financial information online is through phishing scams. According to IBM's 2022 Cost of a Data Breach Report, it's also the costliest.
If you receive an email asking for sensitive data — even if it seems to come from a trusted person or institution — go the extra mile to verify it.
"Implement the best practice of verbally confirming instructions you've received to share any financial information with whoever sent them to you," Merrill said. "That way, you avoid clicking on any fraudulent links or using any incorrect instructions."
Strengthen Your Online Security
Fraud can happen when you least expect it, including when you're shopping online or simply browsing the internet. So in addition to avoiding questionable emails, take extra care to fortify your log-in information, especially for online banking, bill payment and government benefit portals.
Said Latham: "I suggest using strong passwords and two-factor authentication, monitoring credit reports regularly, being cautious when using public Wi-Fi, using anti-virus and anti-malware software and avoiding clicking on suspicious-looking links or downloading attachments from unknown sources."
Invest in Security Systems
If you're an employee, consider reaching out to your HR department or boss to ask which steps the company is taking to protect your financial information.
If you're a business owner, be sure to put systems and protocols in place to protect your business', your employees' and your own financial information. The FTC recommends keeping only the personal information that you need (and deleting what you don't), keeping that data secure with proper systems and software, and making a plan for how you would respond to data security problems.
"That not only strengthens your business today," Merrill said, "but it ultimately makes you more attractive to potential buyers down the road."
More From GOBankingRates