Which Generation Is the Most (and Least) Financially Literate?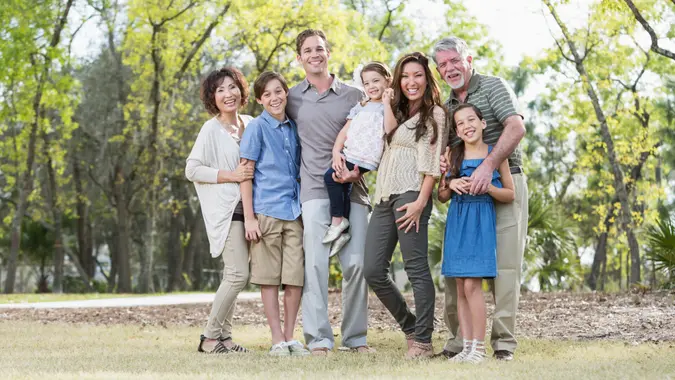 kali9 / Getty Images
Financial literacy is an important life skill that too few Americans have mastered. Studies have shown that those with higher financial literacy are more likely to plan and save for retirement while working, meaning they were also more likely to have long-term financial success.
With the future of Social Security in question, the vanishing of American pensions and many Americans coming up short in their retirement savings — financial literacy is more important than ever.
Studies by the TIAA Institute, in conjunction with the Global Financial Literacy Excellence Center, or GFLEC, seek to point out which generations are most in need of financial literacy education. The 2022 version of the study also highlights how Americans in general are falling short in terms of longevity literacy, or an understanding of just how long Americans live after reaching age 60. Overall, TIAA/GFLEC concluded that only 37% of Americans have what could be considered "strong" longevity knowledge.
Here's some further analysis of the data included in the reports.
Generation Z
Generation Z refers to those born between 1997 and 2012, according to the Pew Research Center. Thus, those in Gen Z are currently between the ages of about 11 and 26.
As might be expected due to their relatively young ages, data shows that Generation Z demonstrates the lowest level of financial literacy among Gen Z, Gen X, boomers and millennials. When responding to a survey covering eight components of personal finance, from earning and saving to investing and debt management, a whopping two-thirds of Gen Z respondents answered only 50% or fewer of the questions correctly. 
Financial literacy within Gen Z is lowest among those who never attended college, another finding that seems logical. However, one important data point in the study seems encouraging for the expansion of financial literacy in the future: Gen Z is the generation that was most likely to have been offered a financial education class or program. Nearly half of Gen Zers in the study (48%) responded that they had been offered such a class, with 40% taking one. Both of these figures are the highest among any generation, perhaps indicating that financial literacy education is finally starting to take root among the youngest generations.
Of note, Gen Z was also the age group that was most motivated by the pandemic to increase their financial literacy.
Generation X
Generation X, or those born between 1965 and 1980 according to Pew, seem to be facing the biggest financial challenges. This may also make logical sense, as those from ages 43 to 58 are likely the ones dealing with housing payments, college funding, saving for retirement and other financial stressors — more so than any one other generation.
About 28% of Gen X respondents in the study noted that they had trouble paying all their bills in a typical month, compared with just 20% of boomers and those in Gen Z and millennials.
Boomers
Pew Research defined baby boomers as those born between 1946 and 1964, during the post-war baby boom. Those living in this generation are between the ages of 59 and 77, which means they are either currently retired or will be there shortly.
Boomers did best among these age groups in terms of responding correctly to financial literacy questions, with 60% correctly answering at least 50% of the survey questions. Few boomers indicated that the pandemic motivated them to increase their financial literacy, at just 29% of respondents. While this could indicate that these boomers were too set in their ways to start learning new methods, it more likely indicates that this age group already had a high level of financial literacy.
Millennials
According to the results of the study, those in Generation Y — more popularly referred to as "millennials" due to their birth dates between 1981 and 1996 — show the most profound differences in financial wellness between those with relatively high or relatively low financial literacy. In other words, millennials' financial literacy seems to be the most important in terms of their overall financial wellness, as opposed to other generations.
The Bottom Line
Overall, the level of financial literacy in America remains lower than it should be. Gen Z in particular seems behind the curve in this area, while boomers show the highest level of financial literacy. However, these trends may be changing, as financial literacy education seems to be increasing its reach among Gen Zers and future generations to come.
More From GOBankingRates