Who Pays for What? How You and Your Partner Can Fairly Split Expenses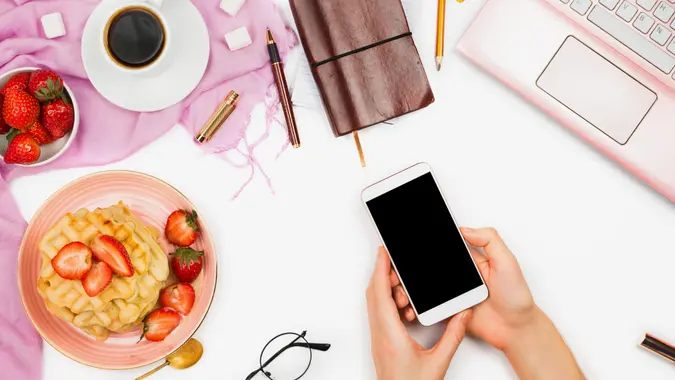 Natalia Lavrenkova / iStock.com
In today's "Financially Savvy Female" column, we're talking about how to navigate your finances in a relationship — specifically, how to figure out who pays for what. This can be a touchy subject, so I've tapped financial experts to share how this can be done fairly to avoid any arguments or resentment down the line.
Keep Up With the Latest: Sign Up for The Financially Savvy Female Newsletter
What Money Topics Do You Want Covered? Ask the Financially Savvy Female
Keep It Simple
"For couples that are starting with a simple [financial] situation, using joint accounts for all income and sharing all expenses is a great strategy to keep things simple," said Clayton Quamme, financial planner at AP Wealth Management. "William Shakespeare said it best: 'What's mine is yours and what is yours is mine.'"
If you don't want to share all expenses, consider at least sharing household expenses to make things easier.
"Revenue coming into the household would pay for the expenses, regardless of where the revenue generated," said Molly Ward, an advisor with Equitable Advisors. "This isn't the reality for all couples. Some will split the bills and those are paid for equally by each one."
Make a Plan for Larger Assets
There's no right or wrong way to share financial responsibility when it comes to paying for larger assets, but it's certainly something that should be discussed openly and thoughtfully before any major purchase is made.
Good To Know: Money Questions To Ask Your Partner
Find Out: The Biggest Money Mistakes Women Make in Relationships
Some questions you may want to ask yourselves include: "If you purchase a car or house, should you title the property in one or both your names? How should the loan be handled and what is the impact on both your credit scores?" Quamme said.
Consider If You Want To Keep Some Expenses Separate
Even if you create a joint budget, there will be some expenses that only apply to you or your partner. You may choose to pay these from a joint account or from an individual account. Either way, it's important to make the other person aware of how much you are spending and set limits that make sense for you.
"It's good to have an expense category called 'WAM' or 'Walking Around Money,'" Ward said. "The individual can spend it on whatever they want (up to a certain limit)."
GOBankingRates wants to empower women to take control of their finances. According to the latest stats, women hold $72 billion in private wealth — but fewer women than men consider themselves to be in "good" or "excellent" financial shape. Women are less likely to be investing and are more likely to have debt, and women are still being paid less than men overall. Our "Financially Savvy Female" column will explore the reasons behind these inequities and provide solutions to change them. We believe financial equality begins with financial literacy, so we're providing tools and tips for women, by women to take control of their money and help them live a richer life.
More From GOBankingRates