Nearly Half of Americans Know You Need at Least $1K on Hand for a National Emergency — Why This Is More Important Than You Think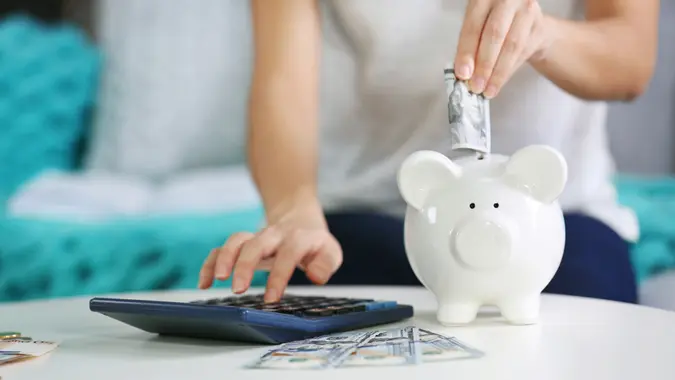 Africa Studio / Shutterstock.com
According to a recent GOBankingRates survey, roughly half of adults revealed that they don't have an emergency fund. On top of that, another survey showed that just over 45% of respondents said they believe they should have at least $1,000 set aside for national emergencies — if not more. The rest thought under $1,000 was enough money.
But national emergencies, like the coronavirus pandemic, can have a significant financial impact on both the economy and on individuals. This impact can linger long after the emergency ends, and it can be devastating to your personal finances and your family's financial future.
That's why it's important to build an emergency fund. Having some extra cash reserves on hand can help prepare you if something unexpected happens.
"It could be something relatively small, such as a car repair or need to replace an appliance," said Kyle Enright, president of Achieve Lending. "Or it could be something as major as needing to cover all your routine expenses due to a job loss or natural disaster."
Even $1,000 could make a big difference if you're facing unplanned bills. It could also keep you from turning to expensive payday loans or credit cards to cover these costs. But it might not be enough during times of national emergency — especially if you lose your main source of income.
Is $1,000 Enough for a National Emergency?
In truth, $1,000 might not be enough to get you through a national emergency. "A $1k emergency fund is enough to handle day-to-day issues, but won't get you through truly tough times," said Jay Zigmont, PhD, CFP®, founder of Childfree Wealth. "Your ultimate goal should be to have 3-6 months of expenses in an emergency fund."
How much you need for a national emergency can vary based on your individual and family circumstances, as well as the event. For example, if a natural disaster has forced you out of your home, you might need money for things like temporary housing, food, water and gas.
If you've lost your job due to a global pandemic, you could need the full six months' worth of expenses. You might also need to cover medical bills or related expenses, depending on how much the event impacted you.
"We've just seen, through the pandemic, that it's more than possible to lose your source of income, and that it takes time to get back to that degree of normalcy," Enright said. "We also know that medical expenses can quickly cause financial disaster. Any one thing that goes wrong can spiral and set someone back for a long time."
Take Our Poll: What Do You Plan To Use Your Tax Refund For?
How Much Do You Need for National Emergencies?
Although six months is generally considered enough for most people, there are exceptions. "For individuals or families where job stability is not a concern, three months of cash reserves may be adequate," said Evan Potash, wealth management advisor, TIAA. "However, for single individuals, or individuals who are concerned about losing their jobs, it would be prudent to save at least one year of emergency reserves, if possible."
To figure out how much you need, start by taking a look at your personal and family's financial situation. Calculate your monthly expenses first, then ask yourself:
How much can you realistically afford to set aside in a given week, month or year?
How much will you need to get you through the national emergency?
Think about whether you plan on making any big purchases in the near future, too. "If you plan to purchase a car or start a home improvement project within the next 6 months, you may want to consider adding the estimated costs to your emergency savings fund," Potash said.
It can take a while to build the full emergency fund, so start small but aim high. The more money you have set aside for emergencies, the easier it will be to get through the tough times.
Ways To Save For National Emergencies
Many forms of emergency savings exist, including liquid assets like:
Brokerage accounts
Stocks
Bonds
ETFs or index funds
Mutual funds
Money market accounts
Keep in mind that some of these options are more volatile than others. Investing in stocks, for example, could run you the risk of losing some or all of your investment at the worst time. Taking money out of your investments could also cut into your gains.
Another low-risk option is to see if your employer offers an emergency savings account. "For those in the workforce, some companies might offer an employer-sponsored emergency savings account (ESA) along with their retirement accounts as a part of your financial wellness benefits package," said Mindy Yu, CIMA®, director of investing at Betterment at Work. "Don't look past these offerings as you think through all the resources available to you in setting up an emergency fund."
Finally, it's a good idea to have some cash in case you can't access your money electronically. "Remember that in some emergencies, like natural disasters, it's possible that credit cards, debit cards and ATMs might not work for a few days, and you may need it to purchase food or water, or pay for some immediate clean-up work," Enright said.
How To Build an Emergency Fund for National Disasters
During times of national emergency, it's important to prioritize the essentials. That is, the things you and your family needs to survive like:
Food
Shelter
Transportation
Utilities
But for many people, the idea of saving $1,000 can feel overwhelming. "Saving that first $1,000 for an emergency fund is your first goal," said Megan Kelly, financial advisor and communications director at GoodCheddar. "One of the smartest financial moves you can do (if you haven't already) is to create an emergency fund for when you need it."
Potash added, "Building an emergency fund is the first step to creating a solid financial plan. Getting into the habit of saving for short-term emergencies today, will help you save for larger, long-term goals like buying a house or saving for retirement."
If you're not sure where to start, here are some ways to start contributing to your emergency fund without breaking the bank:
Start small. Be proactive, but don't stress about the amount you're saving right now. "Even if you can only put away $25 bi-weekly, that's $50 per month, or $500 in 10 months," Kelly said. Once you're comfortable with these small amounts, consider increasing your contribution.
Pay down high-interest debts. High-interest credit card debt can also be considered an emergency. "With credit cards now charging 20%+ annually for interest, you need to make paying them off a priority," Zigmont said. Even with good credit, you could be paying more in interest than you expect. Paying down debt can also free up some cash for when you need it.
Review your personal budget. Doing this can give you a better idea of how you're spending your money each month. If you find yourself overspending or with more subscriptions to things like Netflix than you actually use, it may be time to cut back. Then, use some of that extra money for your emergency fund.
Limit other account contributions. Investing is important for your financial future, but it may not help you in times of crisis. If you regularly contribute to an investment or retirement account, put your contributions on hold until you have at least $1,000 for a rainy day.
Set some financial goals. Establish a savings goal for yourself. For example, if you want to save up $2,000 in a year, you'll need to set aside about $166 a month. If you're comfortable with that number, consider setting up automatic savings to help you achieve this goal.
Try to save $1,000, $2,000 and then $3,000 for your emergency fund. Once you've reached your first goal, don't stop. Keep contributing until you have enough to feel comfortable in times of financial crisis.
More From GOBankingRates
Methodology: GOBankingRates surveyed 1,005 Americans aged 18 and older from across the country on between January 16 and 18, 2023, asking twenty different questions: (1) Do you currently have any form of an emergency fund?; (2) How much do you currently have put away for an emergency fund?; (3) If you faced an emergency (medical, housing, etc.) how would you have to pay for it?; (4) How much do you currently have saved for retirement?; (5) Do you have any of the following debt? (Select all that apply); (6) How much debt (student loans, medical, auto/personal loan, credit card, etc.) do you currently have? (NOT including mortgage); (7) If you have a significant other, how much do you argue about money concerns?; (8) Which money topics do you discuss with your children? (Select all that apply); (9) How often do you discuss personal finance issues with your family and/or friends?; (10)What are the chances, in an average month, of you and your family running out of money before you are paid next?; (11) What worries you most when it comes to your personal finances?; (12) Compared to pre-COVID (before March 2020) are you more or less confident in your personal finances?; (13) If you received an unexpected bonus of $5,000, what's the first thing you would do with it?; (14) If you won the lottery ($100 million), which of the following would you do with the winnings? (Select all that apply); (15) Would you rather…ask a family or friend to borrow money or max out a credit card?; (16) What would you like to learn more about in order to improve your personal finances?; (17) Do you consider yourself a spender or a saver?; (18) Which categories do you believe you overspend on? (Select all that apply); (19) How much do you spend on self care monthly?; and (20) What is your top financial priority?. GOBankingRates used PureSpectrum's survey platform to conduct the poll.
GOBankingRates surveyed 1,056 Americans aged 18 and older from across the country on between March 17 and March 20, 2023, asking twelve different questions: (1) When you were growing up, which financial topics did your parents talk to you about? (Select all that apply); (2) At what age did you become comfortable with basic money skills (i.e., writing a check, balancing your accounts, budgeting)?; (3) At what age did you start saving and planning for retirement?; (4) How much cash do you think you should have on hand in case of a national emergency?; (5) Do you think a lack of financial understanding has impacted your ability to be financially prepared for the future?; (6) How much did a lack of financial literacy cost you in the last year due to things like not knowing the best way to save for retirement, not being comfortable with investing, not using a budget, etc.?; (7) Which major financial task is most confusing to you?; (8) What percentage do you think you are required to put down on a home when buying?; (9) Do you feel prepared to handle any possible cuts to Social Security benefits?; (10) How has inflation changed how you handle your finances? (Select all that apply); (11) What's the minimum you think experts would recommend you have saved to be comfortable in retirement?; and (12) Which of the following do you find most confusing about Social Security?. GOBankingRates used PureSpectrum's survey platform to conduct the poll.