The Window to Wealth: Experts Offer Tips on Getting Around Closed Doors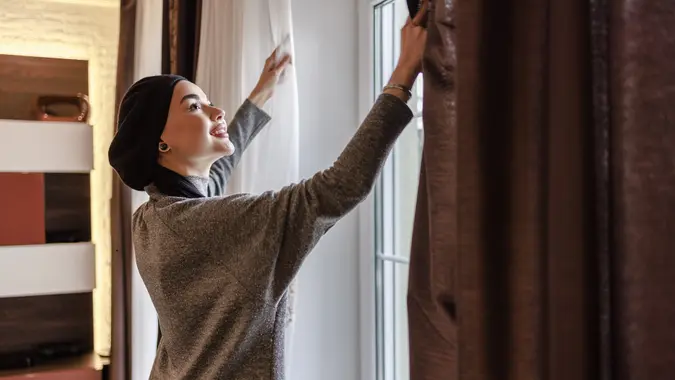 Alex Potemkin / iStock.com
When it comes to building wealth, you might be struggling to know where to start. Depending on your upbringing, your family's level of wealth and other privileges — or lack thereof — it may feel like a rich life is out of the cards for you.
Luckily, it's easier today than ever before to expose yourself to financial education, learn healthy personal finance habits and automate your way to wealth. If you feel like you're starting from scratch when it comes to money, you can get on the right track with the following advice from financial experts. 
Familiarize Yourself With Financial Basics
If you want to build wealth — but don't have examples of wealth in your day-to-day life — it's tough to make progress. But you don't have to grow up in a wealthy family or make wealthy friends to expose yourself to financial topics.
Hannah Near, CPA, CFP and AIF at Pearl Financial Planning, suggested looking for educational materials on the internet to start: "There are many free and credible resources online that can help you learn the basics about building wealth."
If you're intent on building wealth, surround yourself with these types of resources and make financial education and conversations a normal part of your daily life. As with anything new, financial concepts may not come easy — and that's okay. "Learning more about a new topic can be overwhelming at first, but give yourself time and patience. Remind yourself often that you are setting your future self up for success," added Near.
Misty Lynch, CFP and CEO of Sound View Financial Advisors, said it's also important to be clear about what you want to do with your money. Then commit to learning how to get there, even if it's a long-term goal. "No one becomes an expert overnight, so treat it like any other new thing that you had to learn."
Build Strong Foundations
Educating yourself about personal finance is a great start, but it'll only get you so far. It's critical to take that knowledge and put it into action if you want to start building wealth.
Begin by taking stock of your bank accounts and other financial accounts. Make sure you have at least one checking account, savings account and retirement account. With the right accounts open, you can start automating your savings and investments. It's okay if you don't have a lot of money to save or invest right now — but don't skip this step.
Jessica M. Robertson, CPA and financial planner at South Bay Financial Partners, said the first step to building wealth is to establish the habit of saving and investing through automation. "Even if you can only start with one dollar per month, establishing the habit and setting that foundation helps."
Access to banking products and services has also improved in recent years, making it easier to build effective financial systems regardless of your net worth. "Right now, people have more access to investment accounts, products and services than they ever had before," said Lynch. "Historically, you needed to have quite a bit of it to get the attention of a stockbroker or financial advisor."
Take advantage of this accessibility and get your systems set up for success — no matter how much money you're starting with. With these foundations in place, you'll be able to scale your savings and investment contributions easily whenever possible. And seeing those balances grow can be a great source of motivation to boost these contributions.
Adopt a Positive Money Mindset
According to financial experts, your money mindset can have an impact on your ability to build wealth. But if you haven't been exposed to people who have a positive money mindset, it can be a tough thing to cultivate. 
"We all have beliefs and behaviors towards money that we learned as children — from family, friends, school, our community — and we carry these into adulthood," said Robertson. "Sometimes these beliefs are helpful, but sometimes they hinder us."
The trick to building a healthier money mindset, according to Robertson, is to start by becoming aware of your current mindset. "Once you know what it is, you can evaluate whether your mindset is helping you or hindering you and make adjustments if needed."
When evaluating your thoughts around money, you'll have to dig deep. Research shows that your views around money develop when you're a child, and they're often influenced by your parents. "Examining your parents' mindset around money can also be an interesting thought exercise," said Near, who suggested considering how various experiences in your life have shaped how you perceive money.
For example, if your parent lost a job when you were little, you may have the mindset that money is scarce, and you need to spend it while you have it. Reframing that thought to something like, "Saving is a tool I can use to build security," can help you change that mindset.
Takeaway
Building wealth when you're starting with nothing is no small task. But that doesn't mean it's impossible. In fact, when you surround yourself with good financial information, build solid financial foundations and cultivate a positive money mindset, you may be surprised at how quickly you make progress.
More From GOBankingRates