Your June Financial Checklist: Tasks To Complete Before the Second Half of 2021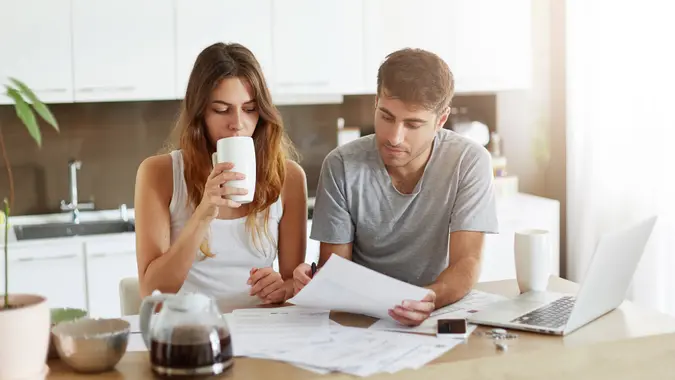 ©Shutterstock.com
Remember those financial New Year's resolutions you made when the ball dropped in an empty Times Square as the final seconds of 2020 ticked away? 
That was going on six months ago. 
Support Small: It's Not Too Late To Nominate Your Favorite Small Business To Be Featured on GOBankingRates — Extended to June 5
Believe it or not, the 2021 hump is almost here. It's time to regroup, make some halftime adjustments and pivot toward the second half of the year with your finances in check.
Take Inventory of the Last Months
Start by looking back at the year so far to find out where you stand with your credit, debt, savings and spending. Apps make it easy.
Check in with your credit and debt


If you haven't already, consider signing up with Credit Karma or a similar free credit-monitoring app. You'll get an unofficial but largely reliable snapshot of the profile lenders see when they size you up. If you joined at some point but tuned out, check back in, see where you stand and search for errors on your credit report.

Check in with your spending and saving


Use Mint or another free budget tracker to see how you've spent your money so far in 2021. Pay close attention to unnecessary or overlapping subscriptions and over-indulged spending categories like clothing or take-out.
Learn More: 25 Hot Jobs That Pay More Than $100,000 a Year
Plan For Post-Pandemic Spending and Saving
A midyear financial checkup will be a little more complicated in 2021 than it has been in years past. The pandemic is ending, but its financial implications are in for the long haul.
Tally how you spent your last stimulus check


For some families, the most recent stimulus was a life-changing sum of money. Unfortunately, a whole lot of them splurged it recklessly. Others mixed it in with the money they already had and lost it to the slow bleed of overspending.

If you have anything left over, set it aside to open an investment account, to save for a down payment on a house or car or for any other worthy goal that can't be reached without initial seed money.

Plan for the next round of checks (if you qualify)


If you blew your previous stimulus, you might have another chance to put federal dollars to good use. The first round of payments for the enhanced 2021 child tax credit will go out on July 15 — and 39 million Americans are due for as much as $3,600 per child over this year and next year. Unless you absolutely need to spend it on something dire and immediate, here, too, is a golden opportunity to start building something that your standard income and budget don't leave room for.

Create a post-COVID budget and spending plan


The theme of the second half of the year will be travel, long-awaited family visits and a return to restaurants, bars and ballgames. Without a plan, that's a financial hole just waiting to be dug. Create a special budget for post-virus celebrations and travel so all that pent-up excitement doesn't explode into binge spending.
Discover: 11 Ways Warren Buffett Lives Frugally
Adjust and Plan For the Next Six Months
Now that you've reflected on your finances and created a plan for any COVID-19 curveballs, make sure that you don't forget the basics. 
Did You Know: Just How Rich Are Elon Musk, Donald Trump and These Other Big Names?
Set goals for saving, spending and debt


Use what you discovered through Mint and Credit Karma as the basis for setting saving, spending and debt goals for the next six months. 

Shop around for recurring services


It's always good to shop around once or twice a year to make sure you're not spending too much on things like internet, cable and car insurance.

Review contributions


Now is a good time to reevaluate your recurring contributions to things like savings accounts, emergency funds, 401(k)s and to tweak anywhere tweaking is needed.

Take advantage of summer-specific savings
Summer brings many chances to save money on the stuff you need for the rest of the year. There are major holiday sales on July 4 and Labor Day, as well as back-to-school sales at the end of the season, not to mention Amazon's Big Summer Sale.

Summer is also a great time to save big bucks on out-of-season purchases like snow tires, gloves and winter coats — you'll need them before you know it.
More From GOBankingRates

Last updated: June 2, 2021