$85,000 a Year Is How Much an Hour?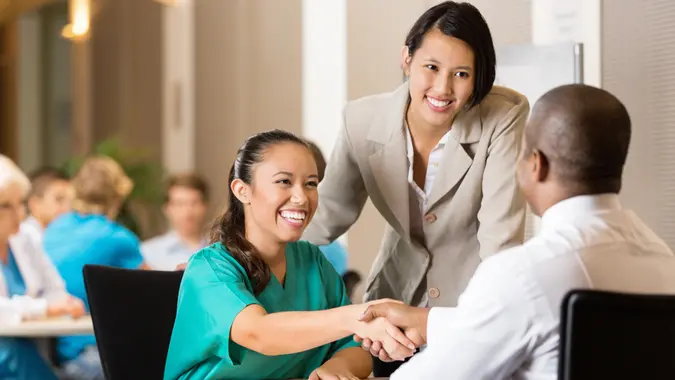 SDI Productions / Getty Images
If an employee works full-time, 40 hours a week, then $85,000 a year comes out to $40.87 per hour, and $7,083 per month. With inflation and cost-of-living on the rise, is this still a good salary?
How Does $85,000 a Year Compare To the Average Salary?
According to the most recent census data, the current median salary in the U.S. is $64,994. An $85,000 salary, therefore, is 30.78% higher than the median income. According to the most recent data, a salary of $85,000 places an earner in the 60th percentile, meaning they make more money than 60% of the U.S. population.
Is $85,000 a Year a Middle-Class Income?
The middle class, according to Pew Research, is defined as households who earn between two-thirds and double the U.S. median income — in other words, between $43,329.33 and $129,988. This puts someone earning $85,000 a year very close to the midpoint of the middle class, which is $86,658.67.
Is $85,000 a Year a Living Wage?
A living wage is defined by MIT as a wage that allows a family to be financially independent, without the need to rely on public assistance, or to suffer "consistent and severe housing and food insecurity." MIT also calls the living wage the "minimum subsistence wage."
Whether $85,000 is a living wage depends largely on where a person lives and how many members they need to support in their household.
Cost of living is steadily rising. Rent nationwide increased by an average of 14% in the past year, according to Redfin. Some cities had significantly higher rent hikes, like New York City, where rent prices rose 23%. Income taxes also vary from state to state — and city to city — and can have a significant impact on take-home pay.
Make Your Money Work Better for You
In New York City, for a family of four with two children and only one working adult, the living wage is calculated as $44.33 per hour. For a single parent with two children, the living wage in New York City is $54.20 an hour. In these cases, because $85,000 a year is $40.87 an hour, it would not be a living wage. However, if a person is single, has no children or lives in a household where both adults work, then $85,000 a year would be considered a living wage in NYC.
New York City is one of the most expensive places to live in the U.S. In most U.S. states, $85,000 is considered a living wage.
What Jobs Make $85,000 a Year?
Jobs that pay $85,000 or more a year are usually jobs that require a Bachelor's degree or higher. Here are several examples of jobs that make over $85,000 a year:
Operations Management Analyst — $86,200
Management Analyst — $87,660
Statistician — $92,270
Data Scientist — $98,230
Veterinarian — $99,250
Business Operations Manager — $103,650
Actuary — $111,030
For employees making less than $85,000 a year, it could help to ask for a raise. From a survey of 160,060 workers by PayScale, 70% of workers who asked for a raise received one, while 39% received the specific raise they asked for.
Final Take
It can be beneficial to convert an annual salary into an hourly rate — such as $85,000 a year into $40.87 an hour — to compare compensation or to assist with budgeting.
Information is accurate as of Sept. 27, 2022.
Our in-house research team and on-site financial experts work together to create content that's accurate, impartial, and up to date. We fact-check every single statistic, quote and fact using trusted primary resources to make sure the information we provide is correct. You can learn more about GOBankingRates' processes and standards in our editorial policy.