5 AI Job Trends To Keep in Mind for 2024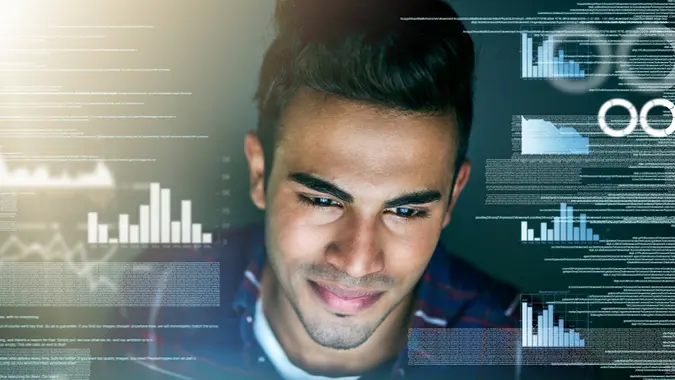 PeopleImages / iStock.com
Artificial intelligence is rapidly transforming the workplace. While much has been said about the technology's potential threats — such as replacing jobs — several other positive trends have emerged which could help you land a high-paying job in 2024.
Earlier this year, a slew of companies posted extremely well-paying jobs. Netflix, for instance, posted a manager position for a machine-learning platform. The position offered a total compensation of up to $900,000 annually.
Companies across various industries are hiring for AI jobs and looking for employees with specific AI skills. From Walmart to Amazon and from online-dating platform Hinge to Upwork, it seems that every sector is looking for these specific skills. The one common thread: these companies are offering a lot of money.
Will AI-focused roles continue to pick up momentum in 2024?
Fei Sha, VP of data science and engineering at Degreed, explained that there has been a definite upsurge in the number of roles requiring AI skills since the launch of ChatGPT and other "user-friendly" AI models.
For instance, Sha said there has been a 20-fold increase in the number of job postings requiring generative AI skills, and this momentum will only continue in 2024 since more AI solutions will likely hit the market.
"It isn't just AI-focused skills that employers should look for because every employee will need a certain level of AI and data literacy to work alongside AI effectively," according to Sha. "Indeed, AI won't eliminate roles, but the combination of a human being augmented by AI who can work faster, more efficiently, and with fewer mistakes than a human employee working alone. Employees who can keep their skills updated with new developments in AI will build long-lasting careers in the AI-focused future."
Make Your Money Work Better for You
What jobs will be in demand?
Of course, when it comes to building out large language models (LLMs) themselves, computer engineers and programmers will most certainly be in demand.
"But I think there are a number of industries that are increasingly incorporating AI-related technology so as to increase efficiency," said Brian D. Evans, CEO and founder of BDE Ventures.
For instance, Evans said the medical industry is increasingly leaning on AI, especially when it comes to incorporating related tools for examining MRIs and X-rays.
"AI tools can help medical practitioners make more informed decisions because, essentially, AI tools can spot things in MRIs and x-rays that might go unnoticed by the human eye," he said.  "For these medical-related tools, for example, getting one's head around the related software programs will be critical."
According to Evans, for some of these AI-related tools, the process will be turnkey-like, meaning that not a lot of work has to go into learning how they operate. For others, there will have to be work put into learning them — this goes for learning how to use Canva and Midjourney.
What AI skills will organizations find most valuable and how can candidates build their skills?
The skills required by each organization will change depending on the AI being implemented and business needs. For example, Sha explained that a manufacturing company might want to upskill its employees and hire for skills to work alongside robotics, AI product development and digital twins — as was the case with Unilever in its Dapada factory.
Make Your Money Work Better for You
Meanwhile, a professional services firm that plans to create new AI consulting services will need to equip its workforce with different AI-focused skills, such as identifying the business value from AI, stakeholder reporting and the responsible use of AI.
"The best thing a job candidate can do right now to take advantage of the AI job rush and prepare themselves for the future is to cultivate a habit of continuous learning," said Sha. They suggested setting aside regular times for learning, understanding what resources are available to build your AI skills, and finding applications to practice those skills.
"If you cannot find these easily through your employer, look at online resources like EdX, DataCamp, YouTube, podcasts, and boot camps. Keep up with new AI developments through articles, newsletters, and communities like GitHub, Kaggle, and the AI Meetup," Sha said. "Then, practice your skills by teaching others, volunteering on AI projects, or starting a side gig. Of course, when you then apply for a role needing AI experience, you can share your learning and projects to prove your skills."
Another important skill to harness is prompt engineering, according to Phillip Shoemaker, executive director of Identity.com.
"People who know how to coax gold out of the AI is tough to do and, in turn, will be an increasingly in-demand skill," he said. "People who are willing to use AI to augment their skills in any number of fields are going to be huge. So with MRIs, for example, you need to have the skill to examine the MRI itself, but also learning how to use an AI to augment this process will be huge."
What are some AI trends and potential downsides to growth?
AI is still in its nascent stages. While its promises are infinite, the flip side is that today's versions of AI will need to continue improving and delivering results.
Make Your Money Work Better for You
"Otherwise, we risk business leaders becoming frustrated with AI and not investing in future projects and technologies," according to Sha. "There is a real risk of a hype bubble with AI, especially if it's used for vanity projects that deliver no business value."  
What can Gen Z do to stay competitive?
Sha noted that one of the best things for Gen Z to do is to always stay updated with the latest advancements in AI technology and its applications. For instance, build a broad set of skills that can take you from project to project, because there is a high chance that you may end up switching professions and industries more than once in your 60-year career span.
"Power skills — skills that can be transferred and applied to many roles — will serve you well in future-proofing your career prospects and enhance your use of AI," they said.
More From GOBankingRates