How To Approach Your Job Search With Renewed Energy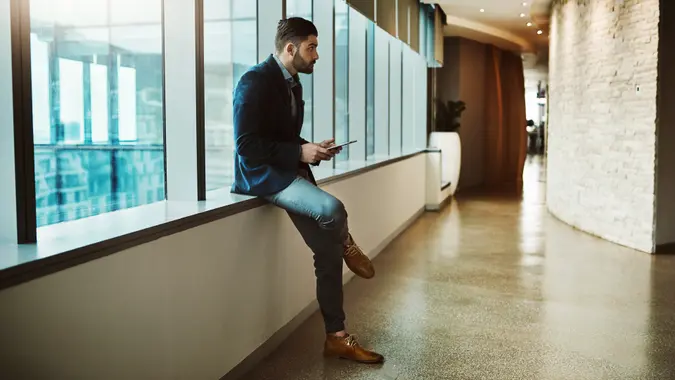 PeopleImages / Getty Images
Whether your job has become obsolete because of the pandemic or you're looking to find a new career, searching for a job can quickly become unbearable. Perhaps you've been searching for a while with no luck, or maybe you haven't been able to motivate yourself to jump back on the job-search train. Or maybe you're in a COVID-19-laced funk with thoughts that you'll never be able to land a well-paying job that you like ever again. Whatever your issue is, GOBankingRates has connected with the experts to deliver wise and actionable advice that will inspire you to take steps to find a new job  — pandemic or not.
Read: What It's Like To Job Hunt During a Pandemic
Recognize Your Achievements
Make a list of your personal and professional achievements over the last three years, said Dana Case, director of operations at MyCorporation.com. "This is a good tip for anyone who feels they are at a standstill because it reminds you of everything great you have achieved — and within a three-year timespan, it's usually not a short list. This also gives you the chance to think about areas where you did great things and determine if you would like to learn more or possibly explore a career in those fields," Case said.
Make Your Money Work Better for You
See: 6 Career Mistakes To Avoid During an Economic Downturn
Dare To Dream
Focus on what could be in store for you if you land the job you want, said Tony Giacobbe, HR and talent acquisition leader at Amica Senior Lifestyles. "Some people create mood boards or brainstorm what a new position will bring them. This could include covering the bills, excelling in your career or imagining how incredible you'll feel once you do secure your next job. Know that there will be opportunities coming if you're willing to persevere," Giacobbe said.
More: How To Interview for a Job Over Zoom
Understand What the Future Holds
If you're feeling less than optimistic about getting a job in your current field, Sasha Yablonovsky, president of CareerBuilder, believes that the future of hiring is based on skills you may already have. "Whether your industry declined due to the pandemic or you're part of the 61% of job seekers reconsidering their current role, you can reframe your skills, expertise and knowledge to fit in-demand industries that are new to you."
Make Your Money Work Better for You
Related: Companies That Let You Work From Anywhere
Curious? Here's how Yablonovsky thinks it will work:
" We expect that hiring decisions will begin to shift from being solely based on previously held titles to being based on the skills that job candidates have gained that can be applied to multiple roles and industries. For example, if you have work experience in retail – or similar high-contact, public-facing roles —  you likely have skills in communication, organization, multi-tasking, teamwork and understanding what customers want. These skills can translate nicely into other roles in new industries, such as e-commerce, fulfillment, sales and customer service," Yablonovsky said.
Read: 20 Ways To Improve Your Chances of Getting a Job
Rebrand Your Employment
Yablonovsky has some further advice for reframing your skills, expertise and knowledge to land the job you want.
"If you have experienced unemployment this year due to pandemic-related closures, you are not alone," Yablonovsky said. "In your resume and your cover letter, tell the potential employer if you lost a job due to COVID-19, and show off the skills, experience and knowledge you have gained during your period of unemployment. If you developed skills as a caretaker, gained experience volunteering in your community or completed online coursework, make sure to include that in your application. "
Make Your Money Work Better for You
See: 10 Job Skills Worth Six-Figure Salaries
Set Performance Goals
One of the most crucial elements for job search success is to set performance goals, said Bruce Blackwell, founder and managing partner of The Career Strategies Group.
"How many hours per week will you devote to your job search? How many resumes will you send out? How many networking contacts will you make each week? How many phone calls to potential employers, your network or for informational interviews will you make? How many target companies — ones you are particularly interested in working for — will you identify, and how many can you contact each week? Set specific goals and then meet them," Blackwell said.
More: Is Your Resume Up To Par With the Competition?
Once you've achieved your performance goals, Blackwell recommends taking a breather. "You don't need to approach your job search with maniacal intensity. Hit your numbers every week, then give yourself a break and do something else. A carefully planned campaign, with specific performance objectives and a creative approach, will get you back to work in less time than you can imagine," he said.
Punch-Up Your Cover Letter
A ho-hum cover letter won't get you anywhere. Here's how to stand out.
"Make sure that your cover letters convey passion about why you want to work at each specific job," said Sean Sessel, the founder and director of The Oculus Institute. "In your cover letter, include three qualities that would make you an excellent fit. A good collection includes a technical skill, a specific kind of industry experience and an interpersonal skill. Back up all three with stories demonstrating results."
Find: 10 Small Changes To Stay On Track With Your Career Goals
Ask For Feedback
If you're unsure of why you're not getting job offers, ask for help.
"Whether it's your partner, a close friend or a family member, ask them to look at your resume, cover letter, and/or professional social media profiles," said Georgene Huang, CEO and co-founder of Fairygodboss. "Can they quickly identify your skills, achievements, and get a sense of the type of role you're applying for without looking at the job description? If not, go back through and edit those documents to better align with the roles you're applying for."
See: 14 Reasons You Didn't Get a Call Back After a Job Interview
Get Creative With Your Job Search
The competition is stiff, and hundreds of other applicants may be vying for the same job you are, so it's time to dive deeper.
"Dig for job openings and opportunities via Instagram hashtags," Case said. "If you're looking for work in social media or PR, for example, look up hashtags like #socialmediajobs or #PRjobs to find openings. You can do this across a wide range of careers, depending on your field or industry you'd like to break into."
Related: How Much Do Celebrities Make on Instagram Posts?
Stay Positive
Above all, remember that it's vital to keep an upbeat and glass-half-full attitude during your job search, especially when interfacing with others.
"Regardless of how discouraging it feels to be on the job hunt, make sure to stay positive during your interviews, said Michele Lanza, founder of WorkWider. "This makes a world of difference in showing your enthusiasm and vitality to the interviewer even on a virtual interview."
More From GOBankingRates
Make Your Money Work Better for You