Bad Last Impression? What To Avoid Saying During Job Exit Interview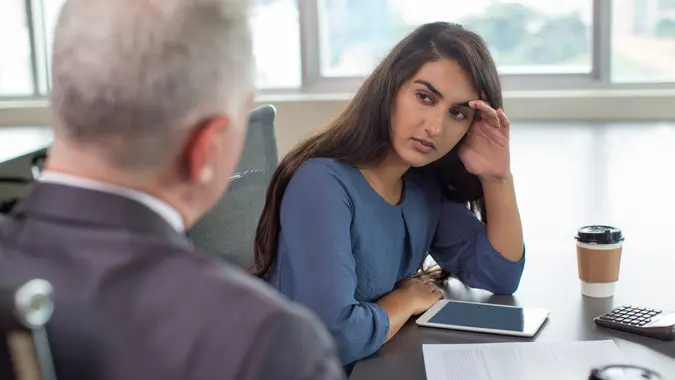 MangoStar_Studio / Getty Images/iStockphoto
Despite unexpected increases in available jobs and hiring, the December 2022 Job Openings and Labor Turnover Survey (JOLTS) showed that layoffs increased to 1.47 million from 1.41 million in November and the number of people quitting their jobs held steady, declining only slightly to 4.09 million from 4.1 million, according to Bureau of Labor Statistics data released Feb. 1.
Discover: Keep an Eye Out for Rare Dime Worth as Much as $2,000 — How To Spot It
Learn: 3 Things You Must Do When Your Savings Reach $50,000
There are still a lot of Americans getting laid off and quitting their jobs, quietly or otherwise. Many former employees will have had the opportunity to participate in exit interviews at their departure and if trends continue, many more will get their chance. Whatever your reason for leaving a job, you want to leave on good terms and avoid leaving a bad last impression.
If you find yourself in this work separation position and you're tempted to give the company what for, try to temper your resentment and avoid saying certain things during a job exit meeting. It's always in your best interest to give calm and helpful answers to corporate questions, even if you have to "lie like hell," says Robbie Abed, author of "Fire Me I Beg You: Quit Your Miserable Job (Without Risking it All)."
Make Your Money Work Better for You
This sounds rational, but faced with the prospect of leaving a job, some people can't help but turn an exit question into an opportunity to put the company on blast.
"So many people think that they're going to be the hero on the way out. The reality is that if you wanted to make a change within a company, you would have done it while you were there," Abed said in an interview with Business Insider.
Here are a few things you should keep in mind if you're asked to participate in an exit interview:
Don't Blow Your Top
Criticism that is constructive helps a company identify certain trends, especially if they have heard the same charges from other exiting employees. But treating the interview as a vent session serves little purpose for all parties involved. Avoid being too blunt and dwelling on things you feel slighted about. And don't go into the process looking for a fight, thinking "Well, I'm never going to see these people again!"
Writing for the Harvard Business Review, executive coach and founding partner at Next Step Partners Rebecca Zucker notes that the exit interview gives employers the chance to gain valuable feedback on workplace problems and worker dissatisfaction. But the conversation shouldn't be all negative.
Make Your Money Work Better for You
"Just as individuals need to hear positive feedback to know what they should continue doing, so do organizations, says Zucker. "This could include specific benefits offered, investments made in your learning and development, or an aspect of the company culture that you most valued."
Remain Professional and Polite
It's a small world and it's getting smaller all the time. If you are hoping to remain working in the same industry when you leave your job, bashing your colleagues and employer won't help you move on and will most likely hurt you professionally, even though you are on the way out.
You want to be brutally honest if there are legitimate difficult working experiences at a company, but its best to leave emotions out of an exit interview. Make sure to stay positive and don't forget that the exit interview isn't about you, it's for the company to benefit from your experience working there.
"Giving constructive, nonemotional feedback is what's best," said career coach Yolanda Owens of The Muse. "If possible, focus on what you learned and not everything that the company is doing wrong. You want to leave a good lasting impression because there could be an opportunity to come back again in some other capacity that may become available to you."
Make Your Money Work Better for You
Take Our Poll: Do You Have a Second Job or Backup Plan in Case You Are Laid Off?
If You Don't Have Anything Nice to Say…
…don't participate in the exit interview. Not all companies have exit meetings but if you find yourself being asked to participate in one, you're allowed to refuse. If the situation makes you feel uncomfortable, simply explain this to your soon-to-be former employer during the off-boarding process.
"It's OK to refuse an exit interview or not to answer questions," said Owens. "If you don't feel comfortable or like you're in a good mental space to answer questions about the company, then don't." 
More From GOBankingRates
Make Your Money Work Better for You