7 Best ChatGPT Prompts To Help You Write Your Resume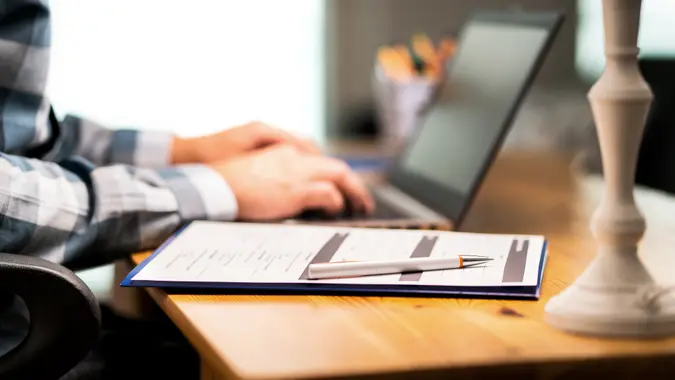 Tero Vesalainen / Getty Images/iStockphoto
Looking for a job? You're going to want to perfect your resume. The hard thing is that writing a resume is time-consuming, and it seems like tips for writing a resume are always changing. This is where ChatGPT can be of service.
Experts told GOBankingRates that there are certain prompts that can help craft your resume into something that will catch recruiters' eyes. Here are the top prompts for ChatGPT to help you write your resume. 
Ask ChatGPT To Create a Custom Resume for a Specific Job
The more specific a resume is, the better. Recruiters are looking to see that you have the exact skills that fulfill the job they're hiring for.
Career expert Michael Gardon says there's a simple method to create a specified resume using ChatGPT. "Here is the best prompt: ask ChatGPT to 'please personalize my resume for [this job] at [this company]. Here is the job description [paste it]. Here is my resume [paste resume],'" Gardon advised.
Get Keywords Based on the Job Description
The truth is most recruiters — or systems they use — are looking for keywords to separate your resume from those that aren't qualified. ChatGPT can help you find those keywords.
"You can share a job posting and ask [ChatGPT] to provide you with a list of keywords or skills from the job description," said Laci Baker, a career advisor at University of Phoenix. "You can then share your resume with [ChatGPT] and ask if all those keywords and skills are present on your resume, which can help with ensuring you are tailoring your resume to the job description."
Make Your Money Work Better for You
Ask ChatGPT To Follow a Resume Template
Found a resume template you like online? Phil Siegel, the founder of AI nonprofit CAPTRS, says you can submit that to ChatGPT and ask for a similar resume based on your experience.
"Start from a template you like (they are all over the web) and give ChatGPT some detailed information about you. Ask it to create a resume using the format and your data. The advantage is it will give a more detailed resume and it can be done fairly quickly," Siegel said.
Use Your Experience To Create a Professional Summary
Writing the professional summary at the top of your resume can be challenging. It's hard to know how to speak about your personal experience in a way that hiring managers will gravitate toward.
Baker suggests typing elements of your past job experience into ChatGPT and asking it to write a professional summary. "You can share your past experiences and a target role you are hoping to apply to, and [ChatGPT] can give you a career summary that you can then edit and make your own," Baker said.
Use ChatGPT as a Career Expert
Siegel says there is a way you can "chat" with ChatGPT that can help it create a resume for you. "'Pretend' ChatGPT is a friendly expert and hold a conversation with it about creating your resume. Tell it you're creating a resume for a job role and ask it to ask you about the most important information to build a strong resume."
Make Your Money Work Better for You
Siegel notes this will take more time than other prompts but will help create a stronger and more focused resume that's tailored to your strengths.
Change the Tone of Your Resume
Sometimes you know what you want to say, but you're not sure how to say it in a professional tone. ChatGPT can help tailor your wording to fit what a recruiter is looking for. "[ChatGPT] can rewrite resume elements to be more focused and more formal if those are elements you need assistance with," Baker said.
You can even prompt ChatGPT to make your resume sound more impressive with this prompt from Juliet Dreamhunter, the founder of Juliety: "Here is the experience section of my resume. Rewrite it in bullet points and use powerful action verbs to highlight my expertise and achievements. Make it sound more impressive and professional."
Reduce the Length of Your Resume
Generally speaking, you want your resume to be 1-2 pages. If your resume is longer, ChatGPT can help reduce it. "You can ask [ChatGPT] to take the content you already have and rewrite it to reduce the length to 2 pages," Baker said.
More From GOBankingRates