8 Companies That Hire Retirees Part-Time for Side Gigs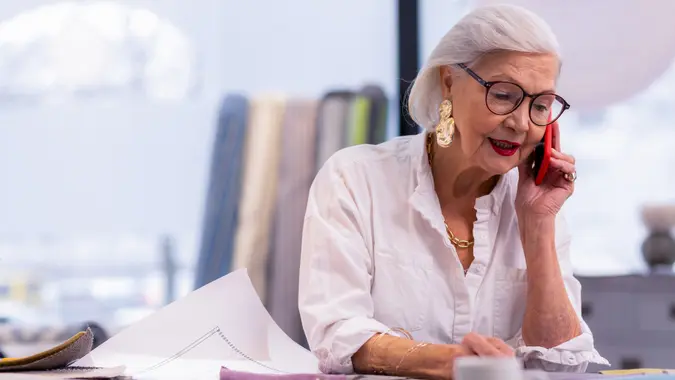 yacobchuk / Getty Images/iStockphoto
Even though they are "done working," many retirees actually seek part-time jobs. The reasons for these are numerous. Some retirees enjoy continuing to work, helping out others, or simply keeping their minds occupied. But some retirees actually need the extra income, particularly if they would otherwise just be living off Social Security.
Since it can be hard to find businesses that actually hire retirees for part-time jobs, particularly if you are looking on your own, here's a helpful list of companies that do.
Belay
Belay is a fully remote company that offers both career and part-time positions for anyone that qualifies, including seniors. The company offers U.S.-based virtual assistant, accounting, and social media services to its clients, and it hires vetted experts to serve as everything from consultants to bookkeepers to social media managers and virtual executive assistants. The company claims to hire just over 3% of those who apply for jobs, however, you'll definitely want to have specialized skills in the areas in which Belay operates to get even a part-time job.
Foundever
Foundever provides customer service support to countries across the globe, with 170,000 service representatives in over 60 countries providing 9 million interactions with customers at various businesses daily. As a customer service platform, the company offers plenty of work-from-home opportunities, including for retirees and/or part-time workers.
Rev
Rev bills itself as the #1 speech-to-text company in the world. The company works with over 72,000 freelancers worldwide to build and provide the world's best speech recognition AI, which is clearly a growing field. If you snag one of Rev's many remote jobs, you could participate in providing captions, subtitles, or transcripts quickly and accurately to any of the company's numerous clients.
Enterprise
Enterprise Holdings is best known for its rental-car components, Alamo, National, and its namesake brand Enterprise. But the company has also had a call-center component since 1980, and it now relies on over 2,500 employees working from their home offices to handle its needs.
Make Your Money Work Better for You
Take Our Poll: Are You Concerned About the Safety of Your Money in Your Bank Accounts?
Rover
Getting a part-time gig at Rover can be a great way for retirees to stay healthy and get outdoors while still working a part-time job. Rover hosts the world's largest network of pet sitters and dog walkers, and it's a great way for animal lovers – or even simply those who want to get outside – to earn some part-time income. The online services links pet parents with vetted walkers and sitters across the U.S., Canada, the U.K. and Europe. To qualify, you'll have to be physically able to manage the pets you watch over and take them out on their required walks. If you'd rather take on a different role with Rover, the company also offers a number of remote work opportunities, from program managers to customer service agents.
OnlineVerdict
If you're looking for something a bit different, with a modern twist on it, check out the part-time jobs available at OnlineVerdict. For nearly 20 years, the company has been a leader in online research regarding mock trials and jury outcomes. As a part-time, remote worker with OnlineVerdict, you could be called upon to serve in an online focus group that helps lawyers with their case summaries. For some retirees, this could be a more interesting option than answering phones or working as a virtual assistant, two of the more common part-time, work-from-home jobs for retirees.
Cactus 
If you're retiring from a job that has specialized knowledge, you may be able to put that information to use working part-time with Cactus. The remote-first company offers freelance careers in scholarly communication and has been named one of the top 20 companies for remote jobs for five years running. Cactus primarily works in life sciences and academia, providing research support, editorial services, and medical communications. If you have the qualifications, you could work part-time as a freelancer from the comfort of your own home.
Make Your Money Work Better for You
Verbalizeit
Verbalizeit hires work-from-home translators to help brands deliver their message across a variety of mediums, from web, mobile, and document to video. Currently, the company's workforce is able to translate over 150 different languages. If you have top-notch language skills and are interested in helping companies spread their message, this type of remote work could be a good part-time option for you, particularly as a retiree.
More From GOBankingRates