6 of the Best Crypto Jobs in 2023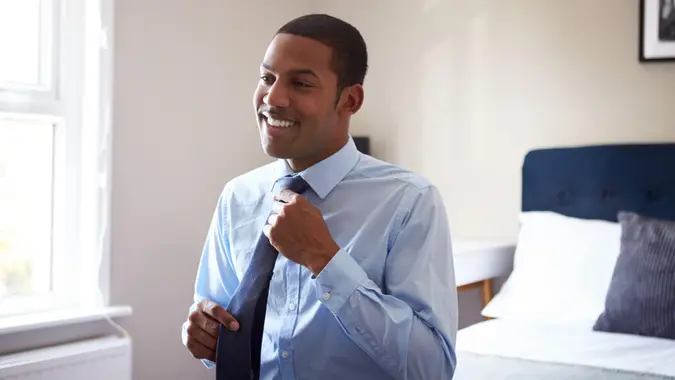 monkeybusinessimages / Getty Images/iStockphoto
The ongoing cryptocurrency boom has created thousands of job opportunities for people from a variety of professional backgrounds. Companies across various industries need candidates with a solid understanding of blockchain technology among several other skills.
Read: Protect Your Financial Future With Gold and Silver
How To Get a Job in Cryptocurrency
Entering the cryptocurrency job market isn't easy, even in times of strong demand for new hires. Here are some tips for increasing your chances of landing a crypto-related position:
Pick a sector with cryptocurrency-related opportunities, such as blockchain development, publishing, finance or mining, and brush up on skills relevant to your choice. Jobs in blockchain development, for example, generally require expertise in programming in C++, C#, Solidity GO, JavaScript and Python, according to CoinDesk.
Gain a deep understanding of cryptography, which is the secure conveyance of data.
Get familiar with the major cryptocurrencies, their worth, structures and supporters. Also, try out cryptocurrency platforms and wallets and keep up with new developments.
Connect with people already working in the industry who might serve as your mentor or help you find career opportunities.
Here's a list of opportunities for those looking to try their luck in the crypto job market in 2023. 
Top 6 Crypto Jobs for 2023
The crypto labor market is expanding. While still primarily technical, the positions available now also cover other professional areas. Some of the best crypto jobs to be on the lookout for this year are:
Make Your Money Work Better for You
1. Blockchain Developer
Average pay: $130,034 a year — $62.52 per hour
Core hard skills: Cryptography, data structures, smart contracts
Primary duties: Create, optimize and maintain application interfaces, keep digital transactions secure, create blockchain documentation
Blockchain developers are the backbone of cryptocurrency. That's probably why this is the most popular position in the field. Not only are blockchain developers essential to cryptocurrency companies, but they're also currently taking banking, cybersecurity and even healthcare organizations by storm.
2. Legal Consultant
Average pay: $196,190 a year — $94.32 per hour
Core hard skills: Intellectual property rights, tokenization, electronic signatures, arbitration systems for blockchain
Primary duties: Offer legal advice to crypto-fueled businesses, ensure compliance, help in making legal decisions
The legislation around cryptocurrency and blockchain is complicated and ever-evolving. Moreover, the rules regarding crypto exchanges may vary from one country to another, and they can be difficult to grasp. Consequently, companies working with these digital assets require attorneys to stay compliant and acclimate to upcoming rules and regulations. 
3. Risk Analyst
Median pay: $100,800 a year — $48.46 per hour
Make Your Money Work Better for You
Core hard skills: Blockchain and cryptocurrency regulations, statistics, analytical tools, portfolio management, finance, mathematics
Primary duties: Identifying and reporting losses, tracking crypto trends, gathering and analyzing data
Cryptocurrencies are still highly volatile, and companies using them require someone to help assess the viability of certain decisions. Risk analysts study their clients' crypto portfolios and create strategies to minimize any possible losses. When working with crypto, these professionals need to stay up-to-date with the relevant regulations to ensure asset safety and compliance. 
Is Crypto a Good Industry To Work In?

Working in an up-and-coming industry can be exciting and fulfilling, but like cryptocurrency itself, the crypto job market is volatile. The current bear market has resulted in the loss of over 29,000 jobs since April 2022, according to a Jan. 17 report from CoinDesk, with about 2,000 of those cuts coming in the first two weeks of the new year.
Make Your Money Work Better for You
4. Project Manager
Median pay: $101,880 a year — $48.98 per hour
Core hard skills: Blockchain essential concepts, project management tools, finance and budget management, blockchain architecture
Primary duties: Communicating with customers, overseeing the developer team's work, maintaining databases
These specialists act as middlemen between crypto developers and their clients. Their job is to efficiently keep the project on track and on budget to ensure the customers walk away satisfied with the final results.
5. Community Manager
Median pay: $69,170 a year — $33.25 per hour
Core hard skills: Community management tools, social media, metrics and data analysis tools, cryptocurrency basics
Primary duties: Create and share social media content, grow the community, gather feedback, educate the audience, moderate discussions and reach out to influencers, press and ambassadors
Crypto community managers are responsible for coming up with strategies to support the organization's growth plan. They're the glue that brings crypto investors, developers and users together. Additionally, they moderate the conversations between stakeholders across numerous platforms. These professionals also use their knowledge in cryptocurrency and blockchain to create educational content to share with the community.
6. Account Executive
Average pay: $111,448 a year — $53.58 per hour
Core hard skills: Customer service, project management, sales
Primary duties: Meeting customers, reaching out to leads, closing sales deals, performing demonstrations and presentations to interested prospects, negotiating contracts
Crypto-driven organizations typically connect with numerous clients at a time. Account executives help manage the business-client relationships to guarantee the closing of sales deals. These professionals also help crypto companies find new prospects, convert customers and negotiate the terms of their exchanges. Additionally, they help clients understand what they need to come up with strategies to meet their goals and expectations.
Careers in Cryptocurrency
When thinking of a career in crypto, most people imagine positions that involve development or trading abilities. While some cryptocurrency jobs still require tech and finance-specific hard skills, non-technical crypto careers are also on the rise. According to a 2021 report, only about 30% of all crypto job ads were related to software development. This seems to signal higher demand for all kinds of professionals in the cryptocurrency realm. 
More and more businesses that develop blockchain technology — or use it —  are looking to expand their workforce with individuals talented in skills such as:
Marketing
Finance
Sales
Business development
Project management
Research
Accounting
Journalism
IT operations
Information design
It's becoming increasingly common to find job listings that mention cryptocurrency and blockchain on major job boards across the web. Fortune 500 companies like Fidelity Investments, Mastercard and JPMorgan Chase Bank are among the numerous organizations currently looking to fill crypto positions. 
Crypto Jobs Across Industries
The cryptocurrency craze has managed to seep through several industries. Some of the sectors that have embraced the use of these decentralized digital assets are:
Hospitality
Social media
Retail
Tech
Fast food
Travel
Automotive
Sports
Entertainment
The adoption of cryptocurrency in these markets has been increasing the demand for crypto-savvy individuals with diverse skillsets.
Final Take
Job seekers no longer need to have exclusively technical skills to work in cryptocurrency and blockchain. Today, crypto-enthusiasts have numerous opportunities to pursue a lucrative career as these fields develop. The positions mentioned above are just a few of the highest-paying options across industries.  
Daria Uhlig contributed to the reporting for this article.
Information is accurate as of Jan. 19, 2023.
Our in-house research team and on-site financial experts work together to create content that's accurate, impartial, and up to date. We fact-check every single statistic, quote and fact using trusted primary resources to make sure the information we provide is correct. You can learn more about GOBankingRates' processes and standards in our editorial policy.
Make Your Money Work Better for You