Experts: 5 Signs You Need a Second Job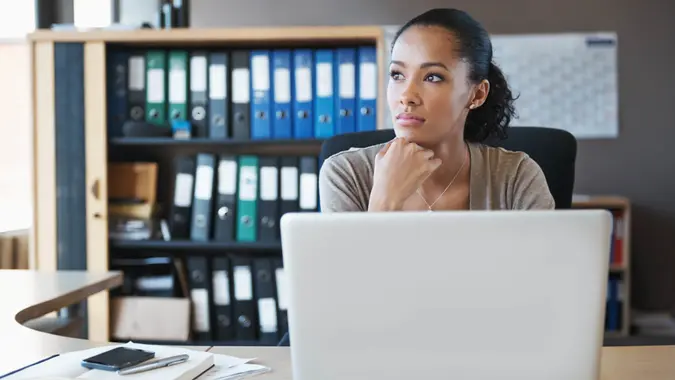 shapecharge / iStock.com
With the holidays quickly approaching, you might be feeling the strain of extra expenses taking over your budget. In today's economic climate, even working professionals and those with full-time jobs are looking for creative ways to supplement their income to stay on top of all the extra expenses. To help boost your income in light of extra holiday spending, gift-giving and travel plans, you might want to consider whether it's time for you to pick up a second job.
See the List: GOBankingRates' Best Banks of 2023
Find Out: 3 Ways Smart People Save Money When Filing Their Taxes
Read More: 10 Best New Items Coming to Dollar Tree in 2023
Here are five signs from the experts that it might be time to take up a second job.
You're Constantly Stressed About Money
A telltale sign that it might be time to start a second job is if you are feeling financial pressure.
Make Your Money Work Better for You
"If money worries are keeping you awake at night, affecting your performance at work, and putting a strain on your personal relationships, it's time to locate an additional source of income," said Adam Wood, co-founder of Revenue Geeks. "But keep in mind that excessive stress can be hazardous to your health in addition to being an annoyance."
If finances are causing you stress, consider making money off something that you love
"You can convert something you enjoy into a side business, whether it's baking, crafting, writing, website design or animal care," Wood said. "For instance, if you are a talented photographer, you might easily earn $1,000 or more for a wedding shoot. Do not assume a second job will be unbearable. If you play your cards correctly, you will gain more than simply money."
Take Our Poll: What Are Your Financial Priorities in 2023?
You Don't Have an Emergency Fund
If you are finding yourself dipping into your emergency funds more than you are comfortable with, or don't have any emergency savings on hand, it might be time to take up a second job.
"You need emergency funds to safeguard yourself against unanticipated expenses such as house repairs, vehicle maintenance and medical bills," said Antoine Boquen, CEO and co-founder of Horizons, an HR management hiring team. "Similarly, if you lose your job and it takes a while to locate a new one, having an emergency fund could help you get by. Without a savings account, you run the risk of accumulating substantial credit card debt to meet unforeseen expenses."
Make Your Money Work Better for You
Not having an emergency fund in place can also be detrimental when it comes to being prepared for future expenses. Without an emergency fund, your credit score will likely be negatively impacted and it might be challenging to obtain a loan, buy a house or open new credit cards, according to Boquen.
You're Skipping Meals
If you're finding yourself eating less nutritious meals and smaller portions — or skipping meals altogether because you can't afford them — it might be time to spruce up your resume and find a second job. It's important to get nutrients and fill your body with the food it needs in order to stay healthy and have the energy you need to carry out your daily activities.
If coupon cutting and shopping sales aren't cutting it and hunger is weighing you down, consider looking at job opportunities and picking up a second job that works for you.
You Want To Explore Your Passions
You might also want to consider starting a second job if you have a hobby or skill that you excel at that you want to turn into a side hustle. It might be well worth your time to spend a few hours a week focusing on your side hobby in order to ease financial stress.
Make Your Money Work Better for You
If you enjoy crocheting on the weekends or baking in your spare time, consider setting aside some extra time and selling your offerings in order to pocket some extra cash. While it can be stressful to juggle two jobs, turning your hobby or passion into a side hustle can be an enjoyable way to grow your money.
You Want To Advance in Your Career
A common misconception about starting a second job is that people only start one when they need money. This is simply not the case — many people start a second job in order to move up career-wise and gain the work experience necessary for a future job.
Let's say you have been working as a freelance accountant for a while and are looking to work full time in a management position. In order to make this career jump, you might take up another job as an assistant manager at a different company to see what the career might entail and whether it is a good career move. If you are looking to try out a different career venture or move up in the ranks, taking up a second job might be a great opportunity for personal development.
More From GOBankingRates
Make Your Money Work Better for You