Gen Z vs. Millennials: How the Job Market Differs Between Generations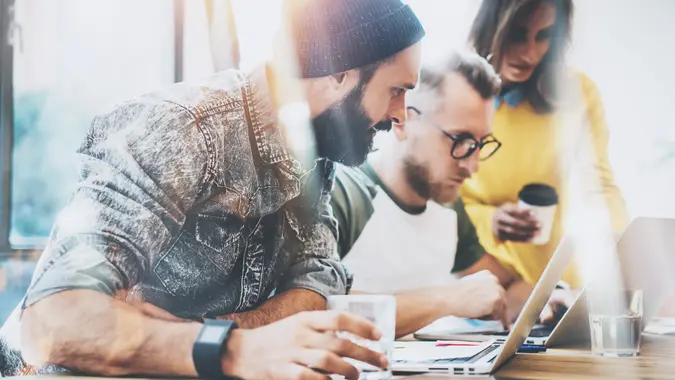 ©Shutterstock.com
When millennials left college and entered the workforce, side hustles and remote jobs were still exotic and rare — and no one got paid in Bitcoin. Young Gen Zers are today where millennials were back then — but they're both competing in the same post-pandemic job market.
Because so many Gen Zers are still kids, millennials make up a much larger percentage of the workforce. They bring the hard lessons learned from 2008 and, for the oldest among them, the dotcom bust. The working Gen Z population is fewer in numbers and thinner on experience, but they were born into the digital age and have never known a life without the technology that drives the modern workplace.
Discover: 22 Side Gigs That Can Make You Richer Than a Full-Time Job
Small Business Spotlight 2022: Nominate Your Favorite Local Small Biz
Nothing could have prepared either generation for the seismic shift in workplace culture that the pandemic brought on, and they're both responding to the new reality in their own way.
Here's a look at the differences experts see in how millennials and Generation Z are navigating today's quickly evolving job market.
Make Your Money Work Better for You
Both Generations Are More Likely To Land the Job — and To Leave the Job
According to TED speaker and career development expert Michelle Enjoli, the current job market is treating Gen Z and the millennials equally in at least one respect — employers are hiring both in disproportionately high numbers compared to older sets.
"Gen Z and millennials are being hired at high rates today because companies are looking for tech-savvy and resourceful talent," said Enjoli. "As digital natives and experts, this pool of talent is considered optimal to help companies navigate the changing business environment." However, Gen Z and millennials are also leaving their jobs at a higher rate than other generations, according to Enjoli.
"For them, loyalty to one company doesn't provide the benefits it once did," she said. "For example, studies in recent years have found that loyalty can result in making less money. So instead, these generations have found that making a job switch can increase their salary by at least 20%."
POLL: Do You Think You Will Be Able To Retire at Age 65?
Education Can Influence Turnover Rates as Much as Age
Career expert Hannah Maruyama of Degree Free agrees that both millennials and Gen Zers are experiencing higher turnover rates than their older colleagues — with one caveat.
Make Your Money Work Better for You
"Millennials and GenZers are more likely to leave their jobs," Maruyama said. "But they are even more likely to leave if they have a college degree. Degree-free people turn over 39% less than college grads, according to Harvard's study 'Dismissed by Degrees'."
No matter the degree level, if the younger sets are more fluid in their career movements, it's probably because they learned the lessons of the recent past.
"Overall, our attitude toward jobs being easily replaceable may be considered a bit radical, but it seems fair given the roller coaster of job markets and economies we've seen, especially older millennials who had to deal with 2008," said Maruyama. "Millennials and Gen Zers are beginning to view work as we should: a business transaction with an employer."
Each Set Has Its Own Definition of a Job Worth Keeping
Tiffany Pham, founder, CEO and chair of the board at diversity recruitment and HR tech firm Mogul, has noted a distinct difference in the conditions that each generation asks prospective employers to meet.
"Fair pay and traditional benefits are important to Gen Z," said Pham. "But they also have their eye on the future with a desire for comprehensive parental leave. They have been shown to be a little more pragmatic and practical in this way than millennials, possibly because of an impact from the 2008 financial crisis. Good benefits are important to them."
Make Your Money Work Better for You
Perhaps most importantly, according to Pham, Gen Z is far more likely than other generations to view prospective employers through the lens of their own morals and principles.
"They assess whether the employer's values align with their own," said Pham. "Diversity in the workplace is very important to Gen Z."
Pham cited research that shows 86% of Gen Z job seekers cite a company's commitment to diversity as an important factor in deciding whether to accept an offer, and that 66% would hesitate to accept an offer if the interview process didn't include underrepresented employees.
"This differs significantly from other generations," said Pham.
More Gen Zers Are Out of Work — Mostly Because They Just Started Working
Another difference is that Gen Z is at the entry level, and therefore, seeking out different jobs than their older counterparts — and often having a harder time getting their feet in the door.
"The job market looks very different for Gen Z and millennials," said certified professional resume writer Arno Markus of iCareerSolutions. "The unemployment rate for Gen Z is currently at 12.6%, compared to 3.9% for millennials."
That can be a misleading statistic. While it seems like a huge gulf, much of the unemployment discrepancy has to do with their respective rungs on the corporate ladder. 
"This can partly be attributed to the fact that Gen Z is just now entering the workforce, while many millennials are already established in their careers," Markus said.
You're More Likely To Find Millennials in a Traditional Workplace
The Gen Zers and millennials who are employed, however, typically have vastly different experiences, according to Markus.
"Gen Z is much more likely to be working remotely than their older counterparts," he said. "They are also more likely to hold multiple jobs or freelance gigs, as they seek to build up their experience and skillset."
Here, too, the difference comes down to age and career level. If Gen Z is more likely to participate in post-pandemic work culture, it's likely because so many never had pre-pandemic jobs.
Gen Z Is More Optimistic — Naive, Millennials Might Say
Despite stumbling over the pandemic right out of the gate, Gen Zers are much more likely to look on the bright side than their older siblings.
"Despite the challenges they face, Gen Z remains optimistic about their future," said Markus. "A recent survey found that nearly 80% of Gen Z respondents believe they will eventually reach their career goals, compared to just 67% of millennials."
Several experts told GOBankingRates that millennials' tendency toward career pessimism can be traced to the fact that they endured 2008 — but that trial by fire might just give them a leg up on Gen Z, which hasn't yet earned as many battle scars.
"So while the job market may be different for Gen Z and millennials," Markus said, "it is clear that both groups are adaptable and determined to succeed."
More From GOBankingRates
Make Your Money Work Better for You