Here's What the Dream Job Looks Like in 2023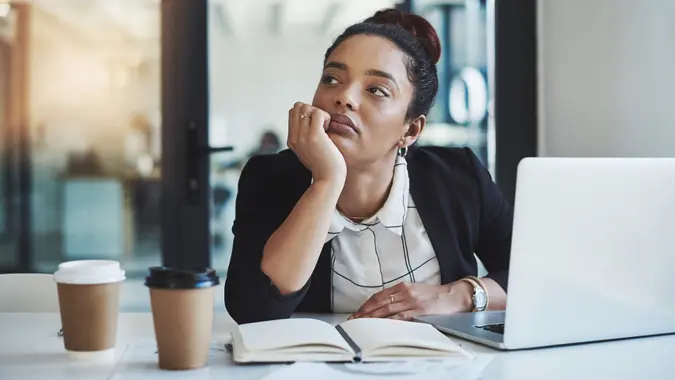 PeopleImages / iStock.com
What is a dream job? The definition may differ depending on who you ask and where they are in life.
See: How Much Americans Have in Their Savings Accounts in 2023
Also: With a Recession Looming, Make These 3 Retirement Moves To Stay on Track
A 23-year-old just out of college may say a dream job involves lots of traveling to foreign places and doing community work that makes a difference. A 34-year-old new parent may say something with great paternity benefits, minimum travel and upward mobility is a dream job. A 60-year-old union worker may have landed her dream job 35 years ago and be delighted exactly where she is. 
But what about the bigger picture aspects? Like prestige, big pay, premium benefits and perks like remote work? If one had to define the dream job for the job-seeking candidate of 2023, what would it comprise?
Competitive Compensation: Salary, Perks and Benefits 
Today's job seeker doesn't just want competitive pay, they also want extensive perks that may include "professional development such as a continuing education fund," said Jennifer Landis-Santos, MA, PCC, CCC, NBHWC, career counselor and wellness coach at Career Wellness, LLC. 
Make Your Money Work Better for You
Take Our Poll: Do You Have a Second Job or Backup Plan in Case You Are Laid Off?
Benefits are also a no-brainer for today's dream job. 
"Benefits like retirement plans, medical and dental are a must for candidates," said Montse Lorente, career coach and co-founder at CV Online. 
Hybrid or Remote Options 
A flexible work environment has long been desirable, but the pandemic really made it a priority. Now, there's no argument that the dream job in 2023 is hybrid or even fully remote. 
"I'd say 80% of the job seekers I coach are looking for a hybrid or fully remote role," said Kat Sabatini, career expert and founder of Tuesday Resume. 
Purpose 
The dream job of 2023 has a purpose, and that could be largely thanks to the influence of the rise of Gen Z. 
"Perhaps influenced by the incoming Gen Z workforce, many mature job seekers are looking for a company that has a clear mission to give back," Sabatini said. "Companies with a greater purpose beyond profits come in all shapes and sizes. The pandemic was a wake-up call; when you spend the majority of your life working, you want to sleep well at night knowing you've done something meaningful, even [if] in a small way."
Make Your Money Work Better for You
Opportunity
A dream job provides steppingstones for next career moves or overall evolution as a person. 
"For some job seekers, their ideal role would allow them to learn new skills or take on new challenges," said Amanda Augustine, a career expert for TopResume. "For others, this may translate into access to programs and/or other professional development opportunities to advance their careers. And still others may care most about opportunities that simply allow them to do work that plays to their strengths.
"At a time when hiring trends such as 'quiet hiring' are gaining headlines, it's important for job seekers to find work that will provide the right opportunities to support their long-term career aspirations." 
Recognition and Upward Mobility  
Plaques on the wall? Trophies on the desk? Promotions and applause? Yes, please.  
"Today's worker wants the title, promotion, awards, certificates, digital badges and anything else that demonstrates their expertise and other accomplishments in the workplace," said Dr. Wanita Mercer, founder and CEO of Lead My Heart Executive Coaching and Consulting.  
Make Your Money Work Better for You
Job Security 
It's not the most romantic quality, but in today's rocky economy with droves of layoffs making the headlines on a near daily basis, security is an aspect of today's dream job. 
"With big companies like Google and Disney cutting thousands of jobs, security is at the top of the list," said LaVonne James, chief career branding strategist at Get A Better Job. "What good is a dream job if you won't have it for very long? Job seekers want a reliable source of income above all. A dream job can turn into a nightmare if you're constantly stressed about the possibility of losing [it].
"Sure, people want perks. But, in 2023, with an uncertain future ahead, a stable job that affords an employee the ability to pay bills and take good care of their family is a dream come true for most people."
Extensive Parental Benefits 
Having a family should be easy, and yet too many companies make it infeasible by not providing extensive parental benefits. The dream job of 2023 does not come up short in this department. 
"Things like paid paternity and maternity leave, adoption or fertility assistance have been mentioned as huge perks that Americans are ready for," said Gracie Miller, a career coach.  
Mental Health Support  
We spend most of our waking hours invested in our work. Today's dream job absolutely prioritizes our mental wellbeing. 
"In a recent global study, 60% of individuals surveyed said that their job impacts their mental health more than anything," said Ryan Culkin, chief counseling officer at Thriveworks. "With this in mind, for a job to truly be a dream job in 2023, it should support your mental health. This means providing mental health benefits or access to therapists through an EAP (Employee Assistance Program), ensuring managers have the training required to recognize and appropriately address signs of burnout, anxiety or depression [and] facilitating an encouraging and supportive culture where employees feel psychological safety.
"While providing mental health support can make a job a dream job for the employee, offering this also benefits the employer. Data has shown that providing your team with this type of support increases productivity and employee retention, too." 
Inclusion
Diversity matters, and more and more people are expecting their employers to understand and show that. 
"We recognize more often the nuances that make us different, whether it's being a caregiver, the holidays we celebrate, language spoken, who we love, our abilities, how much we can spend on lunch, etc.," Landis-Santos said. "Acceptance and inclusion of a variety of life experiences facilitates … a sense of belonging."
More From GOBankingRates
Make Your Money Work Better for You