10 High-Paying Hybrid Jobs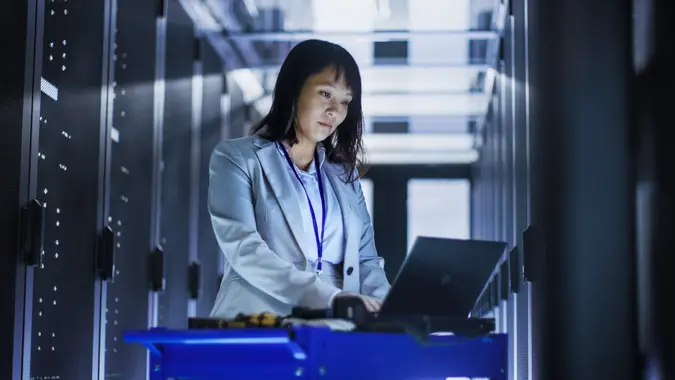 gorodenkoff / Getty Images/iStockphoto
Maybe you love the flexibility of working from home but also yearn for facetime with co-workers in the office. Good news: There are high-paying jobs with hybrid schedules made just for you.
Good To Know: Pros and Cons of Living in a State With No Income Tax
More: With a Recession Looming, Make These 3 Retirement Moves To Stay On Track
With these jobs, there will be a few days a week where you can stay at home and work, and the rest of the week you'll go to the office and meet with other employees. GOBankingRates looked through job listings to find jobs that had high salaries and offered hybrid schedules. Here's what we found.
Also see the 10 best cities for six-figure hybrid jobs. 
Senior Scheduler
Salary: $160,000 to $185,000
Company: CyberCoders (Los Angeles)
A senior scheduler develops and manages building schedules for construction work. You also would monitor the progress of jobs and add or subtract time to schedules accordingly. To qualify, you need 10 years of experience in scheduling and five years in direct support of construction projects. 
Make Your Money Work Better for You
Take Our Poll: Do You Have a Second Job or Backup Plan in Case You Are Laid Off?
Data Scientist: Threat and Risk Engineer
Salary: $119,000
Company: Sempra (San Diego)
Sempra is looking for a data scientist with 10 years of engineering experience, including six years related to risk or reliability or threat evaluation or integrity management. On the job, you'll be expected to apply technical expertise in engineering risk assessment principles and perform multi-dimensional systematic risk analysis.
Tax Senior
Salary: $85,000 to $120,000
Company: Jobot (Newport Beach, California)
If you have two or more years' experience preparing tax returns in a small to medium public accounting firm, you could qualify to be a tax senior. Job duties include running client engagements from start to finish, including planning, executing, directing and completing financial audits. You'll also serve as a mentor or lead to more junior accountants.
Senior Program Director – Rail and Transit
Salary: $165,000 to $310,000
Company: Parsons Corporation (Walnut Creek, California)
As the senior program director of rail and transit, you'll provide direction and management for every phase of significant aviation (landside and airside) projects or programs to assure on-schedule completion within or below budget and in accordance with contractual obligations. To qualify, you'll need prior experience in significant project management or construction management assignments at the program director level.
Make Your Money Work Better for You
Data Analyst
Salary: $87,000 to $142,000
Company: Howard Hughes Medical Institute (Chevy Chase, Maryland)
Do you have a strong analytical background and experience performing data scrubbing? The Howard Hughes Medical Institute has a hybrid job for you. At HHMI, you'll gather requirements, identify problems to solve, perform data analysis, prepare solutions and clearly document and articulate the problem and expected outcomes.
Senior Distribution Designer
Salary: $101,399 to $112,361
Company: Sargent & Lundy (Richland, Washington)
The Senior Distribution Designer would be responsible for preparing construction sketches and details for overhead and underground network services. You'd also perform short circuit and voltage drop calculations, among other things. Qualifications include seven years of drafting course work or equivalent technical experience and a minimum of 10 years of distribution design experience.
Manager of Finance Application Support
Salary: $110,000 to $135,000
Company: Columbia University (New York)
As manager of finance application support, you'd serve as the liaison between various client groups within finance and across the university, supporting Columbia's business through configuration and development of finance applications. To qualify, you need to have worked in functional finance for at least five years.
Make Your Money Work Better for You
Principal Data Solutions Architect
Salary: $144,000+
Company: PG&E (Oakland, California)
The principal solution architect develops cost-effective strategies to solve problems. This role also requires you to develop architectural guidance, train other architects and project team members, make sure the strategy is fully understood and provide direction to business and IT activities. To qualify, you should have seven or more years of relevant work experience in information technology, data management, business intelligence and analytics.
Workers Compensation Attorney
Salary: $92,000 to $130,000
Company: Gilson Daub (Los Angeles)
If you have at least one year of insurance defense experience and a proven history in litigation and team building, you can work as a workers comp attorney for Gilson Daub. Additionally, you'll need a California Bar membership and license. 
Lead Electrical Engineer – EV & Hybrid
Salary: $110,000 to $150,000 
Company: Gale Banks Engineering (Azusa, California)
As a lead electrical engineer, you'll take ownership of design and development of hybrid electric vehicle electrical architecture. The ideal candidate will have experience working with HEVs and be able to manage a team. You'll also need to know about embedded systems and automotive network communication, and you will need experience with high-power/voltage power distribution system theory, design and analysis.
More From GOBankingRates
Make Your Money Work Better for You