The Question Hiring Managers Aren't Asking, but Should Be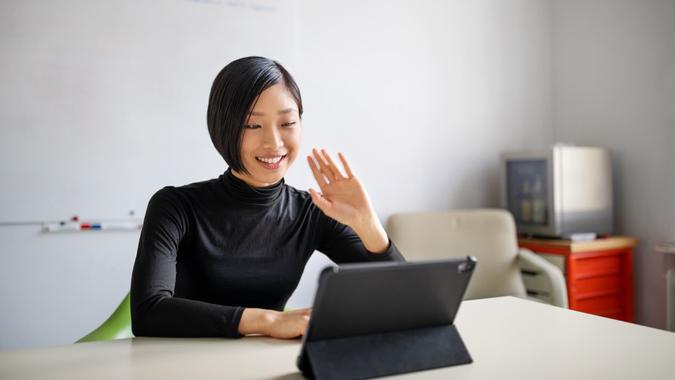 LUIS ALVAREZ / iStock.com
Job searching has never been particularly easy, but in the time of COVID-19 and the accompanying economic fallout, landing a new position is arguably as tough as it was during the Great Recession. Hearing back from a recruiter or hiring manager can feel like a breakthrough moment, but it's only the first step in the potential onboarding process. Candidates still have to get through the interview process.
Read: Americans' Savings Drop to Lowest Point in Years
A new study from Zety found that hiring managers are asking the same type of open-ended questions across the board. The top questions: "Tell me about yourself," with 94% of decision-makers presenting this rote inquiry; "What are your greatest strengths?" is asked by 91%; "How did you hear about this position?" is asked by 84%; 82 % say "Tell me about a challenge or conflict you faced at work and how did you deal with it?;" and 80% ask "What are your greatest weaknesses?"
Zety's study, which consulted over 500 decision-makers and more than 1,000 workers, shows that interview questions haven't changed much over the years. But there are also some new and rather weird asks that hiring managers are making, such as, "How often do you exercise weekly?" and "If you were an animal, what would you be and why?"
See: What It's Like To Job Hunt During a Pandemic
Make Your Money Work Better for You
Be they ordinary or zany, there's something pretty important missing from the list of what hiring managers are asking. This data was gathered in December 2020 and January 2021 — yet not everyone is asking about what Andrew Hunter, co-founder of job search engine Adzuna, terms the "elephant in the room": COVID-19 and working from home.
"With hundreds of thousands of Americans still working from home, it's more important than ever to find out if a potential employee is self-motivated, trustworthy and a good communicator," Hunter said. "That is far more important than asking what animal they would be."
Find Out: How To Interview For a Job When You're Wearing a Mask
Chelsey Opare-Addo, the founder of Not Your Mother's Resume, suggests that based on the infographic, asking questions about COVID-19 and remote work is uncommon because the concepts aren't thought of as questions.
"It's more of a 'we are working remotely, and we might go back in the office in the fall, but we might not,'" Opare-Addo said. "Candidates have been very understanding and flexible, as it's common for companies to not have an ironed-out plan."
Make Your Money Work Better for You
More: 20 Ways To Improve Your Chances of Getting a Job
Opare-Addo added that she's been in the awkward position of recruiting for a traveling consultant role, informing candidates that the role is currently 100% remote, but traveling may or may not be a requirement in the future.
"Interviewers tend to fall into a script of explaining what changes are happening because of COVID and what the plan is in the future," she added. "COVID has brought along a new challenge for interviewers — describing what the work environment will be like without knowing what's going to happen a few months down the line."
Read: How You Can Bounce Back After a Bad Job Interview
By this logic, it makes sense that interviewers aren't asking direct questions like, "Will you work remotely?" The continued uncertainty about the future adds a new wrinkle for job hunters and hiring managers alike. But it's important job seekers and hiring organizations get on the same page before entering into an agreement, even if it's coming to terms with the fact that the future of remote vs. in-office work remains a question mark.
Make Your Money Work Better for You
More From GOBankingRates
Make Your Money Work Better for You