US Hospitals Competing — and Paying High Prices — for Nurses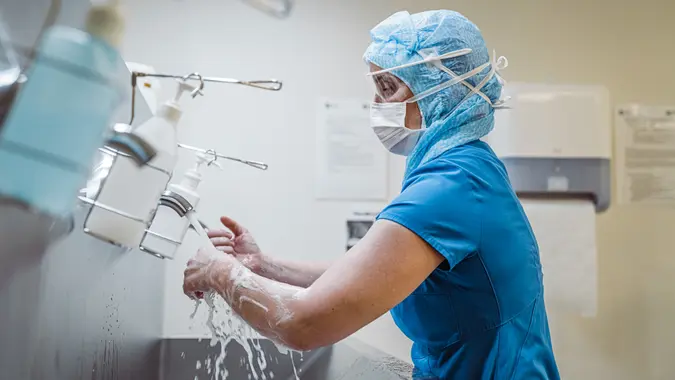 HRAUN / Getty Images
The economy is still reeling from the pandemic, and job loss is high in numerous sectors — but not for nurses. As the COVID-19 hospitalizations rate soar, so too does hospitals' need for nurses. Desperate for talent, hospitals are being forced to pay the going rate — which is significant. Job listings for nurses are citing salaries of as much as $10,000 a week in some parts of the country, NBC News reported.
A shortage in nurse talent was underway in the U.S. before the pandemic struck. In 2018, the American Journal of Medical Quality published a report showing that the shortage of registered nurses was projected to balloon between 2016 and 2030. The shortage, driven in part by aging boomers, longer lifespans and nurses leaving the field, has been exacerbated by the pandemic. Registered nurses not only perform highly skilled tasks in caring for patients, they often serve as the most humane aspect of the hospital experience. A 2018 study found that nurses spend nearly 33% of their time on shift with patients, while doctors spare less than 15% of their time.
Though registered nurses are highly educated and typically more hands-on in their caretaking roles than doctors, they have historically been paid much less — until now. Making $10,000 a week adds up to $520,000 for a year, not including a signing bonus and other possible incentives. The average doctor salary is $279,241 as of Oct. 28, according to Salary.com. In some cases, nurses could be making more than doctors. Unfortunately, such steep pay is not tenable for hospitals in rural areas, and this could result in an even more dire nurse shortage in the areas that cannot afford such high prices.
Keep reading to see which other jobs are in demand.
More From GOBankingRates
Make Your Money Work Better for You