How Much the Average Costco Employee Earns by State — Is It More Than Your Current Job?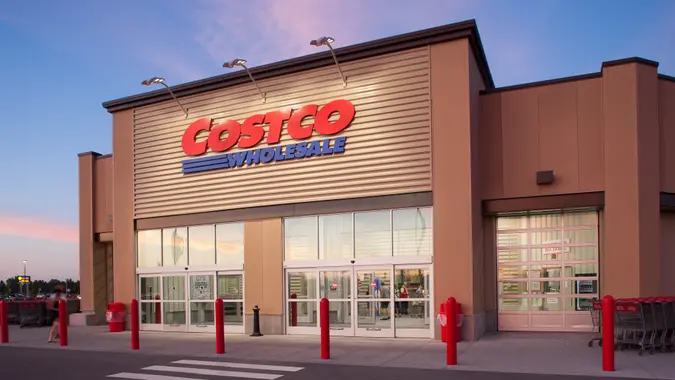 Yvan DubA / iStock.com
Working at Costco isn't typically considered a sustainable career, but the company has better wages and benefits than some of its competitors. According to ZipRecruiter, the average hourly pay for a Costco employee in the U.S. is $20.52 per hour, or $42,688 per year, which is about the same as a teacher's.
In 2022, 30-year-old Maggie Perkins quit her eight-year teaching career to work at Costco, she wrote in an article on CNBC Make It.  During her final school year, her salary was $47,000.
"I worked 60 hours a week and put in tons of unpaid overtime," Perkins wrote. "So I started looking for alternative paths that would give me some breathing room."
In September 2022, Perkins started working full-time on the memberships team at a new warehouse in Athens, Georgia, making $18.50 per hour. After hitting 1,000 hours, she got a $1-per-hour raise. Perkins later joined the marketing training team when a position opened in Issaquah, Washington. Now, Perkins works as a content developer and marketing trainer for the corporate office, earning what a teacher with 15 years of experience made at her last school district — and 50% more than when she quit within a year.
Besides having a higher minimum wage than its competitors, working at Costco comes with other benefits. Costco provides twice-yearly bonuses for hourly employees after five years, The Krazy Coupon Lady reported, and every employee gets time-and-a-half pay for working on a Sunday.
Make Your Money Work Better for You
ZipRecruiter put a list together of how much the average Costco employee earns by state and even found 15 states where the typical salary for a Costco worker is above the national average of $20.52 per hour.
Here are the top five states where Costco employees earn the most:
Minnesota: $22.48 per hour/$46,762 per year
Nevada: $22.46 per hour/$46,712 per year
Massachusetts: $22.27 per hour/$46,311 per year
Oregon: $22.11 per hour/$45,986 per year
Hawaii: $21.76 per hour/$45,268 per year
To see what Costco pays in your state, check out ZipRecruiter's full list of the average Costco employee salary by state.
More From GOBankingRates