Defining Your Career: How To Become a CEO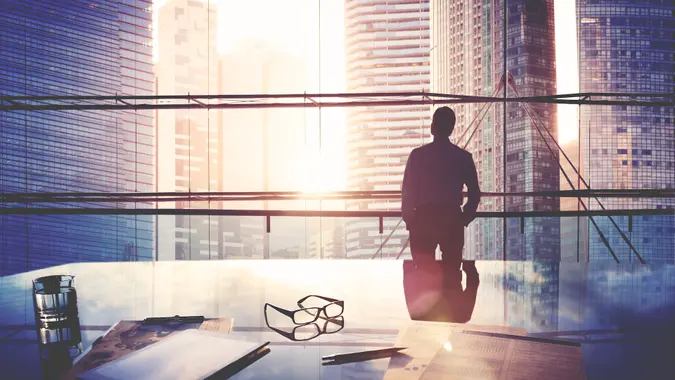 Rawpixel / Getty Images/iStockphoto
Being the boss is the aspiration of many working Americans, and who's a bigger boss than the CEO? A company's chief executive officer has the ultimate power within a business, as she is responsible for managing and overseeing all operations. Everything from organizing the company's structure, strategy and missions to delegating tasks and making executive hiring (and firing!) decisions are on her agenda. 
Related: 21 Tips To Climb the Career Ladder
Also Find: Who Is the Highest Paid CEO in Your State?
Get an MBA
"Earning a Master's in Business Administration can potentially shorten your path to the CEO post," said David Bitton, co-founder and CMO of DoorLoop. "Most CEOs get to where they are because they have a wide range of skills and competence. With such a high level of education, you will have a thorough understanding of the inner workings of all the components that make a business run and succeed. It prepares you to grasp business functionality at a high level."
Make Your Money Work Better for You
Choose Roles That Lead Up to the CEO Office
"Some feeder jobs into the CEO role have more likelihood of promotion into the top job: COO, chief strategy officer, general manager, etc.," said Kathy Robinson, an executive coach and founder of Turning Point. 
In your chosen industry, take a look at the career paths of the people who have recently become CEOs, and see whether you can mirror the most common trajectory. 
Develop the Ability To Take a Direct Blow 
"Before reaching a high-level executive position or becoming the company's CEO, you will have someone else to help you deal with the fallout from a wrong strategic move or an organizational problem," said Deepasha Kakkar, CEO of Crackitt. "These shock absorbers are no longer in place for those in the C-suites of corporations. Except for themselves, no one else can be held accountable for poor performance. Ensure that you accept personal responsibility, and learn how to come up with … ideas to bounce back from a loss."
Fun Fact: How Many Minutes Does It Take a CEO To Earn Your Annual Salary?
Adopt a Service Mindset
"CEOs aren't running their businesses just for the profit motive; they want to serve," said Angela Blakenship, CEO and hiring executive of Best Neighborhood. "CEOs live to serve customers, employees and shareholders, just to name a few. Your top priority should be solving problems for your customers, making work life better for your employees and obviously (creating) profits for shareholders. A selfish CEO is never looked favorably upon and often doesn't last that long."
Make Your Money Work Better for You
Have a Clear Plan 
"If you want to be a CEO by the time you're 45 years old, write that down," said Maureen Farmer, CEO of Westgate Executive Branding and Career Consulting. "Study CEOs who are similar to the one you want to develop into. You must understand the financials of the organization, including the balance sheet and cash flow statements. You must understand the governance of the organization, including the role of the audit committee, the nominating and governance committees and other specialized committees."
Get Busy Networking and Making Your Voice Heard 
"Develop your thought leadership early by speaking on your topic (unique value proposition) often and for industries outside your own," Farmer said. "Create an editorial calendar of speaking on podcasts, conferences, executive round tables and industry associations. Industry associations aimed at CEOs … are an excellent audience for burgeoning CEOs."
Make Your Money Work Better for You
Also See: 28 CEOs Who Have Saved or Sunk Major Corporations
Be Selective With 'Yes' 
"As you grow your career, you'll be tempted to take on every opportunity that presents itself," said Cynthia Corsetti, a C-suite executive coach. "Whether you're asked to deliver a keynote, sit on a nonprofit board or accept a leadership role in a professional organization, choose one or two that fits most closely into your plan. It's not about how many things you do; it's about how well you do the things you do. So choose what aligns with your passions, values and career plan the most and graciously decline the rest. At least for now." 
Surround Yourself With Successful People
"Start interacting, socializing and engaging with others in the executive circles," Corsetti said. "You'll naturally step up your game when you are with others who are at the top of theirs. And at the same time you will be building the necessary network so when you go for that C-suite role, people know who you are."
Master the Necessary Skills 
"You need to develop the right skills to become a CEO," said Steve Anevski, CEO of Upshift. "Make sure to challenge yourself to do better. Decision making, stress management and communication skills are a must-have. It helps you understand how to work well under pressure. You'll also be able to get your point across effectively."
Extra Tips: 10 Things To Know Before You Ask For That Job Promotion
Listen First — Then Speak Up 
"Often emerging leaders are so eager to be heard they don't listen first, then speak and share their ideas," said Kathleen Quinn Votaw, CEO of TalenTrust. "By listening, you can be additive to the solutions/conversations and learn from what others input." 
Take On More Responsibility
"If you've ever said, 'That's not in my job description,' you're doing it wrong," said Steve Oliverez, CEO of InsanelyCheapFlights.com. "As a (former) employee, I'd take as much work off my boss' plate as possible. Eventually I learned how to do their job, and I'd include all the additional responsibilities on my resume."
Be Patient During the Journey
"This climb does not happen overnight," said Eduarda de Paula, CEO of Coupon Hunt. "A CEO commonly requires several years of professional experience. The competencies and skills honed throughout this long journey typically relate to business practices, management skills and best leadership, which are essential qualities that help build a solid foundation for CEO success."
More From GOBanking Rates 
 
Make Your Money Work Better for You