How To Keep Building Wealth After a Layoff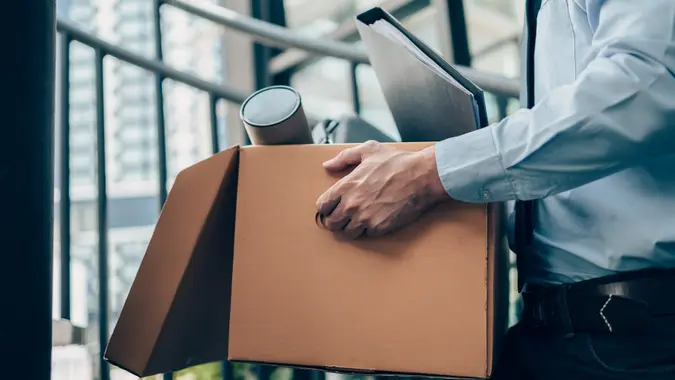 Charnchai / iStock.com
If you were recently laid off, you're probably not sure what's next. Many people are in the same situation.
For example, Elon Musk has laid off approximately 80% of Twitter's workforce since he took the helm of the company in November 2022. Additionally, Amazon has laid off more than 18,000 workers since November 2022 and Meta has cut nearly 30% of its workforce in the past six months.
As a financially responsible person, you're not willing to let this setback put you in debt. In fact, you're probably committed to continuing to build wealth while searching for a new job.
This might sound like an impossible feat, but it's not. Here are five tips to help keep your finances in order after you're laid off.
Cut Back on Spending
"If you have been laid off from work, you need to immediately cut back on spending and focus on bringing in some income to make it through," said Jay Zigmont, Ph.D., CFP and founder of Childfree Wealth. "With a reduced income — or no income — your focus needs to be solely on your needs, not your wants."
Make Your Money Work Better for You
When it comes to spending, he emphasized the importance of focusing on essentials.
"Set a budget that covers everything you must pay to keep yourself clothed, fed, housed and basic needs met," he said. "Any additional spending needs to be cut immediately."
Take Our Poll: Are You Concerned About the Safety of Your Money in Your Bank Accounts?
Check Your Benefits
"As far as income goes, be sure to check your layoff notice to see if you will be getting a severance or if you are going to be able to claim unemployment," Zigmont said. "If you are eligible for unemployment, apply immediately."
That's not the only benefit you might be able to receive.
"You may also qualify for job training assistance from your state, so be sure to check with your local workforce development program," he said. "Also, look to see what your options are for healthcare, including COBRA coverage, to make sure you have some coverage."
This is important because an unplanned medical expense can be a huge financial setback when you're laid off.
Find a Way To Earn Money
While searching for your next career opportunity, Zigmont recommended finding a part-time job or gig work.
Make Your Money Work Better for You
"Look for employers that offer healthcare benefits for part-time or per-diem employees, which may allow you to save money," he said. "Remember that if you do gig work such as Uber, or any other 1099 work, you are responsible for paying your own estimated taxes to the IRS and state, if applicable."
Your focus while being laid off is to make the impact as small as possible.
"You will not be able to keep saving money or putting money towards retirement like you did when you are working, and that is OK," Zigmont said. "Do not use credit cards or other debt to make ends meet — focus on cutting expenses and increasing income."
If you have to use your emergency fund, he said to prioritize refilling it when you find a stable job.
Assess Your Budget
"Take stock of your emergency savings," said Cassandra Rupp, senior financial advisor at Vanguard. "Your ability to access liquid assets is crucial if you are no longer receiving a steady paycheck."
If you do have an emergency fund, a layoff is exactly what you've saved for, so be proud of yourself for thinking ahead.
"Putting away $2,000 for spending shocks — e.g., buying a new heater — and three to six months' worth of expenses for income shocks  — e.g., a job loss — are good rules of thumb when contributing to your emergency fund." Rupp said.
Make Your Money Work Better for You
However, she said you might need more for each category, depending on your unique situation and spending habits.
"If you're tight on cash or anticipate being out of the workforce for a while, it may be best to cut or limit nonessential expenses — like dining out and personal travel — from your budget," she said. "If you do, you won't need to figure these expenses into your target emergency savings amount."
Lean on a Financial Advisor
"It's a financial advisor's job to provide guidance well before, during and after any kind of financial setback," Rupp said. "Investors should consider working with a financial advisor to ensure their investment objectives, risk tolerance and portfolio allocations remain balanced and aligned during a highly emotional time."
She said receiving objective guidance can provide the reassurance, advice and direction you need to get back on track as quickly as possible.
"Use account types flexibly," she said. "Some accounts, such as a brokerage account or Roth IRA, may be more flexible than they first appear in helping hold you over during an income shock."
Rupp also recommended taking stock of all your assets, so you know the additional resources already at your fingertips. If you do need to use the funds, she said your financial advisor can help you determine which account type is the most appropriate to draw from for your situation.
Make Your Money Work Better for You
"Life is full of unexpected situations, and today's market environment is no different," she said. "But with the right preparation and discipline, you can weather the storm."
More From GOBankingRates
Make Your Money Work Better for You