Worried About Layoffs? Here's How To Prep Your Finances Just In Case, According to Experts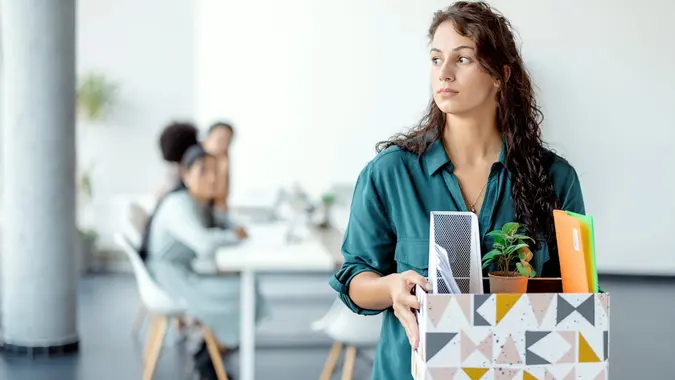 PixelsEffect / Getty Images/iStockphoto
The U.S. appears headed for recession. And with that comes fears of job layoffs. In fact, several major companies, including Tesla, Redfin, Facebook, Twitter and JPMortgage Chase, have cut jobs or imposed hiring freezes over the last few months.
If you think your job is at risk, don't panic. "The storm hasn't hit quite yet, so there's still time to prepare," said Mark Henry, founder and CEO of Alloy Wealth Management. 
Making a plan to prepare yourself emotionally and financially before a layoff happens will help you survive once it does. Here are some tips to survive getting laid off.
1. Do a Financial Fire Drill
Ideally, you need to take steps to prepare your finances before you lose your job. According to Donna Freedman, author of "Your Playbook for Tough Times: Living Large on Small Change, for the Short Term Or the Long Haul," it's a good idea to have a financial fire drill.
Start by determining your baseline budget — the absolute minimum amount of money you need to cover basic costs, such as food, housing, utilities and debt payments, she said. Next, check the website of your state unemployment insurance agency to get an idea of what your weekly benefits will be. Doing this will help you figure out how much more money you'll need from other sources, like savings, for necessities and how many nonessential costs you'll need to cut.
Make Your Money Work Better for You
Once you have a sense of the income shortfall you'll face if laid off, ward off trouble with creditors. It is crucial to inform your creditors in advance of any prospective layoffs if you have loans that you are currently repaying. If you are laid off and have trouble meeting your financial obligations, they will be able to cooperate with you."
2. Use Credit Wisely
Contrary to conventional wisdom, taking out a home equity loan or new credit cards while you're still employed is not the ideal way to ensure you'll stay afloat during a layoff.
"Home equity can be a security blanket, but that means you're taking on debt to weather the storm," Henry said. "I'd much rather see people using their emergency fund to cover expenses."
Whereas new credit cards to increase your available credit can lead to unmanageable debt later on, consolidating existing high-interest cards – and then locking them away – could ease the pinch after you lose your job. 
"If you're carrying credit card debt, now may be the time to look for some 0% balance transfers," Henry said. "Consolidating debt is never the answer to get you out, but it can help in situations like this."
3. Start Job Hunting
The best time to start looking for a new job is before you've been laid off. 
"I always recommend having a resume ready to go (even while you're employed)," said Connie Cutillo, an experienced HR manager and resume and professional profile writer. "To keep your resume up to date, you should always keep record of notable contributions and accomplishments from each position. It's easy to track these as you go rather than trying to remember all your achievements over the past 5-10 years all at once," she said.
Make Your Money Work Better for You
This is also a good time to review your social media presence. Henry recommends updating your LinkedIn profile and ensuring you don't have any controversial social media posts that could jeopardize your chances of getting a job.
Attending networking events and participating in local organizations provide great opportunities to tell people you're looking for a new position – or if you're not ready to make a move yet, that you're open to it.
4. Understand Your Employee Benefits
You need to know what the status of your workplace benefits will be if you lose your job.
You might be entitled to severance depending on your time and status with your employer. You can try to negotiate the terms, but first, you must understand the package. 
"Be sure to be aware of what your options are for healthcare insurance," said Jay Zigmont, Ph.D., CFP, founder of Childfree Wealth. "Your company may offer healthcare benefits during the severance or some similar period. You may also have the option to go on COBRA insurance (which can be expensive) or go onto the healthcare exchange."
5. Cut Expenses to the Bone
If you didn't reduce spending before a layoff, you'll likely have to cut expenses dramatically when you do lose the job. According to Freedman, expenditures like restaurant meals, hobbies, and nights out might have to be put on hold during this period. 
Additionally, you should talk to your auto insurance agent to find out how much you'll save by raising your deductible, dropping collision coverage —  if your car is old enough — or keeping your vehicle parked in the garage because you won't be driving to work daily, she said. You can also switch to a lower-cost phone plan and ask children which of their extracurricular activities are most important to them, as the rest might have to be put on hold.
Make Your Money Work Better for You
6. Prioritize Bills
When cash gets tight, you might need to prioritize which bills you need to pay first. For example, it's better to push off a medical bill than a mortgage payment.
You can protect your credit score by making the minimum payment on your debts. If you haven't yet reached out to your creditors, notifying them about your situation can also protect your score. They could be willing to reduce your minimum monthly payment. They can also lower your interest rate or waive it to accommodate your situation.
You might be able to lower monthly expenses by taking advantage of programs for those in need. Freedman said she was able to get a reduced rate for utilities when she was at her lowest point financially. If you have federal student loans, you might be able to take advantage of income-based repayment plans to lower your monthly bill
7. Get a Part-Time Job
As you look for new full-time employment, you might have to take a part-time job to pay the bills — even if it's not your preferred line of work. According to Freedman, if your unemployment benefits are about to end and you still haven't found a full-time job, you shouldn't turn up your nose at openings that are less than ideal.
Along with reaching out to friends, family members, and former bosses to see if anyone knows of an open position, you should take time to scour the online job boards for opportunities. 
In the meantime, one or more side hustles could generate quick cash – in some cases, without requiring a long-term commitment. Ride-sharing and deliveries, baby or pet sitting, online tutoring and Fiverr gigs are some of the possibilities suggested by the experts GOBankingRates consulted.
Make Your Money Work Better for You
Freedman also recommends making a list of things you can sell to generate extra income during a layoff. For example, she once sold a plastic baseball figure on eBay for $1,200 when she was going through a divorce and hurting for cash.
8. Take Advantage of Assistance Programs
Government and community programs exist to help you through tough financial times. For example, you might be eligible for the Supplemental Nutrition Assistance Program, or SNAP, to help cover the cost of food.
Freedman recommends calling 211 — which is the number for the community services clearinghouse in most areas — to find out what services are available near you that can help. She said you should explain your situation and be specific about what sort of help you need. However, you should take this step before you're in dire straits because assistance programs might require that you fill out forms and be entered into their systems before you can start receiving help, she said.
Losing your job is a stressful experience. However, if you take the steps listed above to prepare your finances before a layoff, you'll be able to deal better with the shock of losing your job. And, you'll be more likely to stay afloat financially if you are unemployed by making the right moves and taking advantage of any assistance that's available.
More From GOBankingRates