Surviving a Layoff: 12 Ways To Protect Your Finances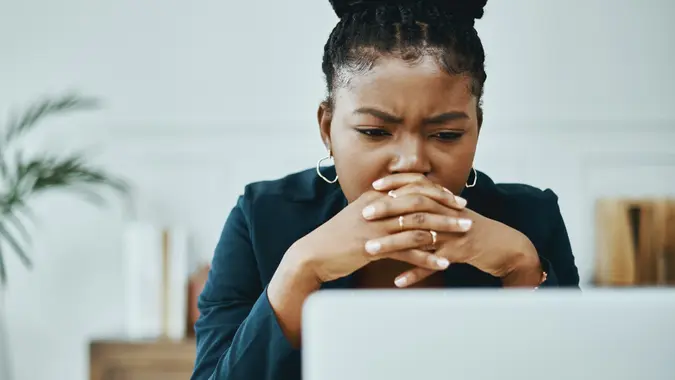 Delmaine Donson / iStock.com
Being laid off from a job can be absolutely devastating; you're not only out of steady income, but you also have to figure out how to protect whatever money you currently have. While it's a difficult prospect to consider, it's a situation that can inevitably make you stronger. You are forced to pull up your bootstraps and get started. With these tips, that is exactly what you'll be ready to do.
Negotiate Your Severance
Before you sign your severance agreement, take a few days to read through it so that you understand the terms, most importantly, and also to see if there might be room for negotiation. Perhaps you can convince your employer to extend health benefits or provide job placement services, for example.
Contact Your Creditors
As soon as you learn that you're getting laid off, it's a good idea to contact your credit card issuers, mortgage and auto lenders and other creditors to inform them of your situation. You can let them know that you will attempt to make your payments but that your situation will soon become unstable. Depending on the creditors and any payment protection plans or insurance you've obtained, you may be able to work out a deal to decrease or stop payments temporarily without damaging your credit.
Begin Paying Minimums on Your Credit Cards
If your credit card issuers won't work with you, make minimum payments to make sure you have enough to set aside for other bills. However, keep in mind that paying minimums will result in taking longer to pay off balances. So, during this time, be mindful of your total balances due, as well as your credit limits so that you don't exceed them.
Make Your Money Work Better for You
Apply for Unemployment
Many laid-off workers overlook the fact that their benefits might be subject to a "waiting week." If your state imposes one, the first week of your claim will be unpaid, and you'll receive your first check for your claim's second week. Delaying your application will delay your benefits even further. In some states, including New York, putting off applying could even make you ineligible to collect. 
Budget/Cut Expenses
This is the time to stop paying for happy hours, manicures, restaurant meals, infrequently used streaming subscriptions and other non-essentials. Creating a budget that tracks your monthly expenses and your savings and any income you have coming in, including unemployment, will help you prioritize your spending.
Take Advantage of COBRA
COBRA allows workers to extend any employer-sponsored health benefits they were enrolled in after they've ended their employment. COBRA is available to workers whose employers have at least 20 full-time employees. You have 60 days to opt in, but COBRA benefits are always retroactive to the day after your employer coverage ends, according to Aetna, so you'll be responsible for 100% of your coverage during this period regardless of when you enroll. Keep in mind that job loss might also qualify you for insurance from the Health Insurance Marketplace. You can receive an advance tax credit to reduce your premium if your income is low enough to qualify for a subsidy.
Open a High-Yield Savings Account
Now's the time to start saving money in a way that will bring you a return. So, if you haven't already, transfer your savings to a high-yield savings account so that you can build interest on the money you're already saving.
Make Your Money Work Better for You
Look for a Side Hustle
Performing any number of services, from deliveries to rideshare to tasks-for-hire, can keep you going until you find a new full-time job. Your earnings will reduce your unemployment benefits — or render you ineligible for benefits if you make too much. But considering that unemployment benefits are low — Maryland's max out at $430 per week, for example — you might make more working a side hustle. You might even turn the right hustle into a full-fledged business.
Sell Your Stuff
Most people have items laying around in the basement, backyard or garage that they don't use anymore. Why not take this opportunity to sell them? Ebay, Craigslist, Mercari and Facebook Marketplace are just a few of the places where you can post listings. 
Go Back to School
You may be wondering how you can protect your finances by going back to school. This is actually an option that will help you plan for the long term. While you're laid off, you'll be looking for new employment. Why not bring more education to the table to strengthen your qualifications?
Resist Tapping into Retirement Savings.
You might be tempted to tap into your individual retirement account, but early withdrawals can have serious consequences and cost you as much as 50% of the withdrawal in taxes and penalties, according to Merrill Edge. If you really must use those funds, withdraw them from the contributed portion of your Roth IRA first. Such withdrawals are tax-free.
Make Your Money Work Better for You
Be Positive!
Through it all, it's important that you keep a positive attitude for you and your family. You can survive the layoff and be back on your feet in no time if you believe it.
Being laid off is something most dedicated workers dread, but it is a reality for millions of Americans. While there's nothing you can do about the layoff, you can take charge to make sure that you not only survive it but come out feeling like a champion.
More From GOBankingRates
Stacey Bumpus contributed to the reporting for this article.