These 5 In-Demand Creative Jobs Earning Upwards of $100K Are Least Likely To Require a Degree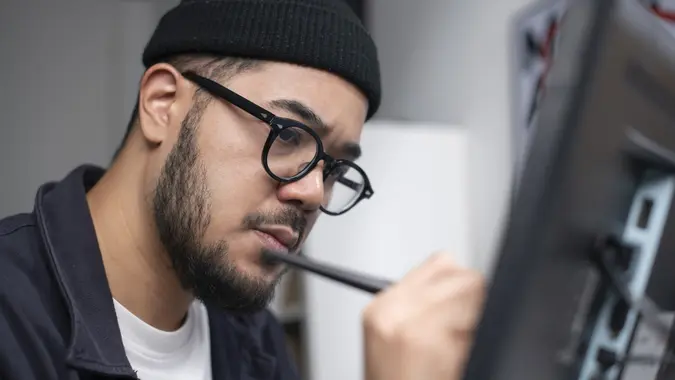 Filmstax / iStock.com
With roughly 43 billion Americans carrying federal student loan debt — not to mention all the people with private loans — you may be wondering if you can earn good money without a college degree.
Entering the trades (such as plumbing or electrical contracting) has always been an option for those who don't attend a conventional four-year university. But certifications and apprenticeships may be required for many contracting or construction jobs.
For creative types who know their way around a laptop and can use today's most popular social media and content creation apps efficiently, opportunities exist to earn nearly six figures with no degree. Most of these jobs exist at marketing agencies and hinge on the candidate possessing creativity, a willingness to learn, and an eye for marketing trends.
Best of all, many job listings also have no experience required, according to a recent report from Workamajig. If striking off on your own as a business owner scares you, there are still ways to earn well over minimum wage without college in a marketing job. These are the top five highest paying creative jobs:
1. Art Director
While you may not need a degree, you will need a solid work portfolio and some experience to work your way to this level.
2. Producers and directors
You can begin by directing your own movies, shows and short videos to get experience.
3. Animators
Again, you'll need to build your portfolio before earning a higher salary. College may help you build this portfolio, but you can also take courses online or even practice on your own.
Make Your Money Work Better for You
4. Technical writers
Many writers earn a living wage from their craft. Technical writers tend to be on the high end of the pay range.
5. Writers
Workamajig deemed this job as the "top career least likely to require a college degree in 2023," not because it's the highest paying, but because it remains in demand. Companies need not only articles, blog posts, emails and ad copy, but also video scripts. Most aspects of marketing rely, to some degree, on the written word.
Younger members of the workforce, not surprisingly, are sharing these findings on TikTok. Hashtags like #NoCollege and #DegreeFree have garnered 47.2 and 22.2 million views, respectively, Workamajig reported.
It takes drive, determination, creativity and consistency to make it in the creative world. As TikToker Bestgoat3 said in a video with more than half a million views, "You actually don't need college to make six figures out of high school." He went on to pinpoint five careers that earn high salaries for beginners, including "social media influencer" and "entrepreneur." He said, "It starts off stressful, but the amount of money you can earn is unlimited… But only if you stay consistent."
Realistically, however, not everyone can expect to earn this much money in the marketing field. The average salary for someone with a high school diploma who enters a creative field or works in marketing is just $38,290, according to Bureau of Labor Statistics research.
Make Your Money Work Better for You
A case can be made that AI programs like ChatGPT are poised to take over many of these fields in the next decade. But those who learn how to leverage and "train" AI, using it as a tool to work faster and smarter, can maintain job security in the creative field.
More From GOBankingRates